The ultimate Italian muscle car would have to be the De Tomaso Pantera. Here's a mint and extremely rare example of one up for sale in British Columbia, Canada, with over 900hp.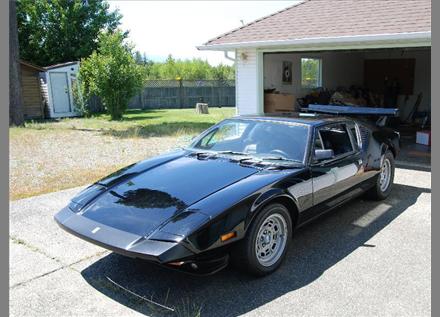 According to the owner, this 1973 De Tomaso Pantera for sale will crack 200mph (322km/h), given there's enough road to slow it down afterward. That pretty much explains what this car is about.
It's about sheer power and looking good using it. It doesn't matter that it's perhaps not the most agile handling machine out there. It's like a punk kid riding a bike without brakes; there's certain coolness to it.
This De Tomaso Pantera was owned by just four people, with the previous owner being a close friend of the current owner. It's never been driven in the rain, according to the ad, and features no rust or 'bondo' (body filler).
In the engine bay sits a Ford 351ci (5.8-litre) engine with twin double pumper 750 Holley carburettors. The engine features "no regulators" and power level is rated at over 900hp (671kW) – no further engine modification details were mentioned.
The ad says that changing from third gear to fourth puts you at over 215km/h, easily.
Head over to the duPontRegistry ad for more details. Price is set at a cool $250,000 and is negotiable to the right buyer.