American muscle car tuner and manufacturer Saleen Automotive has announced its latest product is now in production; the 2013 Saleen 351 Mustang. Based on the Ford Mustang, obviously, the 351 comes with significant modifications compared with the regular Ford model.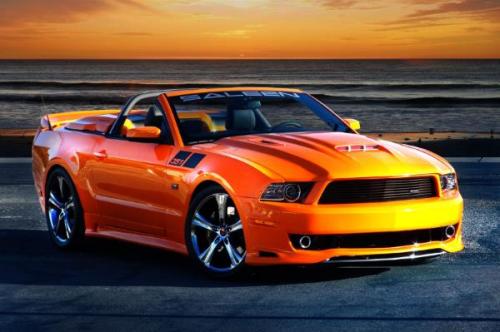 Starting with the engine, it's a 351 cubic-inch (5.7-litre) supercharged V8 that develops a colossal 522kW of power and 887Nm of torque. The mighty engine is matched up to six-speed manual transmission.
Hardware to ensure optimum performance includes forged pistons, a high-flow fuel system with large injectors, and a 'Red Butterfly Center Ram' air induction system. A performance clutch and a lightweight flywheel is also part of the package.
The 351 Mustang is not all about brute horsepower though. The interior, suspension, and exterior aerodynamics are all completely redesigned by Saleen. Steve Saleen, company founder, recently said,
"The amount of detail that we had to put in this vehicle is astounding. I feel our team has struck the perfect balance of design, technology, and [of course] power."
The new model is available in coupe or convertible forms, with prices starting at US$$82,634 (around AU$90,900 after a straight conversion).