Those who remember the Ruf 'Yellowbird' may recognise this little beauty we found up for sale. It's a Porsche 930 911 Turbo with Ruf trimmings.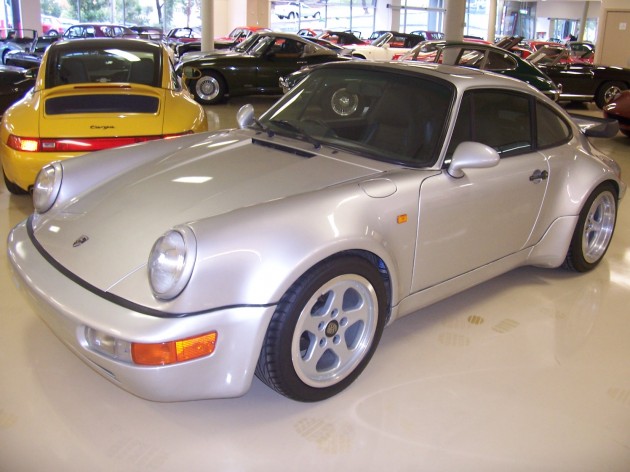 When Porsche originally unveiled the Porsche 930 911 Turbo in 1975, it really widened the horizons in terms of what supercars could offer. It came with a 3.0-litre turbocharged flat-six engine producing 191kW, matched to a four-speed manual transmission. Acceleration from 0-100km/h could be dispatched in 5.5 seconds.
In 1978, Porsche released a second phase of the Porsche 930 911 Turbo. Engine size went up to 3.3 litres, while a new air-to-air intercooler was placed on top of the engine, underneath the trademark 'whale tail' rear spoiler. This helped power levels shoot up to 224kW (300hp).
Although a five-speed transmission wasn't available until the final year of production in 1989 for the 930 Turbo, it didn't stop later versions with performance kit options taking power up to 246kW from cracking 4.6 seconds for the 0-100km/h sprint.
This factory right-hand drive version up for sale in Australia is a 1980 example with the 3.3-litre turbo flat six engine. According to the advertisement, the engine has just been completely overhauled, meaning there's 300 fresh horses ready to play at will. It comes with the genuine four-speed manual transmission and factory black leather interior.
The exterior has been tastefully enhanced, featuring Carrera 2 updated front and rear bumper bars from the 964 911, and ultra-cool 17-inch Ruf alloy wheels, just like the famous Ruf Yellowbird. The ad also says it comes with nice tight suspension, 12 month registration and teardrop side mirrors.
These original Porsche 911 Turbos will be worth a mint in the future, especially the 930 as it is the first generation; the pioneering breed. The Healey Factory is asking just $56,500 for this example.
For more information, check out the full advertisement at healeyfactory.com.au