As anticipated, Ferrari is indeed planning to unveil a facelift for the F12 at the Geneva motor show next month. And here it is, the Ferrari 812 Superfast.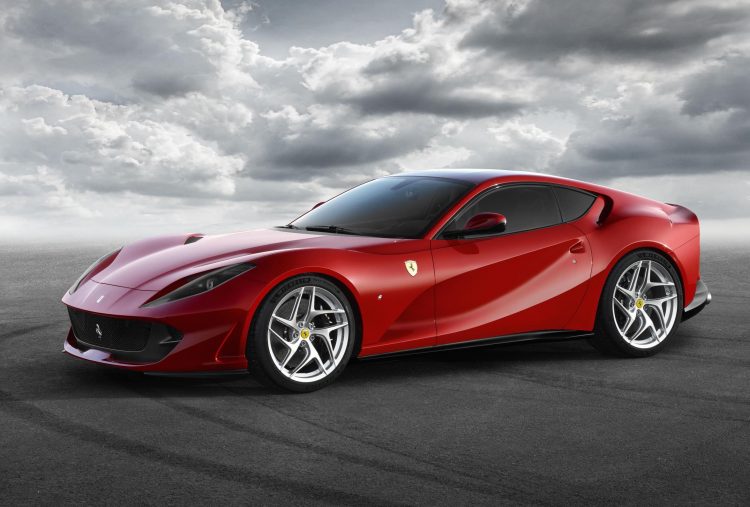 It's an appropriate name really, as the 812 is very, very fast. Under the bonnet Ferrari has managed to tweak the already-ballastic F12's 6.3-litre V12 to produce a colossal 588kW of power (800PS) and 718Nm of torque. This is done by, among other things, expanding the V12's capacity to 6.5 litres.
Ferrari says the 812 Superfast is for clients demanding the most powerful and exclusive Ferrari in the range, describing it as "an uncompromising sports car" that delivers "exhilarating driving" both on the road and track.
How does this translate on the tarmac? Well, it's still rear-wheel drive but Ferrari claims a 0-100km/h time of 2.9 seconds, and a top speed above 340km/h. Yep, it's super fast.
Fuel consumption, if you're wondering, is rated at 14.9L/100km on the combined cycle, while the vehicle offers a dry weight of 1525kg. Weight is distributed 47:53 front to rear.
As for the design, it builds on the F12 but gets full LED headlights, a freshly-sculpted front end and air intakes, while around at the back there are horizontal lines and an overlapping panel to amplify its wide stance, along with four round taillights, and active aerodynamics.
Inside, the dash incorporates plenty of 'floating' fixtures in Ferrari's latest tradition, with new seats for the passengers that are more ergonomic and sporty, with a fresh media interface, new steering wheel and instrument cluster, and climate control system.
Ferrari will be showcasing the car at the Geneva motor show from March 7 in a special Rosso Settanta red which helps celebrate the company's 70th anniversary.