The next-generation 'F152' Ferrari 599 successor is set to be unveiled at the 2012 Geneva Motor Show in March. According to Italian website, alvolante.it, this is what it will look like.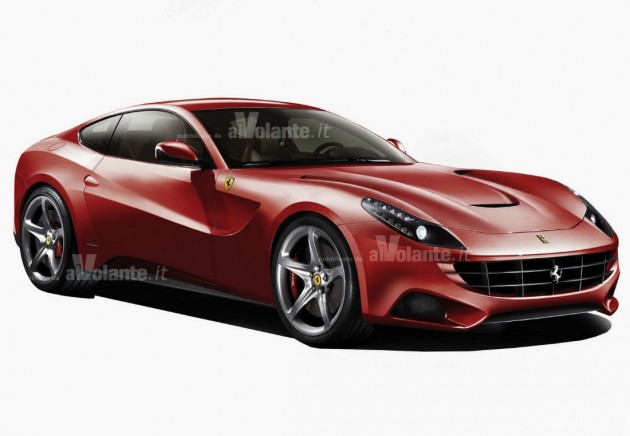 Borrowing very obvious design cues from the four-wheel drive four-seat Ferrari FF, the website claims that it has seen insider imagery of the next-generation Ferrari 599 and recreated its layout into this preview rendering. However, the site is in Italian, so we may have lost some of the finer details in translation.
Judging by the rendering though, it looks like Ferrari will be adopting its latest design language to the Ferrari 599 successor, a language that is also seen in the Ferrari 458, California and FF, particularly around the headlights and the headlights themselves.
The lower fascia features a wide-open grille with spaced-out box sections, like the FF, while up the sides there's swoopy cutaways in the doors which blend into heat-extracting vents behind the front wheels. The contours then flow over to a curvey coupe rear end.
As for the power of the Ferrari 599 successor, it will feature a revised version of the 6.3-litre V12 engine as seen in the Ferrari FF. It features technology such as direct injection and will, according to Ferrari CEO Amedeo Felisa, output "more than 700hp" (522kW).
Of course, we'll have to wait until official word for further concrete details. All will be revealed in just a few months at the 2012 Geneva Motor Show in March. We'll keep you posted on any updates prior.
Source: alvolante.it