Okay, so the Toyota Camry doesn't have a sporting reputation. But that doesn't stop thousands of buyers flocking to Toyota dealers every month to purchase one. If it's not sportiness, what is the appeal? We've just sampled the new-look 2015 Camry Atara SX to find out.
Toyota Australia introduced the 2015 Camry in May this year. It, as you can probably see, showcases a fresh exterior design along with an updated interior. It is based on the previous model underneath, however, Toyota says that over 800 components have been changed or completely re-engineered. Every panel is new as well except for the roof. Suffice to say, it is the most advanced Camry ever.
In the engine bay sits the same 2.5-litre naturally aspirated four-cylinder engine as the previous model. It produces 133kW. All Atara models get a twin exhaust system that lifts power to 135kW. Fuel economy remains unchanged, rated at 7.8L/100km on the official ADR-tested combined cycle.
Despite an increase in technology, and more advanced engineering, the new model is actually cheaper than the predecessor. In SX form as tested here, prices start at $31,990, down from $36,490 in the previous version.
2015 Toyota Camry Atara SX – THE SPECS
Engine: 2.5-litre four-cylinder
Output: 135kW@6000rpm / 235Nm@4100rpm
Transmission: Six-speed auto
Drive type: Front-wheel drive
Wheels: F: 18×7.5, 225/45  R: 18×7.5, 225/45
ANCAP: Five stars (scored 36.27 out of 37)
Tare weight: 1450kg
Power-to-weight: 10.7:1 (kg:kW)
Official fuel economy: 7.8L/100km
Economy during test: 8.2L/100km
Fuel capacity/Type: 70L/91 RON
Power efficiency: 17.3kW:L/100km
0-100km/h as tested: 8.5 seconds
Priced from: $31,990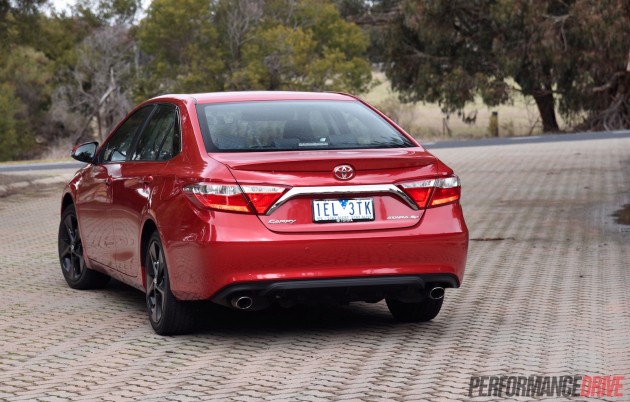 2015 Toyota Camry Atara SX – THE PACKAGE
There is one noticeable appeal to this car as soon as you open a door; the cabin space. It's huge in here. There's lots of room to move about and flail your arms, if that's your thing, with big mildly contoured seats in all five positions. This is a proper five-seat car that can accommodate five adults. Headroom and legroom in the front and back is at or in some cases beyond the class benchmark.
Being part of the top Atara lineup, the SX cabin goes for a sporty and luxury theme. It's a nice blend. You get soft-red sections on the leather sports seats, with relaxing silver tones used for various trimmings and controls. It all feels fairly robust and of reasonable quality. It's no high-end luxury car, but, you're not paying a high-end price. Compared with its nearest rivals, currently the Mazda6 and Subaru Liberty, the Camry SX interior offers the most basic design and least prestigious feel. However, it is one of the most affordable models.
So, the interior is probably not going to win any awards in comparison to the rivals. We can see the appeal though, and it's all about simplicity. If you're a buyer that doesn't want something that is going to overwhelm you or distract you, the Camry cabin is your pick. Every control is exactly where you would expect to find it. It is very easy to get in and out of, and as mentioned, there is loads of space so it is the least claustrophobic out of all interiors in this class. Boot space is outstanding too, rated at 515 litres (same as previous model). About the only potential annoyance to the interior is the foot-operated parking brake. But you soon get used to it.
In terms of equipment, the SX gets a power adjustable driver's seat, sporty pedals, auto headlights, dual-zone climate control with vents for the rear seat passengers, keyless entry and push-button start, and enough safety features to help it pass five-star ANCAP safety. All variants come with a rear-view camera and parking sensors, and of course stability and traction control. According to ANCAP's most recent tests, the Camry is the safest vehicle out of its key rivals; Ford Mondeo (36.07 out of 37), Mazda6 (35.44), and Subaru Liberty (35.99). The new Camry scored 36.27.
The top-line Atara SL variant adds pre-collision technology via radar and front-mounted cameras, with active cruise control. This is the first time such a feature has been offered in the Camry. Unfortunately, it's not optional on the SX.
As for on-board entertainment, the SX comes with a 6.1-inch touch-screen interface with Toyota Link and voice control. It also comes with a built-in Pandora app for music streaming via the Bluetooth connection, and supports MP3 and USB files, sending sound through a decent six-speaker stereo system.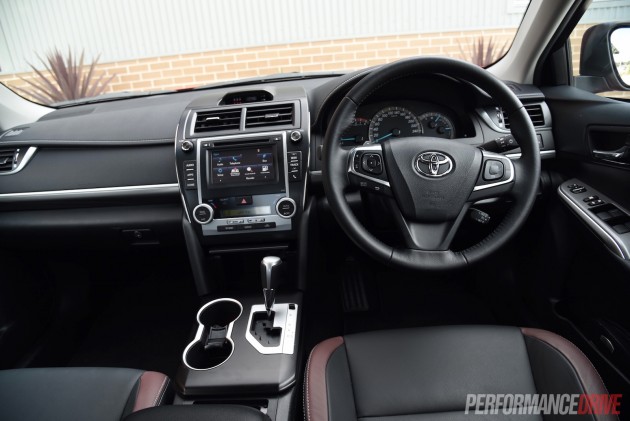 2015 Toyota Camry Atara SX – THE DRIVE
The handling is uninspiring and the steering is bland. But, if you're in the market for a Camry you probably don't care much for spirited driving and have little interest in performance. The purpose of the Camry, we think, is to provide you with a means of transport that's easy to use and just as comfortable as sitting on a chair at home in the family room.
Out on the highway the ride is very comfortable, even with the SX's sports suspension. It glides over bumps and undulations. There's little kickback through the steering wheel either. Toyota engineers worked on optimising power delivery through the front wheels, and developed a pre-load system for the differential. What this does is provide torque to limit the speed difference between the front wheels, effectively cancelling out torque-steer. The special differential is fitted to all variants.
It's best not to get too excited by this, however. It is in place primarily to improve low-speed take off smoothness and increase stability at highway speeds. It also helps when driving on low-grip surfaces like gravel or wet roads by maximising directional stability.
Engine power isn't low and it can overwhelm the front tyres if you're aggressive enough. Around corners with the power on, it is easy to cause some inside wheel wheelspin. The six-speed auto transmission seems to make good use of the engine's torque as well, so it is able to get up and go when you want it to. We timed 0-100km/h in 8.5 seconds. This is more than adequate for a family sedan. Fuel economy is also decent, with the official average standing at 7.8L/100km – we returned around 8.2L/100km during our week.
Down our usual demanding mountain route, the Camry wasn't exactly adrenaline-pumping, but it is well balanced; the brakes, power delivery, transmission, and engine output all work together and offer a consistent level of performance. On the same token, you can tell this setup is going to last for decades unlike some of the more complex and technical rivals.
Overall, this vehicle is at its best during normal driving conditions. It's very relaxing, smooth, and visibility is great.
2015 Toyota Camry Atara SX – THE VIDEO
2015 Toyota Camry Atara SX – THE VERDICT
We know what the appeal is to the Camry; it is just so darn practical, comfortable, and every element is focused on the same job; getting from A to B. Aside from the black 18-inch alloy wheels on this SX (outlandish for a Camry), the new model isn't trying to be something it is not. It has stuck to tradition and that's probably the most important factor for buyers, especially repeat buyers who are looking to upgrade their existing Camry.
It won't win any awards for design, inside or out, and it is the least exciting out of all of its closest-selling competitors. However, it is so humble and user-friendly that you tend to appreciate its no-fuss and extremely dependable nature. Put it this way, if we had to take a sedan from this class for a drive all the way around Australia, we'd be taking a Camry because we know it will make it, and it won't wear us out in doing so.
PROS:
– Huge cabin
– Practicality; easy to drive, see out of
– Sporty SX design highlights
– Overall value

CONS:
– Least interesting out of key rivals
– Bland drive character
– Why can't Toyota make a proper sports version?