Following yesterday's leak of the possible 2016 Toyota LandCruiser, it seems Lexus might be about to unveil the updated 2016 LX 570 facelift as well.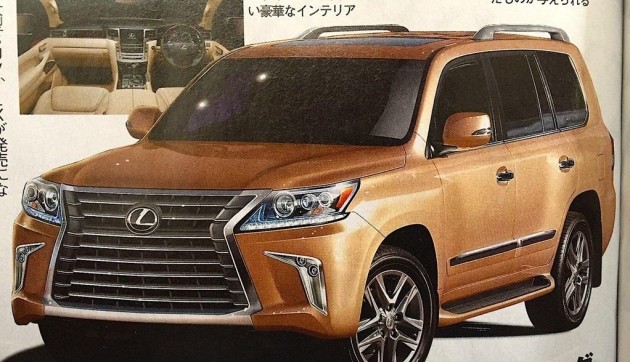 According to this image taken from a Best Car magazine in Japan, which could simply be a digital speculation, the 2016 LX will take on a sharper design. Well, at least at the front. The main torso including the doors look pretty much identical to the current model.
At the front there's a larger and more prominent grille adopting the company's 'spindle' design layout, with lots of brushed aluminium and more defined grille tiers. The headlights also look updated, getting new LEDs, and the fog light clusters incorporate dual lights and a more aggressive silver trimming.
Regardless of the legitimacy of the image, the 2016 LX is tipped to receive more safety technology and an updated dash interface. There's talk of a new radar-guided cruise control system with autonomous braking functionality, improving overall safety for the big SUV.
No major changes are expected under the bonnet though, meaning the current 5.7-litre naturally aspirated V8 will probably carry across from the existing model. The engine produces 286kW and 546Nm, and comes matched to a six-speed automatic.
If this image is indeed real, Lexus could be close to giving the SUV a proper unveiling in the very near future. There's also the chance Toyota and Lexus will reveal the vehicles, which share the same underpinnings, at the same time.