Peugeot has pulled the wraps off the insane, almost mutant-looking new Peugeot 208 T16 Pikes Peak rally car that will compete at this year's hill climb event. The car clearly demonstrates its dedication towards the 'Unlimited' class.
Featuring a huge wing at the back, the 208 T16 is specifically designed to tackle Pikes Peak, at very high speeds. There's also an extremely low front chin spoiler to scoop air up and over the 208. It all looks quite similar to the legendary Peugeot 405 T16 Pikes Peak special that competed and won in 1988.
To make matters more interesting, and serious actually, the car will be driven by nine-time World Rally Champion Sebastien Loeb. It will be the Frenchman's first steer of a Peugeot at the famous Colorado-based event.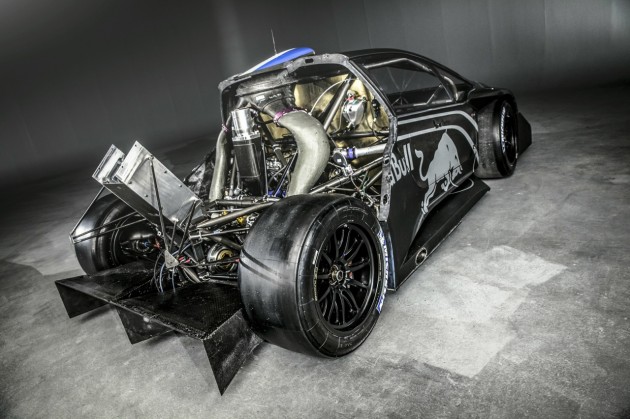 Showcasing a full carbon fibre body, the 208 T16 is as serious as they come. Details on the engine haven't been revealed at this stage, however, it will feature an insane mid-mounted engine layout as you can see. Michael Trouve, boss of silhouette design at Peugeot's Styling Centre, spoke about the car, saying,
"Its proportions are very different to those of the production 208. This difference gives it an almost beast-like appearance. Peugeot Sport provided us with a number of technical constraints, such as the width, body height, location of the wheels and engine, and we worked to this brief to produce an extreme take on the 208."
As always, the 2013 Pikes Peak International Hill Climb will involve racing up the scenic mountain, climbing 1500 metres up to a maximum of 4301 metres above see level. Along the way there are 156 corners, all of which make up the complete tarmac-only run.
Click play below for a cool little video demonstration of the extravagant rally car, showing the relationship between it and the iconic 405 T16.