Fist fights usually start with an argument. Voices rise with some yelling, followed by a bit of pushing and shoving. HSV has decided to do things a bit differently with the new Gen-F GTS. Its walked right up to Ford, pointed out the FPV GT, and then given it a KO punch straight in the face.
This colossal creation by HSV trumps FPV's very potent GT and its 335kW by almost 100kW, making it quite easily the most powerful road car Australia has ever made. It is one of the most hotly anticipated vehicles of this year, but is there more to this beast than outright power?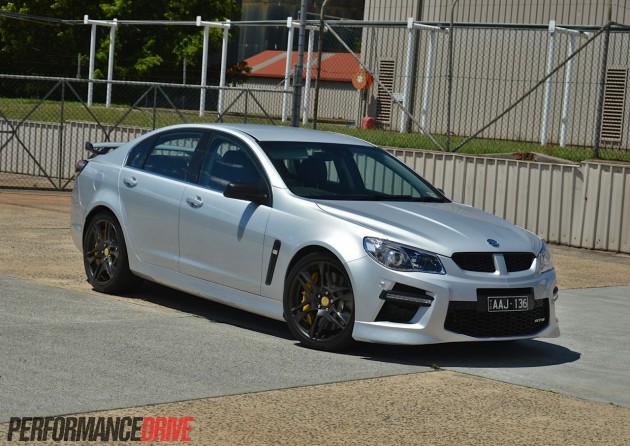 When the VF Commodore was launched earlier this year it showed Australia that we could produce a truly world-class vehicle. Some were disappointed to hear the SS did not receive an engine upgrade, especially given the US-export version, the Chevrolet SS, gets a more powerful 6.2-litre unit over the Commodore's 6.0.
For those that are after outright power, this is mega. We're talking a 6.2-litre supercharged V8 with a mind-blowing 430kW and 740Nm. Figures like this are still floating about in the half-million-dollar supercar world. It's a big statement by HSV, and it hammers home the fact that Australia has the ability and enthusiasm to create a genuine high performance vehicle gaugeable on an international scale.
The GTS continues as the grandest and most expensive Commodore-based factory model, only overshadowed by the Caprice-based HSV Grange for price and luxury.
Prices kick off at $92,990 for the six-speed manual GTS and $95,490 for the auto. This makes it around $10,000 more expensive than the 'MY12.5' E Series 3 predecessor.
2013 HSV Gen-F GTS – THE SPECS
Engine: 6.2-litre supercharged V8
Output: 430kW@5900rpm / 740Nm@4200rpm
Transmission: Six-speed auto
Drive type: Rear-wheel drive, LSD with torque vectoring
Wheels: F: 20×8.5, 255/35  R: 20×9.5, 275/35
ANCAP: Five stars (scored 35.06 out of 37)
Kerb weight: 1892.5kg
Power-to-weight: 4.4:1 (kg:kW)
Official fuel economy: 15.3L/100km (manual)
Economy during test: 17L/100km
Fuel capacity/Type: 71L/95 RON
Power efficiency: 28.1kW:L/100km
0-100km/h as tested: 4.4 seconds
Priced from: $92,990 ($95,490 auto)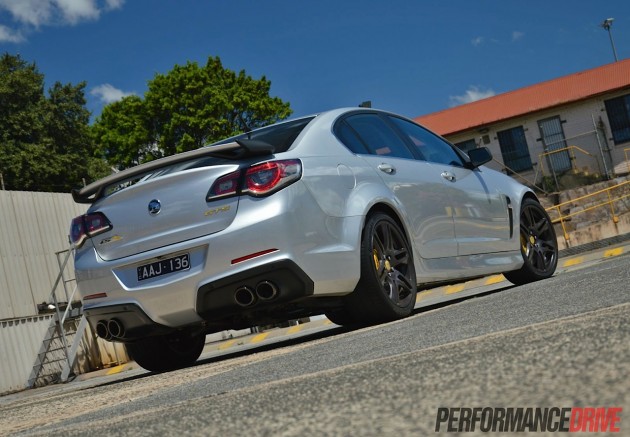 2013 HSV Gen-F GTS – THE PACKAGE
It's hard to ignore that engine, however, the GTS is more than a taxi on steroids. It is perhaps the most advanced Commodore ever made, with all of the VF media and communication technologies on board, including a MyLink interface and automatic parking. There's certainly no shortage of gadgets. The GTS adds a revised form of MyLink with a special EDI performance menu.
The GTS also gets an Australia-first torque vectoring rear differential which is capable of sending power to the left and right wheels for maximum traction and directional leverage, resulting in epic cornering ability. More on that down below.
Like all HSVs, the cabin is large, sporty, and gigglingly comfortable. The huge plush bucket seats are some of the best in the business. HSV has a knack for making awesome seats, and the GTS proves it once again. They're partially covered in leather and grippy Alcantara.
Hunkering down in the driver's seat makes you feel warm and fuzzy, especially as you anticipate firing over that heart-throbbing Chevrolet LSA engine. The largish steering wheel sits at perfect chest height while the gear selector is in the ideal spot to make you feel like a bit of a boss.
It's a satisfying cabin, and with the multiple tones and trimmings scattered about, there's an explicit theatre going on which makes it feel like more than your average commuter. Does it feel like a $90k vehicle? In some areas, the interior fitment and quality is on par with its closest German rivals; Audi RS 6, BMW M5 and Mercedes-Benz E 63 AMG. And these cost more than double the price of this. So yes, in some respect it feels expensive.
For those that know their Commodores all too well, they might not be so convinced. Most of the cabin is very similar to the Clubsport ($71k), and on that note, pretty similar to the Commodore SS – aside from the seats and trim. But we'll come back to the price later on.
On-board features that you'll enjoy fiddling with include the HSV EDI system. Basically, this is the menu within the MyLink interface which allows you view things such as the bi-modal exhaust and intake status, the instant live torque gauge, track lap timers, the g-forces being applied to the lucky ones inside, and the race-car-like telemetry readout. It's all fun and it enhances the HSV performance character.
Let's talk more about some of the mechanical features of the GTS, as this is where a majority of your hard-earned money is going. Underneath, the GTS comes with a third-generation magnetic ride control suspension with adjustable settings. There's Sport, Performance, and for the GTS, a Track setting. Each provide a noticeable difference to the way the car rides and handles.
The engine, well, it's one of Chevrolet's most powerful production V8s ever made. It uses a 1.9-litre Eaton Roots-type supercharger with four-lobe rotors and a brick-type intercooler. Puffing up to 9psi into the combustion chamber, which runs a 9.0:1 compression ratio, maximum torque (740Nm) is available from a relatively high 4200rpm.
At the back, as mentioned, the GTS comes with a complex torque vectoring system. What this does is apply braking to the inside wheel during corner acceleration while applying more torque to the outside wheel. This, theoretically, reduces the chance of understeer. More on that in the drive section below.
To top it all off every Gen-F HSV comes with huge six-piston brakes developed by AP Racing. They are derived from the units used in NASCAR and V8 Supercars. For the GTS, special forged lightweight calipers are used along with a unique disc surface pattern.
Encasing the brakes are a set of 20-inch forged 'Blade' alloy wheels measuring 8.5 inches in width on the front and 9.5 inches on the rear; 255/35 and 275/35 Continental ContiSportContact tyres.
2013 HSV Gen-F GTS – THE DRIVE
Select either Performance or Track mode, find your favourite stretch of winding road, and cancel all of your day's appointments. This is as much a companion as a car. You can feel it wants to drive, and keep you happy doing it, at least until the fuel runs out after around 450km.
In these driving modes the stability and traction control are in the most lenient setting, allowing some slip and minor tail movement. You can be quite vigorous with the steering wheel and throttle and it will remain controlled yet lightly psychotic.
With the clever differential and torque vectoring, inside wheelspin simply never happens. The torque vectoring pushes the outside of the car around corners while at the same time the inside wheel works like a hinge. If you drive smoothly yet assertively, you're left with incredible, sling-shot cornering pace which is unmatched in this price category, and certainly up there with world's best sedans.
Turning into corners with enthusiasm for the first few times will disorient your brain as it tries to comprehend what is happening. With 430kW and, more worryingly, 740Nm on tap, you can't help but think this monster is going to get rowdier than an angry biker at a pub at any moment. But, somehow, it just doesn't. You can press on while pressing on the accelerator pedal rather hard and the 275 rear tyres hardly batter an eyelid. And this isn't because the electronic stability control system steps in.
Switch the stability and traction control systems completely off and you're left to your own skills. To our – and probably your – surprise, not much changes. The underlying platform and the way the suspension and tyres are set up, it's sublime without the need for computer intervention.
Initial take off can be tricky (and fun) if you simply mash the throttle, but other than that, traction isn't really a concern. This is not a vehicle that will drift or powerslide under pure full throttle, in other words. It's more sophisticated than that.
Early and/or abrupt throttle application is the only way to provoke tail-out shenanigans. Once it's out, it can be held for as long as the corner lasts, or as long as your licence lasts. It remains very easy to control during slides too, like most HSVs. This kind of driving is only possible when the driving modes are cancelled out via switching off the stability/traction control.
That engine. It's a mighty unit. Power is instant and torque propels the sedan up the road like a kid pushing a Matchbox car. The torque is relentless. It doesn't matter what gear you're in, heavy throttle will result in surging g-force and immediate speed.
If you leave it in drive and flatten the accelerator, the GTS transforms from a humming V8 sedan into a growling lion, yelling angrily at the top of its lungs like you've just stolen its baby. It literally pounces forward and overtakes anything in its path. You have to be careful.
Although the engine doesn't quite feel like 430kW, more like around 380kW, there isn't a moment where you would ever think, 'hmm, some more power would be nice about now'. There's no doubt about it, it can be a raging maniac if you agitate it.
In our opinion, the engine is missing an authentic V8 muscle car soundtrack in relation to the amount of power and hoo-ha it generates. The supercharger whine takes over most of the induction noise and the bi-modal exhaust, which opens halfway up the rev range, leaves an almost confusing combination of sounds.
It's not the best-sounding V8 sedan on the market, again, in our opinion. There is a lot going on and you tend to notice it. If you're after a pure V8 note, the Chrysler 300 SRT8 offers a clean thumping beat while the FPV GT crackles and pops like a race car. This howls and wooshes, with a faint rumble in some parts of the rev range. This is all speaking from an in-car perspective. Of course, an aftermarket exhaust could fix all of this in no time.
In terms of outright acceleration, we timed 0-100km/h in 4.4 seconds, matching HSV's claim. The company also claims a quarter mile time of 12.3 seconds, and we don't doubt it. On a private road we also timed 0-200km/h in 13.3 seconds, giving you an idea of its relentless, charging ability. About the only aspect that restricts it from obtaining even quicker times is the six-speed auto transmission.
It's a GM-developed '6L90E' unit which actually started life in 2005. In the GTS it comes with its own oil cooler and it offers throttle blipping during downshifts (in manual mode). There's nothing essentially wrong with the gearbox, it's just that in today's world, with lightning-quick dual-clutch and even sports automatics on offer, we feel the GTS's monumental engine is not being completely utilised with the 6L90E.
With a more advanced unit the initial purchase price would likely increase, however, we have no doubt the GTS could achieve low to flat 4.0-seconds for the 0-100km/h sprint. Fuel economy could also improve. Of course, developing a new transmission would cost HSV a lot of money.
When it comes time to slow down, the six-piston front and four-piston rear AP brakes are astonishing. They never fade or overheat – at least during our hard tests – and the pedal remains firm and bites hard, every time. These are some of the best stoppers we've experienced. Very impressive.
2013 HSV Gen-F GTS – THE VIDEO
2013 HSV Gen-F GTS – THE VERDICT
GTS buyers are being put on a bit of a waiting list for their orders at the moment. HSV Australia's Damon Paull told PerformanceDrive the demand is outstripping supply, with the current waiting list of around three to four months. This seemingly proves a high degree of popularity among fans.
As for the near-$100,000 price tag? If you look at some of the other very high performance sedans from around the world, such as the Audi RS 6, BMW M5, and Mercedes-Benz E 63 AMG S, this comes in as a bit of a bargain. Sure, it's based on a local product and isn't subject to the heavy taxes that are slapped on such rivals, even so, the end product is certainly as accomplished and in most cases just as capable when it comes to outright performance. From that point of view, we consider the price tag to be quite reasonable.
As we, and many other motoring experts, have said before, the VF Commodore is a world-class product. With the added engineering and performance that HSV applies, the ownership satisfaction could only be multiplied.
The Ford Falcon versus Holden Commodore battle is pretty much over. Unfortunately for Ford, this could be the last nail in the coffin.
PROS:
– Monumental engine performance
– Racing car brakes
– Highly accomplished cornering and handling
– Good traction, despite 430kW/740Nm
– Great seats and plush, sporty cabin
– Technology; torque vectoring, driving modes, EDI menu

CONS:
– Old-hat six-speed auto; could be quicker and more fuel efficient
– Supercharger whine eclipses V8 soundtrack somewhat
– Doesn't quite feel like 430kW (maybe due to linear power curve)
2013 HSV Gen-F GTS – THE COMPETITORS
Audi RS 6 Avant (wagon only)
4.2-litre twin-turbo V8 – 412kW-700Nm – 9.8L/100km – 2010kg – from $225,000
BMW M5
4.4-litre twin-turbo V8 – 423kW-680Nm – 9.9L/100km – 1870kg – from $229,900
Chrysler 300 SRT8
6.4-litre V8 – 347kW-631Nm – 13L/100km – 2012kg – from $66,000
FPV GT
5.0-litre supercharged V8 – 335kW-570Nm – 13.6L/100km – 1828kg – from $70,790
Mercedes-Benz E 63 AMG S
5.5-litre twin-turbo V8 – 430kW-800Nm – 10L/100km – 1940kg – from $249,900