The Tesla Model 3 is now in production and deliveries have commenced, so you'd expect all specs to be revealed? Not so. Up until now the electric motor's power and output, along with kerb weight details have been unknown.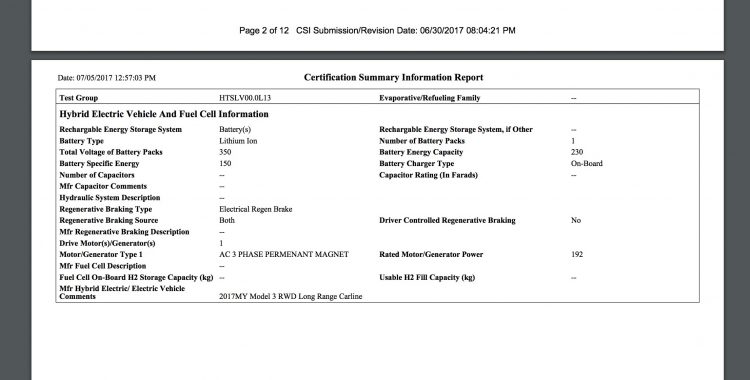 A document – uncovered by InsideEVs – from the Environmental Protection Agency have revealed such specs. The EPA ran its usual tests on the long-range variant, which is the first model to be rolled out to customers, revealing a battery pack capacity of 80.5kWh.
This figure is calculated from the 230Ah energy capacity as quoted by the EPA, along with the total voltage of the battery of 350V. Also revealed in the EPA specs is a power output of 258hp, or 192kW, which isn't bad for a mid-size luxury sedan.
Tesla has already claimed a 0-100km/h time of 5.1 seconds for the long-range variant. This means it's quicker than the 185kW BMW 330i, which performs the 0-100km/h sprint in 5.8 seconds.
Part of this performance comes thanks to the instant torque electric vehicles inherently offer, but also due to the reasonably low kerb weight. The EPA says the rear-wheel drive Model 3's kerb weight is 1740kg, which actually isn't bad for a fully electric vehicle. In comparison, the Infiniti Q50 30t V6 weighs 1784kg, while the hybrid version weighs in at 1865kg.
Tesla has confirmed there is an all-wheel drive dual motor version coming in 2019. This is expected to produce even more power while bringing the 0-100km/h time right down. It is likely to become one of the very quickest cars in the mid-size sedan class, including fending off the likes of the BMW M3 and Mercedes-AMG C 63. Official details are yet to be announced.