Last month we reported about Elon Musk's latest brainstorm – The Boring Company – in which a vessel in the street carries your car into a subterranean tunnel network, where computer controlled sleds on rails can catapult you to your destination at 200km/h.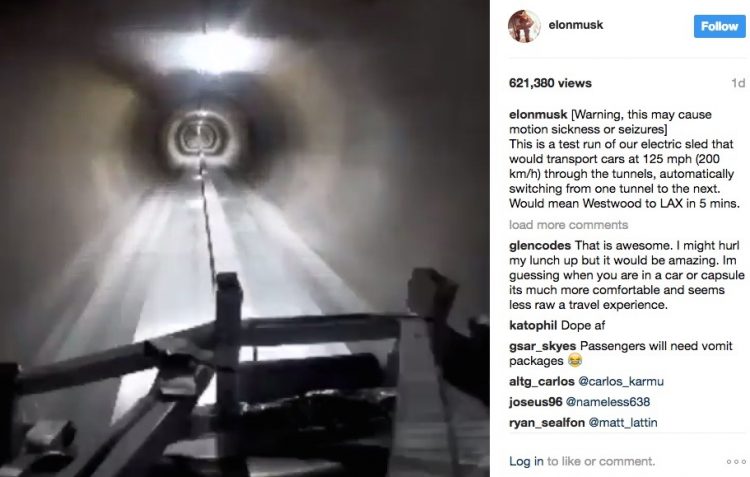 Well, the proof of concept is now here, with Elon using Instagram to demonstrate the prototype sled in action at 200km/h. In the Instagram post, Musk offers a disclaimer:
"[Warning, this may cause motion sickness or seizures] This is a test run of our electric sled that would transport cars at 125 mph (200 km/h) through the tunnels, automatically switching from one tunnel to the next. Would mean Westwood to LAX in 5 mins."
The chassis appears to be aluminium, with the rail visible and tunnel effect is accentuated by the overhead lights.
Large boring machines would create this new infrastructure, which is one of several initiatives pioneered by the South African entrepreneur. He has also initiated an ultra-fast, intercontinental rail system in Hyperloop, has set up an entire refuelling infrastructure for his electric cars, and plans to revolutionise freight by replacing filthy diesel trucks with electric ones.
This is in contrast to governments that spend taxpayers' money on new roads and railways.
How long will this take to catch on, if it does? Time will tell, but Elon Musk doesn't waste any time getting his ideas up and running, as evidenced by the short turn-aroud time between announcement and this video. Could we see it in the next decade or two?