I was a strange child, more fascinated by mechanical items than sports or social activities. This extended to our family car, though to be fair, our family car was pretty sweet, even if nobody knew it back then.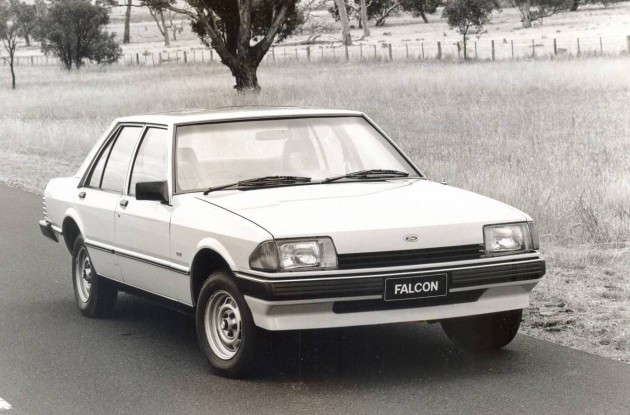 It was a vanilla yellow 1983 Ford Falcon GL sedan nicknamed 'Falcy'. An XE, with a Super-slurping 3.3-litre tied to a four-speed manual. With its sad looking face and distinctive whining noise, it was more than a conveyance to me; it was alive. Even my mother cried when we traded it in. This endearing character kick-started a rich intrigue for all things automotive, with an intrinsic hunger of every fact and figure available to me.
My father often brought home Ford and Holden station wagon company cars, much to my delight, and when I first eyeballed an EF XR6 from the school bus, I freaked out. The menacing and mysterious EL GT occupied some space on my bedroom wall.
The first time I attended a motor show, I was positively dazzled by the golden 1998 EL Predator concept – possibly the most exotic-looking Falcon ever.
When the AU came out, I was 10 years old, and therefore impervious to the shock and controversy it generated to adults. What I saw was an unusual, imaginative-looking car, and enjoyed its triangles and ovals. The XRs in particular, with their H.R Geiger-inspired faces and bi-plane rear spoilers were just awesome. Getting to see them made in person at the Broadmeadows factory in 2000, I felt like Charlie in the chocolate factory.
Wheels magazine's inaugural Young Designer of the Year competition, in which the goal was to design a Falcon for 2010, captured my imagination and I even sent in an entry. (By this stage I was drawing cars and even had my own model line). The winner, Nick Hogios, went on to design the BA XR front end, before moving on to Toyota Style Australia.
My first viewing of Bathurst was the 1-2 victory of 1998, with a l-o-n-g drought after that. Ford didn't have the widespread fanship of Holden, and I copped heaps of flak for being a Ford fan. Little did I know at the time, this was due to Ford axing the V8 and withdrawing from racing in the 1980s, but that lent it an underdog status which, to me, is a genuinely Australian virtue.
Thankfully, reprieve came with the 2002 BA, both on the track and in the showroom. The BA was leaps and bounds ahead of the AU and VY Commodore of the day, with the XR6 Turbo becoming a new cult car. It was here, at the helm of Geoff Polites, Ford finally gave Holden an existential fright again.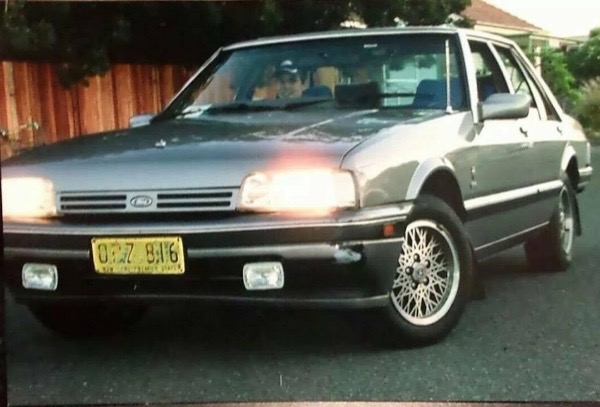 When the time came to buy my first car, I approached it with an open mind, but as soon as I clocked on to a mint XF Ghia in a small used car lot, all rationality went out the window.
I certainly didn't do that car justice, but it re-inforced my loyalty to Falcon. I managed to sell a few during another life as a car salesman, and even went to a meeting which included David Katic, the head of Ford marketing in 2012, where I tried to persuade him that a sports-themed Ecoboost Falcon was a good idea (which obviously fell on deaf ears).
On May 23, 2013, when the closure and cessation of Falcon and Territory production was announced, I was absolutely shattered. How can a machine elicit a reaction of human-like almost-grief?
The truth is, Falcon is more than a car to many Australians. It's a part of our scenery and culture, and will remain so for some time before slowly diminishing into obscurity. To enthusiasts, modifiers, taxi passengers, it's part of their lives. It has inspired the imaginations of many people, just as it did mine.
It is also a living, breathing expression of the hard work and passion from the factory workers who assemble it, the designers and engineers who develop it. Over 6 million examples are scattered throughout our landscape, in various states of vibrancy and decomposition.
That some versions have gone under the hammer for almost a million dollars is a testament to its broad-ranging appeal and desirability. The car will be missed due to its simplicity, comfort, ease-of-maintenance, abundance of parts, effortless power, and performance.
It is also prescient that as the world enters an exciting new chapter of electrification and autonomous driving, with even Apple tipped to launch a car before the end of the decade, Australia no longer has an industry to participate. Falcon may have adapted to this new paradigm but in the end it was head office in Dearborn, USA, that deliberately stifled it.
Its reluctance to integrate it into Ford's global portfolio may cost them here, and it has arguably robbed them of some opportunities. The straight-six engine of the Falcon is arguably superior to the Duratec V6 available in the Mustang and F-150. A straight-six powered Mustang would be historically relevant to the original, while the torquey 4.0-litre Barra would have won many friends in the F-series truck, if it had the chance. As Lincoln launches a new Continental, we can't help but think they had access to a rear-drive, inline six platform over a decade ago.
Just as Jaguar and Mercedes-Benz are tipped to revert back to straight sixes, Ford is shooting a real gem of an engine in the head.
But there is too much to be excited about to be butthurt. There's a plethora of great and interesting cars in the pipeline and on sale today, and it was Falcon which opened me up to that world, so thanks, Falcon.
Have you got a Falcon story? Feel free to share it with us below.