Classic Recreations in the US has released details about its latest Ford Shelby Mustang package, the Shelby Mustang G.T.350CR. Based on an original Ford Mustang Fastback from 1965-1966, Classic Recreations provides a full restoration in the form of more modern suspension and steering, a new drivetrain and a fresh 7.0-litre (427ci) V8 engine.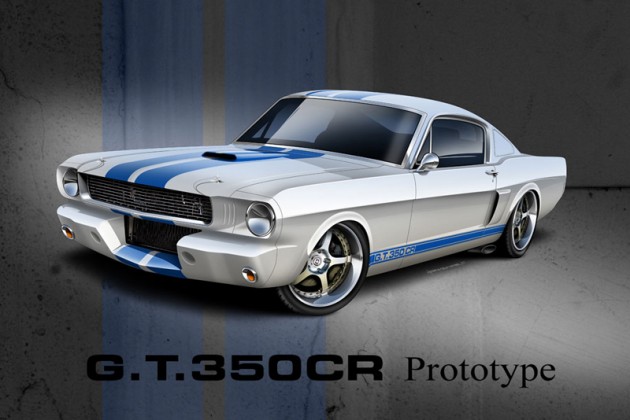 An old classic made new again, who wouldn't want a slice of that? The Classic Recreations G.T.350CR will come in a range of different engine trim levels to suit your needs too, depending on how quickly you want to go through a rear set of tyres.
The first option on the list is a 7.0-litre naturally-aspirated V8 with a Mass Flo fuel injection system. The entry-level unit churns out a very healthy 406kW (545hp).  If you fear there will be far too much grip in the rear treads, Classic Recreations also offers a supercharged version which outputs upwards of 481kW (645hp), and an intercooled version pumping out 555kW.
If you really want to get a move on though, Classic Recreations offers a top-shelf engine that comes with a twin-turbo kit, pushing power levels up to a whopping 746kW (1000hp). The kit includes a neat intercooler setup and everything required to keep the system running smoothly.
It doesn't matter what engine pack you decide to go for, Classic Recreations also matches up a robust drivetrain combination to make sure power is put to good use. It consists of a 3.7:1 ratio 9-inch fabricated differential with Posi Traction, and a Tremec five-speed manual transmission.
Classic Recreations also kits out the interior with a set of Carroll Shelby Scat Rally Series 1000 highback seats, five-point Camlock harnesses, a woodgrain and aluminium steering wheel connected to a Flaming River Tilt steering column with power rack and pinion gearing, Shelby Signature gauges with a 160mph (258km/h) speedo, and an Old Air Production air-conditioning system.
All up, prices for the Shelby G.T.350CR modern classic start at $119,000 (approximately AU$115,000). Not bad for what would be an immaculate mid-Sixties Ford Shelby Mustang. What do you think?
Also check out:
– Video: Vaughn Gittin Jr in epic V8 Formula Drift Mustang
– 2015 Ford Mustang coming to Australia?
– Carroll Shelby accused of sexual assault