Yes, it's the first sign yet that BMW has at least considered entering the 4×4 pickup truck/ute vehicle segment. This BMW X7 Pick-up concept was devised as a bit of demonstration of the capabilities of BMW Group's vocational trainees, its Concept Vehicle Construction team and the Model Technology team in Munich.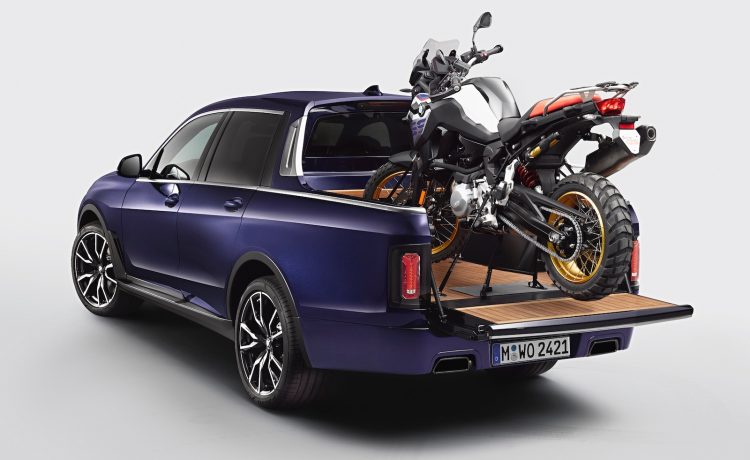 Don't bother getting your hopes up for a production version just yet, as BMW bluntly confirms "series implementation is not planned" at this stage. Instead, the project is a one-off that has been undertaken purely for training and development purposes, covering various areas of vehicle production.
It's based on the X7, which is BMW's new super-large seven-seat SUV, featuring a handcrafted rear loading area which essentially sees the body behind the rear doors completely altered. The loading area is finished in fine-polished teakwood, and height-adjustable air suspension provides assistance during loading and unloading.
The tray area measures 140cm in length, or 200cm with the tailgate open, and the overall length is 10cm longer than the regular X7 SUV. This is enough room for a motorbike, such as a BMW F 850 GS as shown. Milagros Caiña-Andree, member of the board for human resources at BMW AG, said:
"I am pleased about the synergies between BMW Group Vocational Training, Concept Vehicle Construction and Model Technology, allowing these young talents to prove their abilities with such an extraordinary project."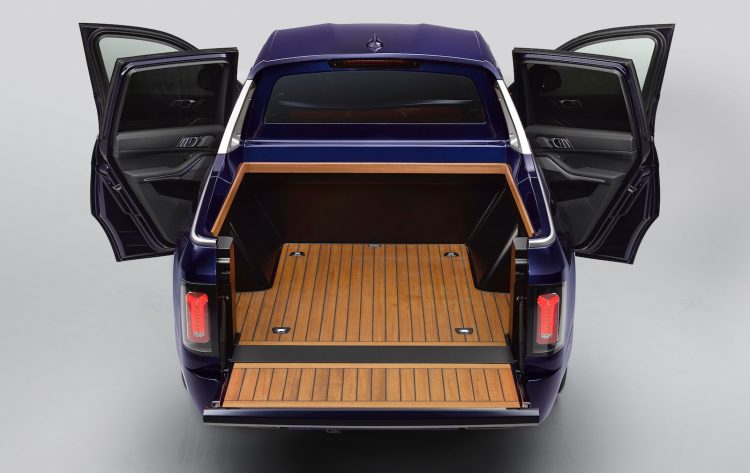 Interestingly, some of the roof, the rear doors, and the rear lid are made from carbon fibre. Not only is this material very strong, it actually helps to reduce the overall weight of the X7. In fact, BMW says the concept is some 200kg lighter than the standard vehicle. This would no doubt help with fuel economy, performance and handling.
Speaking of performance, the concept is based on the xDrive40i variant. Under the bonnet is a 3.0-litre turbo-petrol inline six that produces 250kW and 450Nm. In the standard X7 this engine offers a claimed 0-100km/h time of 6.1 seconds, and a fuel economy average between 8.7-9.0L/100km. We suspect the sprint time would be reduced to under 6.0 seconds for the concept thanks to the weight reduction.
In Australia the BMW X7 is offered in two variant levels; the 190kW/620Nm xDrive30d and the flagship 294kW/760Nm X7 M50d. Prices start at $119,900 for the 30d and from $169,900 for the M50d (excludes on-roads).
What do you think of it? Would you consider buying one if something like this did go into production?