BMW M division has released a short teaser film celebrating the performance of the new M4 GTS and its Nurburgring lap time.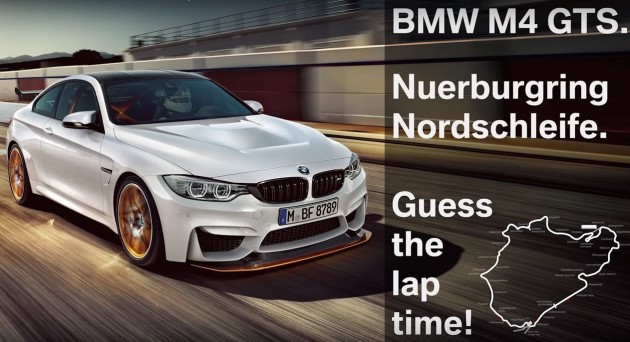 The teaser video gives us a quick preview of the GTS as it flies around the circuit. At the end it asks everyone to guess the lap time.
Although an official time hasn't been mentioned, it's believed the M4 GTS completed a lap in around 7:28. This would make it quicker than some supercars, such as the Ferrari 458 (7:32.92), Koenigsegg CCR (7:34), and even the Lexus LFA (7:38).
At this time it would also be some 20 seconds quicker than the previous M3 GTS, which used a 331kW 4.0-litre V8 engine. Wikipedia is already quoting a 7:28 time for the new GTS, however, the official time is said to be somewhere within 7:27.5 and 7:28.5.
As reported last month, BMW has apparently already sold every one of the 700 examples produced, after being on sale for around two months. This is despite a hefty price premium over the regular M4, placing it around 40,000 euros more expensive than the M5.
The new model features a tweaked version of the standard 3.0-litre turbo inline six engine, with outputs lifted from 317kW and 550Nm to 368kW and 600Nm. This allows the racy coupe to sprint from 0-100km/h in just 3.8 seconds.
Jorg Weidinger, the BMW M chassis development test driver responsible for setting the cracking lap time, spoke about the car, saying:
"This is not just because of its formidable engine but the three-way coilover suspension also plays an important role. The kinematics, tyres, aerodynamics, and the design of the 'driver's workplace – all of these components are coordinated to work together perfectly."
Click play below to see the teaser and feel free to comment your guess below. BMW says a more in-depth video will be released in the near future, with the official lap time. Stay tuned.
https://youtu.be/-yE49sAuLlc