BMW has unveiled the new 330e hybrid 3 Series at the Frankfurt Motor Show, coming in as a more affordable hybrid slotting underneath the ActiveHybrid 3. It's also the first plug-in hybrid 3 Series.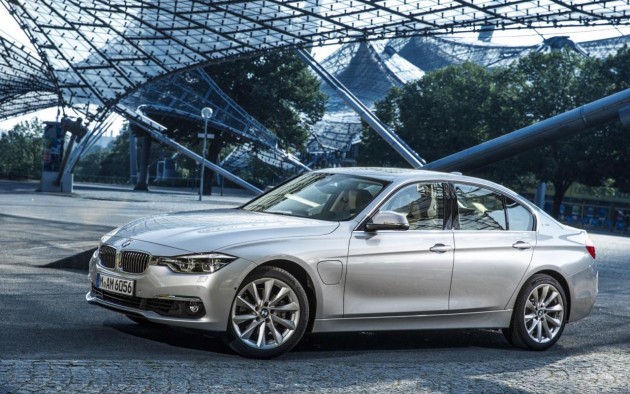 The powertrain consists of a 2.0-litre turbo four-cylinder, from the 320i – instead of a 3.0-litre six in the ActiveHybrid 3 – paired with a 7.6kWh electric motor system. Combined, the package generates 185kW and 420Nm.
At this output level it matches the new 330i (2016 version of the 328i) for power, but surpasses its 350Nm torque output. As a result, 0-100km/h comes up in just 6.1 seconds, not quite reaching the 330i's 5.8-second status.
Where the 330e shines is with fuel economy. On the combined cycle consumption test it returns a figure of just 2.1L/100km. This is helped by an ability to drive solely on electric power at speeds of up to 120km/h, for a range of around 40km.
At the moment there is no hybrid 3 Series available in Australia. The local arm recently introduced the 2016 facelift, with the most economical model being the 318i featuring a new 1.5-litre turbo three-cylinder engine. The 318i offers a consumption average of 5.4L/100km, and it's priced from $54,900.