You know how it is when you're four years old. You come up with some outrageous ideas, especially when it comes to your ideal car. A boy named Eli dreamt up a car with 42 wheels and 19 Porsche engines recently, and told his uncle about it.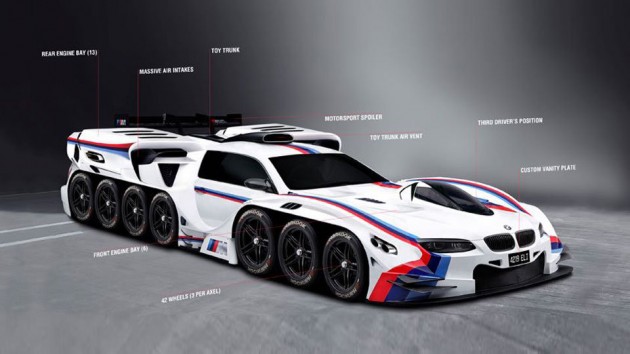 Next thing you know, auto website Jalopnik was advised of Eli's ingenious idea for a car and before you know it, BMW design teams drew it up for him.
Although we're not sure if BMW likes the idea of borrowing Porsche engines, according to the diagram, it does have two engine bays, and yes, 19 engines.
It also features a large 'trunk' in the back specifically for toys which has its own snorkel air vent of course, wrapping around from the roof. There's also "massive" air intakes for the rear engine bay, and three different driving positions.
There are 42 alloy wheels as well, with six per axle, and a whole range of wicked spoilers and racing scoops. The nose looks like it comes from a 3 Series, whereas at the back, it appears to be inspired by some kind of jet fighter.
Expected acceleration figures haven't been mentioned. With 6506kW of power though, we'll estimate 1.0 second… and 2.0 seconds for 0-200km/h. Very cool.