Details of the upcoming Porsche Macan 'junior Cayenne' SUV are emerging, including specifications on variants, with a range-topping Turbo version packing 276kW (370hp).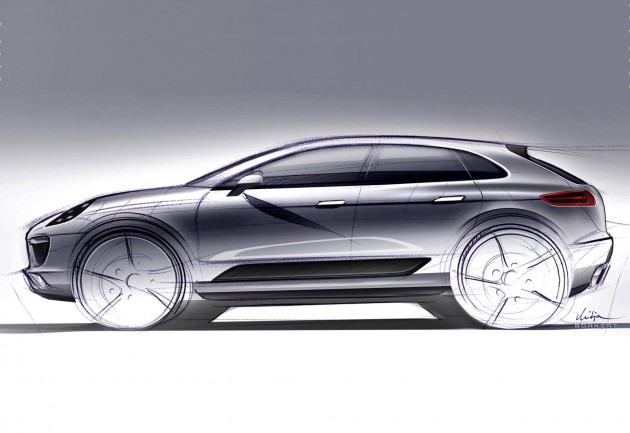 The Porsche Macan will be Porsche's answer to the BMW X3 and Audi Q5 in terms of size, although it will likely be a bit smaller/sportier with slightly less cargo space. Being a Porsche, it will also have a higher focus on performance.
It will be built on Volkswagen's next-gen MLB platform, which is for larger front-wheel drive and all-wheel drive vehicles. A version of the platform currently underpins the Audi Q5.
According to an Autocar report, there will be at least four variants which are set to hit the market in 2013. Starting from the top, the Porsche Macan Turbo will be the star of the show. It's set to feature a new 3.0-litre twin-turbo V6 engine developing around 276kW and 542Nm, making it easily the most powerful SUV in its class.
It's understood the engine will be mounted longitudinally, and will be connected up to a revised version of Audi's quattro all-wheel drive system. The system will likely incorporate a Torsen limited-slip centre differential, offering excellent performance, grip, and handling. It's believed power will go through a seven-speed manual transmission, or an optional PDK dual-clutch seven-speed auto.
Next down in the range is set to be a Porsche Macan S, featuring a 3.6-litre naturally aspirated V6 producing around 220kW and 400Nm. The engine would be a version of the 3.6-litre V6 currently used in the Panamera and Cayenne.
Making up the entry-level market segment is set to be the Porsche Macan. Power is slated to come from a 2.0-litre turbocharged four-cylinder engine producing around 164kW. Despite being the entry-level variant, Autocar reports that acceleration from 0-100km/h could still be handled in around 7.5 seconds.
Lastly, two diesel variants are expected to make their way into the lineup, including a 2.0-litre turbo-diesel four-cylinder offering around 142kW, and a Porsche Macan Diesel S with a 3.0-litre turbo-diesel V6 offering around 186kW. A higher performance variant may also be included, borrowing the 230kW 3.0 TDI powerplant from Audi.
A hybrid version might also join the model lineup later down the track.
This will be an exciting little number from Porsche, and likely a very popular one; the larger Porsche Cayenne SUV is easily the company's best-selling vehicle. We look forward to bringing you more details as they come.