Official VFACTS figures for Australian new vehicle registrations for March 2015 have been released, with Mercedes-Benz C-Class sales going through the roof, big sales for both Lamborghini and Ferrari, and impressive numbers for the Nissan X-Trail and all Land Rover luxury models.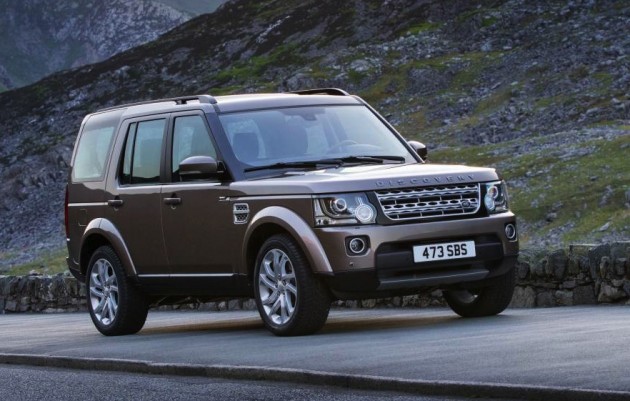 Toyota remains the leading manufacturer overall, with staggering results for the Corolla helping to push the brand well beyond any of the rivals. Nissan moved up into fifth place past Mitsubishi, while Honda overtook Subaru for ninth place. Sales are up across the board for all of the top 10 carmakers. The top ten brands for March 2015 were as follows:
Toyota – 19,082 (up from 16,243 of February 2015)
Mazda – 10,217 (up from 9057)
Hyundai – 8709 (up from 8003)
Holden – 8571 (up from 7809)
Nissan – 7138 (up from 5984)
Mitsubishi – 6307 (up from 6242)
Ford – 6023 (down from 5022)
Volkswagen – 5525 (up from 4889)
Honda – 4042 (up from 2901)
Subaru – 4002 (up from 3223)
As for the most popular vehicle for March? Well, you know it's going to be between the Toyota Corolla and Mazda3, but last month it was the Corolla. By far. Toyota outsold the humble 3 by over 700 units. The HiLux sits in third place, followed by the Holden Commodore. The Mazda CX-5 enters the top five for the first time. The top five models in terms of outright sales for March 2015 were as follows:
Toyota Corolla – 4261 (up from 3939)
Mazda3 – 3558 (down from 3598)
Toyota HiLux – 3346 (up from 2861)
Holden Commodore – 2436 (down from 2517)
Mazda CX-5 – 2344 (up from 2085)
Over in the Medium Cars under $60,000 segment, despite just missing out on the overall top five as above, the Toyota Camry still leads the segment. From there the Mazda6 (545 sales) and Subaru Liberty (425) round out the top three. The new Hyundai Sonata seems to be off to a pretty good start in the segment, reporting 110 sales during its second month on sale.
In the premium mid-size Medium Cars over $60,000 segment, Mercedes-Benz C-Class sales seem to be forging further ahead with no sign of slowing. Coming in second place, the Audi A4 overtook the BMW 3 Series, while the rest of the top five remained unchanged in terms of standings. The top five in this segment were as follows:
Mercedes-Benz C-Class – 918 (up from 842)
Audi A4 – 395 (up from 178)
BMW 3 Series – 393 (up from 199)
Mercedes-Benz CLA-Class – 226 (up from 176)
Lexus IS – 184 (up from 118)
For the Aussie cars in the Large Cars under $70,000 category, Holden Commodore sales remain steady with 2436 units sold in March. Ford Australia managed to shift 701 examples of the FG X Falcon, up from 501 sold during February, while Toyota sold 268 examples of the Aurion (up from 206 in February).
Stepping up into the premium Large Cars over $70,000 segment, the BMW 5 Series has shot past its arch-nemesis. 5 Series sales jumped by more than 100 compared with the previous month, overshadowing the E-Class Mercedes. Lower down in the top five the Maserati Ghibli has moved up into fourth spot, overtaking the CLS-Class. The top five in this segment were as follows:
BMW 5 Series – 130 (up from 29)
Mercedes-Benz E-Class – 101 (down from 111)
Jaguar XF – 64 (up from 58)
Maserati Ghibli – 39 (up from 25)
Mercedes-Benz CLS-Class – 37 (down from 42)
In everyone's favourite segment, the approachable Sports Car under $80,000 class, the Hyundai Veloster is holding onto its lead ahead of the Toyota 86 after overtaking the popular coupe last month. Interestingly, Nissan has stepped into the top five with the 370Z. The top five models in the category were as follows:
Hyundai Veloster – 347 (up from 267)
Toyota 86 – 334 (up from 248)
BMW 2 Series Coupe/Convertible – 152 (up from 132)
Subaru BRZ – 102 (up from 57)
Nissan 370Z – 58 (up from 47)
(Subaru WRX – 331 [up from 244] – not officially in this segment)
Turn it up a few notches and you end up in the Sport Cars over $80,000 category. Strangely, the Mercedes-Benz C-Class Coupe has really shone bright to try and keep up with the C-Class sedan/wagon above. However, the current C-Class Coupe is based on the old C-Class while the sedan is the next-gen version. Nonetheless, the top five in this category were as follows:
Mercedes-Benz C-Class Coupe – 499 (up from 124)
BMW 4 Series Coupe/Convertible – 224 (up from 137)
Mercedes-Benz E-Class Coupe/Cabrio – 113 (up from 39)
Audi A5 – 88 (up from 70)
Lexus RC – 48 (up from 47)
In the pinup poster Sport Cars over $200,000 segment, both of the leading Italian supercar makers posted impressive results. We haven't seen Lamborghini sitting in third position in this segment for, well, since we've been doing these reports. The Porsche 911 remains the king overall. The top five in the category during March 2015 were as follows:
Porsche 911 – 37 (up from 27)
BMW 6 Series – 20 (up from 15)
Ferrari (models not specified) – 17 (up from 14)/Lamborghini (models not specified) – 17 (up from 6)
Maserati (models not specified) – 15 (equal)
Aston Martin (models not specified) – 8 (down from 14)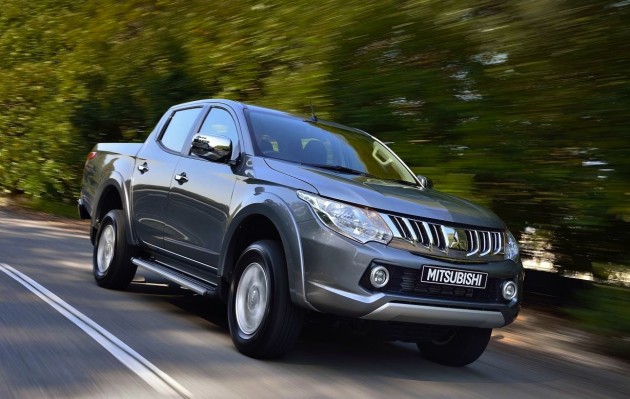 A change of pace now, the tradie's favourite, the 4×4 utes. Mitsubishi actually overtook the Toyota HiLux, reporting 2452 sales against the Toyota's 2341. The Nissan Navara (1325 sales) just edged in front of the Holden Colorado (1312) for fourth place, however, the Ford Ranger (1882) easily takes third.
For the overall Combined 4×2 and 4×4 ute sales, it's a different story. Toyota is still the boss, followed by the Mitsubishi. The Nissan Navara has overtaken the Mazda BT-50 for fifth in the top 10, while the Ssangyong has bumped the Great Wall V240 out for ninth. The rest of the lineup standings remain unchanged. The top ten 4×2 and 4×4 combined figures for March 2015 were as follows:
Toyota HiLux – 3346 (up from 2861)
Mitsubishi Triton – 2940 (up from 1988)
Ford Ranger – 2424 (up from 1953)
Holden Colorado – 1511 (up from 1337)
Nissan Navara – 1345 (up from 1143)
Mazda BT-50 – 1278 (up from 1253)
Isuzu D-Max – 1181 (up from 1009)
Volkswagen Amarok – 881 (up from 728)
Ssangyong Actyon Sports – 14 (up from 11)
Great Wall V240 – 10 (down from 13)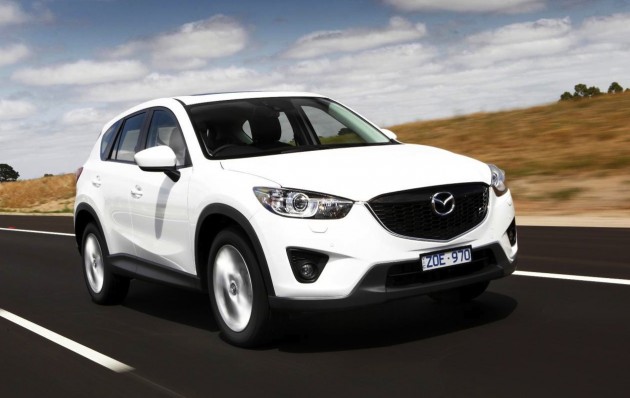 Finally, various SUV segments saw a few surprises. Starting with the entry-level segments, the Nissan X-Trail almost outsold the unstoppable Mazda CX-5. Up a rung and we see the Toyota Prado has taken over the large segment, outselling the Jeep Grand Cherokee.
In the premium markets, Land Rover is doing very well. The Range Rover Evoque was the king of its class, while the Land Rover Discovery also came out in front in its category. The big Range Rover Sport also came in third place, pushing out the Mercedes-Benz ML-Class from the top three.
Other interesting changes included the Subaru Outback coming close to overtaking the Jeep Grand Cherokee in the class, and the Nissan QASHQAI moved up from third to second place in the small segment. In all SUV segments the top-sellers for March 2015 were as follows:
SUV Small under $40,000:
Hyundai ix35 – 1344 (down from 1856)
Nissan QASHQAI – 1250 (up from 1126)
Honda HR-V – 1081 (up from 825)
SUV Medium under $60,000:
Mazda CX-5 – 2344 (up from 2085)
Nissan X-Trail – 2076 (up from 1742)
Toyota RAV4 – 1525 (up from 1453)
SUV Medium above $60,000:
Range Rover Evoque – 252 (down from 257)
BMW X3 – 221 (down from 266)
Audi Q5 – 141 (down from 340)
SUV Large above $70,000:
Land Rover Discovery – 322 (up from 281)
BMW X5 – 302 (down from 523)
Range Rover Sport – 232 (up from 145)
SUV Upper Large under $100,000:
Toyota LandCruiser – 914 (up from 678)
Nissan Patrol – 164 (down from 169)
Total new vehicle sales in Australia in March were up on February's efforts. In March Australia buyers bought 105,054 vehicles, compared with 90,424 in February. Sales for the month were also up by 8.0 per cent on 2014 March figures.
As for what fuel types buyers went for in March, electric vehicle sales jumped quite a bit, and so did hybrid sales. The figures for private buyers in terms of vehicle fuel were as follows (passenger, SUV, and light commercial combined):
Petrol – 40,934 (up from 35,741 of February)
Diesel – 14,186 (up from 11,586)
Hybrid – 311 (up from 254)
LPG – 21 (down from 28)
Electric – 25 (up from 16)