Ford has unveiled its latest and smallest hot hatch at the 2012 Geneva Motor Show; the 2013 Ford Fiesta ST. It will go on sale in Australia during the second-half of 2013, after hitting European markets earlier in the year.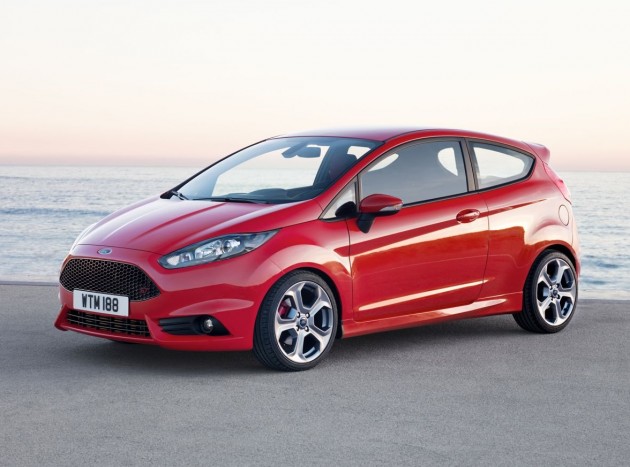 This is the first time the production version has been revealed, after the concept was shown at the 2011 Frankfurt Motor Show. Based on the same sporty principals, the production 2013 Ford Fiesta ST is a three-door hatch – five-door will also be available – with a turbocharged EcoBoost engine.
From the outside, most of the styling and trimmings are carried over from the concept, including the chunky rear diffuser, and aggressive front bumper bar. The interior is similarly themed, with sporty two-tone red bucket seats, and aluminium highlights such as pedals and gear knob.
Under the bonnet, the 2013 Ford Fiesta ST is powered by a 1.6-litre EcoBoost turbocharged four-cylinder engine producing 132kW of power and 240Nm of torque. Ford says this is powerful enough to propel the Fiesta from 0-100km/h in under 7.0 seconds, and on to a top speed of over 220km/h.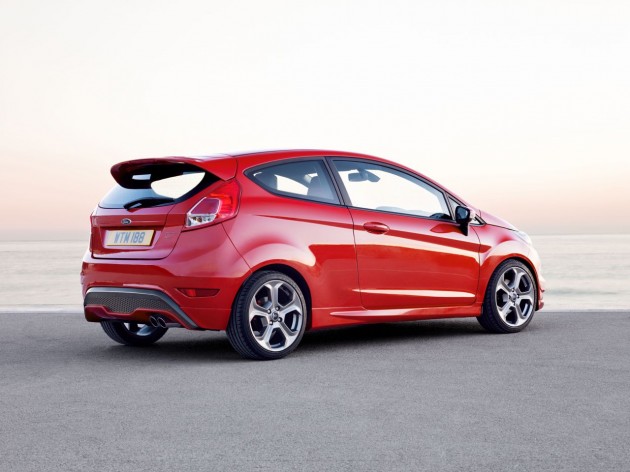 A performance suspension system, developed by Ford Team RS, brings the Fiesta down lower by 15mm, while Torque Vectoring Control puts the power down through the front wheels with optimum traction. There's also a three-stage traction/stability control system to suit various driving conditions and characteristics.
It's understood the Fiesta ST will be heading to Australia during the second-half of 2013, with prices expected to kick off at around the $25,000 mark. Whether or not Australia will get the three- or five-door model is still unclear.