Australia will be the first country in the world to take reservations for the highly anticipated Tesla Model 3 mid-size premium sedan.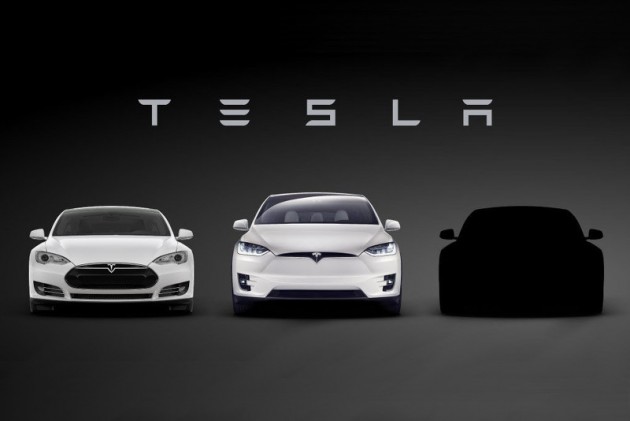 The new model hasn't even been shown yet interested punters will be able to make a $1500 deposit on the car to secure their order. Ordering will be possible at any of the stores listed below from March 31, just ahead of the car's unveiling at 2:30pm on April 1 (March 31 overseas). Special screenings of the unveil will take place in Melbourne and Sydney.
The Tesla Model 3 was previewed last week with a silhouetted image of the front end (above). As far as we know the car will be a mid-size sedan in the shape of the current Model S, only slightly smaller.
Of course, the other big difference with the Model 3 is that it will be affordable for a much broader range of the general public. Prices have been confirmed to kick off in the USA from $35,000. We predict an Aussie price of about $60,000 by the time it goes on road.
Power will come from at least one electric motor, although two electric motors with four-wheel drive could be optional like on the Model S. It will be a fully electric vehicle like all other Tesla models with no petrol engine at all, which means buyers will have to install a special charging station at home.
Buyers can also use one of the few Supercharging stations in Australia to recharge, including the two in Sydney and one in Melbourne, free of charge. More public stations are on the way, including the more recent setup opening in Port Macquarie.
More info can be found at the Tesla blog here.
Melbourne Service Centre and Store – Shop 4 650 Church St Cremorne
8.00am
opening time
Chadestone Store – Chadstone Shopping Centre Melbourne outside of Myer
9.00am
opening time
Sydney Service Centre and Store – 10 Herbert St St Leonards –
8.00am
opening time
Carindale Display – Carindale Shopping Centre Brisbane –
9:00am
opening time