Following a report that surfaced yesterday regarding a potential RS 3 sedan, a couple of images have now surfaced on social media basically confirming such a model is on the way.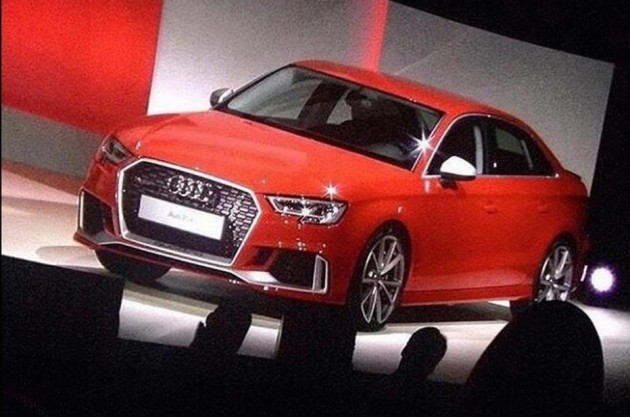 It was originally thought to debut some time in 2017, but it looks like Audi has already staged a special showcase event for future products, showing an image of the car during a slideshow/presentation. Some have suggested it could be the new RS 4, but upon closer inspection it is easy to see it is the RS 3.
Images appeared on Twitter before being taken down, presumably under the direction of an upset Audi PR team. They show a slightly revised front end compared with the existing RS 3 Sportback, with new headlights, new side air intakes featuring twin pillars, and an uplifted centre lip taking the shape of Audi's new hexagonal design theme.
Given that it appears to be a facelifted version of some kind, we can still expect some under-bonnet revisions as mentioned yesterday. Reports suggest it will come with an uprated 2.5-litre turbo producing up to 300kW. This would make it significantly quicker than the current 270kW RS 3 Sportback.
Audi is yet to officially confirm anything at this stage, but we're guessing an announcement of some kind will be made in the near future. Stay tuned.