Renowned Audi tuner MTM has come up with a power-up package for the new Audi RS 3 super hot hatch. The package includes an engine tune which allows the hatch to punch out 347kW of power.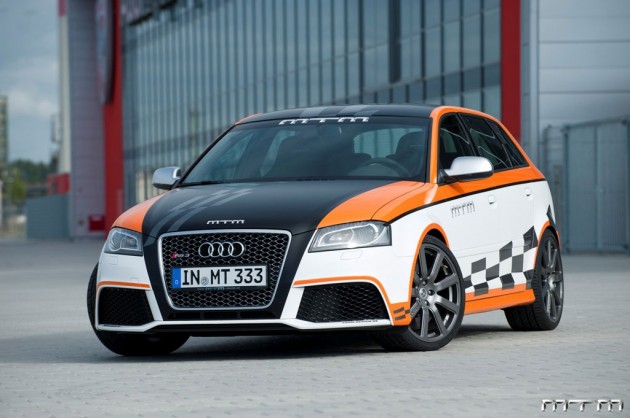 In standard form, the Audi RS 3 comes with a 2.5-litre turbocharged five-cylinder engine – also seen in the Audi TT RS – developing 250kW of power and 450Nm of torque. It's able to sprint from 0-100km/h in 4.6 seconds and has a top speed limited to 250km/h.
The MTM Audi RS 3 takes those original figures and turns them up quite a few notches. With help from a revised turbocharger, a new freer flowing exhaust system and changes to the ECU, the MTM version comes with 347kW and a spine-crunching 600Nm of torque.
MTM says the little Audi RS 3 is capable of smashing 0-100km/h in a supercar-like 4.1 seconds while top speed is extended out to 292km/h. The kit turns what is essentially a hot hatch into a fully fledged supercar.
The MTM Audi RS 3 kit also comes with 19-inch bimoto alloy wheels hiding an uprated braking package and a revised interior. MTM does offer a slightly less powerful tune, taking standard figures to 302kW or 312kW if 347kW is a bit too much power.
MTM offers the 347kW kit with prices starting at €10,600 (approximately AU$14,624). Unfortunately, Audi Australia currently has no plans for the Audi RS 3 Down Under.
Also check out:
– Audi RS3 B&B tuning package offering over 500hp
– Video: BMW 1 Series M Coupe vs Audi RS 3