Audi has revealed the mysterious 'A9' grand coupe concept, called the Prologue, just before its public debut at the 2014 Los Angeles Auto Show. It showcases an all-new design direction for the company under its new design boss, and previews a grand coupe model of the future.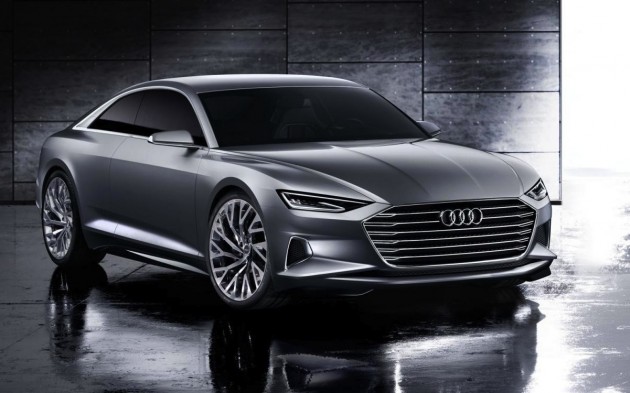 Penned by Audi's new design boss, Marc Lichte, the Prologue is the "perfect showcase of Audi DNA", according to Audi head of development Dr. Ulrich Hackenberg. It's a wide, low and very imposing concept that also possesses a great deal of cleanness and straight lines.
It's not just about looking good either, it comes with a potent powertrain package consisting of a 4.0-litre twin-turbo V8 producing 455kW of power and 750Nm of torque. Audi says this unit enables the suave creation to scoot off from 0-100km/h in just 3.7 seconds.
Audi claims the official combined cycle fuel consumption for the 1980kg machine is just 8.6L/100km. It says it is able to achieve this through a "mild hybrid" system which offers an energy recovery output of 12kW. The 48-volt system comes with a special belt starter generator and previews a system that will soon be introduced in Audi production cars.
Other technical highlights include all-wheel steering that can provide up to five degrees of rear wheel steering angle to improve agility and precision, as well as adaptive air suspension with controlled damping. The advanced suspension offers a wide range of adjustments and ride height levels.
Aside from looking good and going fantastic, there's even more to the Prologue; it will inspire a future grand coupe dubbed the 'A9' (name not confirmed). Think of it as like a coupe version of the flagship A8 sedan, ready to take on the likes of the Mercedes-Benz S-Class Coupe.
A production version is expected to hit the market in a few years. Let's hope it comes with the same 445kW V8 as this concept, and the same fuel economy.