Yes, the hotly anticipated 2013 Volkswagen Golf GTI Mk7 could be about to get much hotter, with the introduction of a 'Carbon Edition'. The sporty lightweight is set to lose up to 200kg.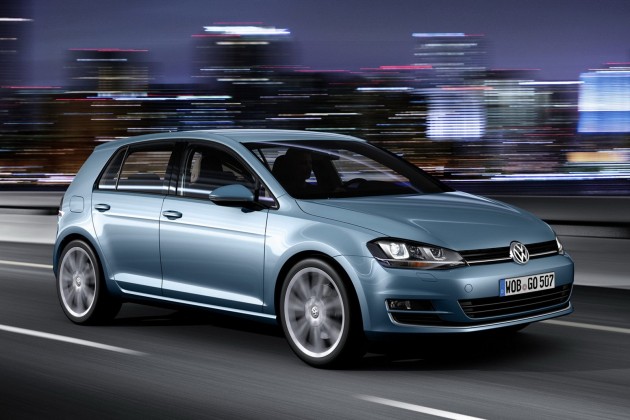 (Regular new 2013 Golf Mk7 TSI shown)
According to a recent Autocar report in the UK, Volkswagen could be working on a lightweight sports variant of the already sporty new Golf GTI. The publication has strong reason to believe such a model is in the pipeline, after witnessing prototypes of it being tested.
It's understood the front bulkhead of the chassis, the windscreen frame, and the floor will be constructed of aluminium for reduced weight, while the roof and bonnet is set to be made from carbon fibre.
With these lightweight materials, the Golf GTI Mk7 Carbon Edition is expected to drop as much as 200kg. This would significantly improve the car's power-to-weight ratio, decreasing 0-100km/h times while enhancing its point-to-point performance.
As we already know, the new Golf GTI will feature a 2.0-litre turbocharged four-cylinder engine producing around 165kW. Power will be sent to the front wheels once again, but this time through an electronic limited-slip differential. The differential alone has apparently allowed the Golf to shave off eight seconds around Germany's torturous Nurburgring.
The Golf Carbon Edition is expected to be a very quick piece of gear, and could launch some time in 2014 to coincide with the Golf's 40th anniversary.
It's believe the lightweight platform may also be used for the upcoming electric and fuel-efficient hybrid variants of the new Golf.
Fingers crossed Volkswagen does make it. And double fingers crossed it makes it to Australia. Acceleration from 0-100km/h is likely to fall below 6.0 seconds.