High definition renderings of one artist's take on the Audi e-tron SUV have made their way online, ahead of the new model's official release later this year.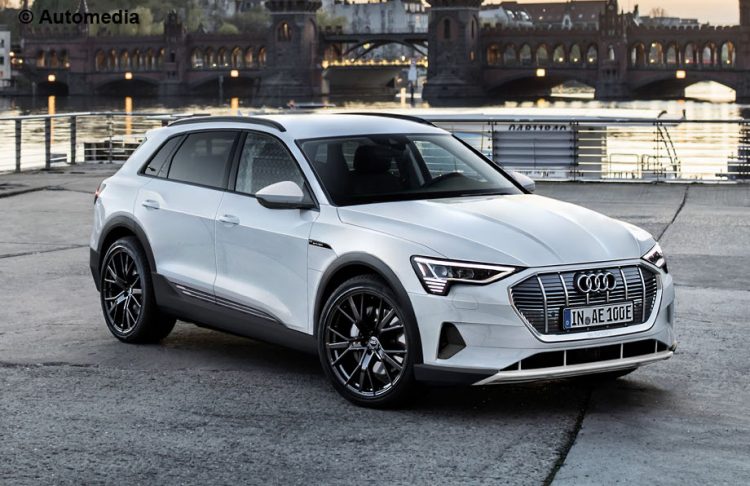 The Audi's e-tron SUV has been previewed time and time again on a global PR tour spanning most of this year after a prototype debut at the 2018 Geneva Motor Show, but always in funky camouflage.
Now however, we've got one interpretation of a possible design indiction thanks to this rendering from Automedia, showing a familiar Audi aesthetic as well as some neat touches to the bodywork.
The grille design we've seen from spy shots makes a front and centre appearance, as well as sharp lines across the bonnet which have become a key part of Audi's latest design language. Around the back there's the angular taillights that mix into one seamless-looking line across the tailgate.
While it's not an official release from Audi, it's hard to imagine the e-tron SUV looking too dissimilar from these renderings.
The e-tron is a landmark moment for Audi, considering it's the release of Audi's first fully electric production SUV. While Audi has remained tight-lipped as to a lot of the upcoming SUV's specs and design, a few weeks ago we had confirmation from Audi on some of the e-tron's specs.
Audi says it will be packaged with two electric motors powered by a 95kWh battery pack, good for a combined output of up to 300kW and 561Nm; 600Nm in sport mode for an eight-second boost. 0-100km/h will take less than 6.0 seconds, while the top speed is capped at around 200km/h. Range is said to be north of 400km.
In just over a month's time, on September 17, we'll have a full list of specs when the e-tron debuts in the States. The initial debut was planned for the end of this month, but CEO Rupert Stadler's arrest apparently forced Audi to delay the e-tron's unveiling.