How do you make your city car more appealing? By giving it retro looks and calling it an SUV. Suzuki's new entrant, the 2017 Ignis, brings joy and flair to the segment, built on the brand's new HEARTECT platform with 180mm of ground clearance.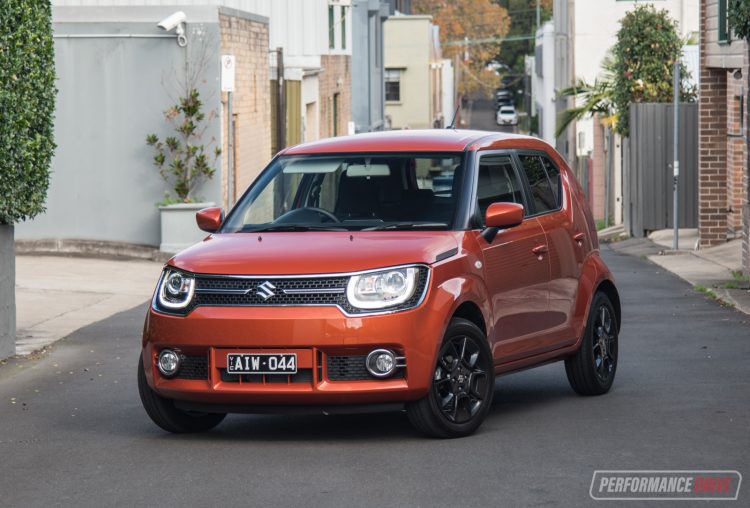 Being that it is an A-segment hatchback, is it a stretch to call it an SUV? Maybe so, but the blistered wheel arches and ground clearance (more than some others in the small SUV segment) give it an 'SUV' pass.
Since its early 2017 release, the Ignis has proven very popular, defying the light car segment's 16.3 per cent decline compared to 2016. To the end of May 2017, 1181 Ignises (Ignii?) have found homes, adding volume to Suzuki's lineup to compensate for the Swift's decline as it transitions to the new model.
Does this retro-fantastic little tyke exhibit the utility and confidence of a true SUV in the real world? Let us find out. We're testing both the base model GL (aqua) and top GLX (orange), both in automatic.
2017 Suzuki Ignis GL – THE SPECS
Engine: 1.2-litre four-cylinder
Output: 66kW@6000rpm / 120Nm@4400rpm
Transmission: CVT auto
Drive type: Front-wheel drive
Wheels GL: F & R: 15×5.0 steel, 175/65
Wheels GLX: F & R: 16×5.0 alloy, 175/60
ANCAP: Not tested
Kerb weight: 865kg
Power-to-weight: 13.1:1 (kg:kW)
Official fuel economy: 4.9L/100km
Economy during test: 5.8L/100km
Fuel capacity/Type: 32L/91 RON
Power efficiency: 13.46kW:L/100km
0-60km/h: 4.83 seconds*
0-100km/h: 10.22 seconds*
60-110km/h: 7.39 seconds*
1/8 mile: 11.48 seconds at 106.8km/h*
1/4 mile: 17.59 seconds at 128.8km/h*
100-0km/h braking: 3.30 seconds at 44.54 metres*
Decibel at idle: 40*
Peak decibel at 60-100km/h: 77*
Priced from: $16,990
* Figures as tested by PerformanceDrive on the day, with the Ignis GL model. Factory claims may be different

2017 Suzuki Ignis – THE PACKAGE
In terms of styling, the Ignis is a real mould-breaker. Instead of the 'soap blob' look that defines most of its contemporaries, it is angular and confident, with many cues reminiscent of early, classic Suzukis. The faux C-pillar vents, for example, hark back to the 1970s rear-engined Whizzkid, as does the grille with integrated headlamps.
The Ignis GL opens at $15,990 drive-away for the manual GL ($1000 more for auto, as tested), coming with Apple CarPlay and Android Auto, satellite navigation, power windows, reverse camera and a 7.0-inch touch-screen media interface, all as standard. The flagship GLX, priced from $18,990, adds neat-looking charcoal alloy wheels, climate control with toggle switches, auto headlights, sliding rear seats and keyless start.
The all-new 'HEARTECT' platform, which also underpins Baleno and upcoming Swift, manages increased rigidity while being exceptionally low in weight, at just 865kg (kerb). This imbues the Ignis with a superior power-to-weight ratio to the Mazda2. Although it hasn't been crash tested by ANCAP yet, the Ignis carries a full suite of airbags, stability control and brake assist.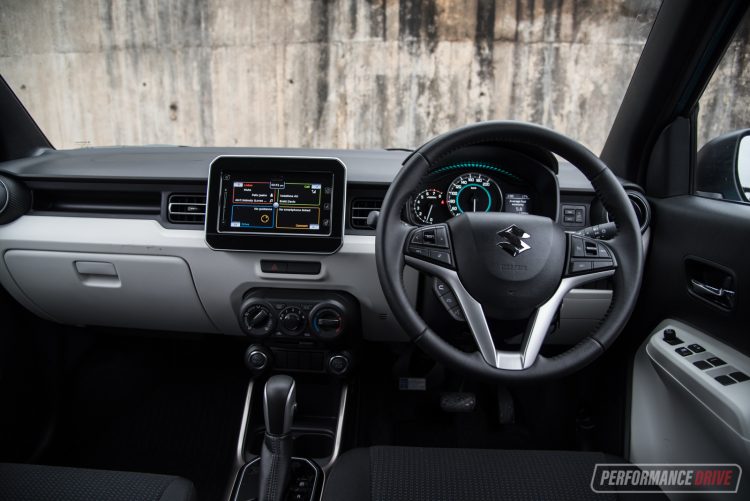 All Ignis models in Australia come with a 1.2-litre, 66kW/120Nm four-cylinder engine, tied to a five-speed manual available with the GL, or a CVT automatic for the GLX. Fuel consumption is rated at 4.7L/100km for the manual and 4.9 for the auto.
The interior has a retro theme but is nicely laid out, with clear, LED-lit instrumentation, cool toggle switches and the 7.0-inch touch-screen resembling an iPad with bevelled edges. This screen is seen in many of Suzuki's latest models, and it's standard across the board.
The plastics themselves are mainly of the hard, low-grade variety but clever design all-but masks this. Considering the starting price too, it can be forgiven. There's also a two-tone colour scheme that makes it a less drab place to be.

2017 Suzuki Ignis – THE DRIVE
The upright, box-on-wheels stance of the Ignis makes a strong first impression and makes for great visibility and roominess for four outboard passengers (five at a pinch). You wouldn't call the driving position commanding, but it is somewhat noticeable compared to a regular small car.
Put it in Drive and the 1.2-litre engine and CVT combo make short work of the 865kg mass. It's a spritely little bugger, with no tinniness or thrumming through the body. It's quiet enough most of the time, with only faint wind noise coming from the sides. Crosswinds can disturb high speed balance on the highways, but this does tend to make the car feel more alive and interactive.
The high ride height means Iggy is very forgiving over bumps but not a car to be thrown about like a go-kart. Although turn-in and body roll is well contained most of the time, pegging it around with disdain reveals a sudden propensity to lean and wobble, but it's never unpredictable.
Standard with power steering, it's quick and decently weighted, but somewhat remote in terms of feedback. You can place the Ignis well in corners and car parks but there isn't a whole lot of communication through the rim. Small tyres (175/60, or 65 with 16in alloys on GLX) mean grip levels aren't at the pinnacle of the class, especially with very little weight pressing them onto the ground.
Real world fuel economy is a sheer delight, with an average of 5.8L/100km on test, in mixed driving conditions. This is an excellent result considering a similarly-specced Holden Spark spends most of its time over 7.0L/100km in the real world. The CVT even keeps the engine purring along at low revs at cruising speeds, but headwinds do become noticeable.
Servicing is at 10,000km intervals, at $179 each, except for the 40K, 80K and 100K services which are $359, $399 and $399, respectively. The warranty is three years or 100,000km, whichever comes first.
2017 Suzuki Ignis – THE VIDEO
2017 Suzuki Ignis – THE VERDICT
While not an SUV in the traditional sense, the increased ride height and retro styling give the Ignis a great deal of endearing character.
It democratises retro styling instead of charging a premium for it, like, say MINI or VW Beetle. Little Iggy is easy to drive, has great infotainment and standard features, is cheap to maintain, and feels relatively well built. We want to see more like it, including Honda's JDM N-One and N-Box.
PROS:
– Light weight
– Economical
– Retro design
– Great standard equipment/value for money
– Perky engine
– Cheap to maintain
– Easy to drive

CONS:
– Ponderous handling when thrown about
– Dubious SUV credentials
– Not tested by ANCAP as yet
As always, if you're thinking about buying a new car don't forget to click here to speak with our car buying specialists.