If you're planning to spend around $30,000 on a new driver's car, the market has never been as tough as it is right now. There are a handful of highly-tempting, well-sorted propositions you need to consider. Today we're going to take a look over the Ford Fiesta ST, the Hyundai Veloster SR Turbo, the popular Toyota 86, and the Volkswagen Polo GTI.
Fiesta ST, Veloster SR, Toyota 86 vs Polo GTI: The Specs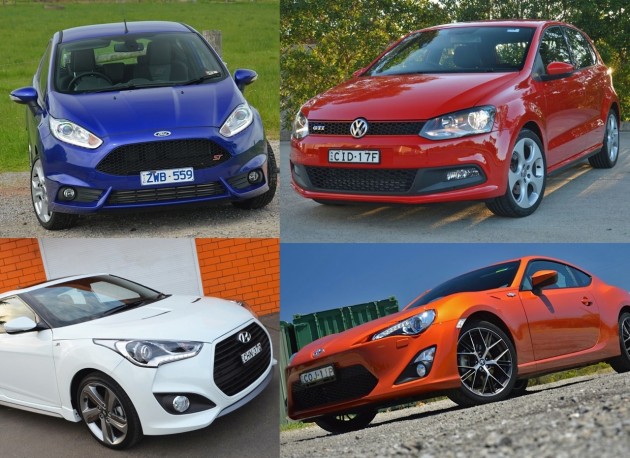 | | Ford Fiesta ST | Hyundai Veloster SR | Toyota 86 | VW Polo GTI |
| --- | --- | --- | --- | --- |
| Engine | 1.6L turbo, 147kW/290Nm (overboost) | 6.9 seconds | 6.2L/100km | $25,990 |
| Tested 0-100km/h | 1.6L turbo, 150kW/265Nm | 7.1 seconds | 6.8L/100km | $32,990 |
| Official economy | 2.0L boxer, 147kW/205Nm | 7.4 seconds | 7.8L/100km | $29,990 |
| Priced from | 1.4 turbo supercharged, 132kW/250Nm | 6.3 seconds | 6.1L/100km | $29,540 |
Fiesta ST, Veloster SR, Toyota 86 vs Polo GTI: The Package
Toyota 86
Starting with the famed Toyota 86. This was a project in the making for over five years. The suspense and anticipation for this model before it was launched in 2012 was intense. People were literally throwing money at the company just to secure their orders.
It, as you probably know by now, is a joint project developed in part by Subaru. In fact, most of the Toyota 86 is actually manufactured by Fuji Heavy Industries (Subaru parent company of which Toyota owns 16.5 per cent) in Japan. Both versions are pretty much identical aside from some minor interior details and creature comforts that push the Subaru BRZ into a slightly higher price segment.
As a driver's car it is simply the best rear-wheel drive on sale at the moment this side of $50,000, without a shadow of doubt. It's so pure and organic, yet very playful and perhaps one of the least intimidating vehicles money can buy. The fact Toyota puts on tyres that are too narrow adds to the free-spirited character. It's available with a manual or auto.
As a daily driver we think it's not as amusing as the others here. It needs to be driven hard to be fully appreciated. Sure, there is some theatre just being inside, with its low-slung driving position. But now that these are quite popular the novelty has worn off a bit. The engine sounds and is fairly harsh during normal conditions too, which doesn't help the overall entertainment level.
Hyundai Veloster SR Turbo
Next up is the Hyundai Veloster SR Turbo. When Hyundai first introduced the Veloster in 2011 most of the industry thought the company was mad. How could a car with three side doors (one on the driver's side and two on the other) sell? To answer that you only need to glance over the sales figures. During 2013 in Australia Hyundai sold 3928 examples, putting it in second spot behind the Toyota 86 (6706) in the entry-level sports car segment.
For Hyundai fans, it's a funky, modern and very practical daily runaround with a sporty coupe-like layout. It's cool. For driving fans, the standard 103kW 1.6 is a bit weak. And that's where the 150kW SR Turbo comes in. It offers strong acceleration and good mid-range pickup. Tie that in with a taut chassis and credible handling, and you're left with a satisfying driver's package that's also quite practical.
Like the Toyota 86, the engine sound is not the best. You might be hoping for some turbo whistle and pop, like most sporty turbo vehicles, but instead it's a dreary engine note that screams slightly deeper than a generic naturally aspirated four-pot.
Fiesta ST
Ford stormed into this segment in 2013 with the hot new Fiesta ST. When it comes to making an entrance, Ford has been as flamboyant as they come.
Everything looked promising; big Recaro seats, and tight chassis with internationally honed suspension and steering, a modern, fuel-efficient EcoBoost engine, and all of the bells and whistles on the outside that remind you of the classic fast four Fords like the Escort RS Cosworth and Sierra RS. The fact that it isn't available with an automatic also sends out a firm message about its driver's-only intention.
Fortunately, Ford delivered on every level. Experts from around the world continue to give high praise for what Ford has done with the new Fiesta ST. However, having no auto option is going to turn away a large chunk of buyers, and being a three-door-only model in Australia, it isn't as practical as the rivals.
Volkswagen Polo GTI
Lastly, the veteran of them all, the Volkswagen Polo GTI. The model was originally designed – in 2005 – as an entry-level version of its legendary bigger brother, offering German efficiency and precision engineering, practicality, speed, and a clean-cut design. Despite being around since 2010 in essentially the same form, the current Polo GTI continues to be the quickest and most fuel efficient package in this segment.
Featuring a turbocharged and supercharged 1.4-litre four-cylinder, the GTI seems, on paper at least, like the most mental setup out there. Behind the wheel the engine provides instant go-fast exhilaration, with no turbo-lag thanks to the supercharger and a meaty top-end thanks to the turbo.
It was available in three- and five-door forms but now it's five-door only. It's also only offered with an auto in Australia. You needn't worry though, it's a cracking dual-clutch auto with paddle shifters so you can drive it like you're a racing car driver.
For these reasons, the Volkswagen is the winner in our opinion. It's seriously quick from point to point, getting properly Group B angry when you get into it. It sounds exciting through all portions of the rev range. It's also practical and super fuel efficient in the real world – the most fuel efficient of this foursome (see official specs below). The clean design inside and out means it is likely to age the slowest out of them all. Overall, this is a brilliant little car.
Fiesta ST, Veloster SR, Toyota 86 vs Polo GTI: The Verdict
If you're after a cracking, hot-headed driver's hatch, you simply can't go wrong with the Fiesta ST. It's loud and sounds rorty, and if it came to sheer track times it would probably be the quickest out of this lot. It's also the cheapest here. It gets a highly honorable second place on the podium.
The Toyota 86 comes in third position here but it gets a special award for being rear-wheel drive. This means it has the ability to perform donuts and drifting all day long. For all other occasions it's, dare we say it, just a wee-bit boring. The engine lacks personality and without forced induction it is the least fuel efficient. Perhaps it's time for an update?
As for the Veloster, it might be last here but you can't ignore its fetching design. Hyundai has done well to introduce an interesting take on the compact hot hatch segment. For us though it just misses the mark in terms of driving dynamics and quality to be considered as a complete driver's car.
As with most buying decisions the best thing to do is test drive them all and find out what suits you the best. Some of these have tight headroom or a small boot, while others are more practical but are less lively. It depends what you place as a higher priority.
The good thing is all of these are fantastic bargains and thoroughly enjoyable in their own way. We can be grateful such products are on the market in the first place.
Follow the highlighted car title links above for the full review on each.