As a household brand name, Kia has upped the ante over the last few years with its latest models. We have seen enormous leaps in styling, performance and quality from the South Korean brand. The Kia Sorento is the large, 7-seater SUV offering that competes against the likes of the Toyota Kluger and Mazda CX-9, appealing to larger families who are in search for something more adventurous and attractive than a people-mover.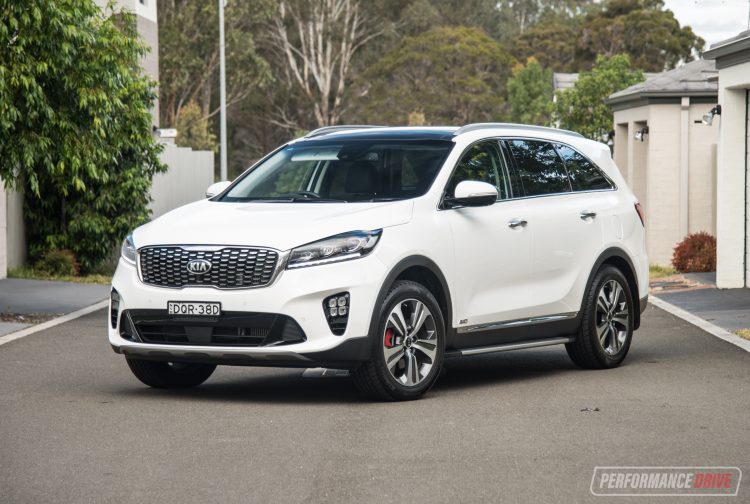 For the recently refreshed MY2019 lineup for Australia, the range begins with the Si, then the Sport, the SLi and the top GT-Line. All are offered with the choice of front-wheel drive or all-wheel drive, paired with an eight-speed automatic. If you opt for a front-drive you score the sizeable 3.5-litre V6 petrol engine that outputs 206kW and 336Nm. All AWD models are all fitted with a 2.2-litre turbo-diesel four-cylinder, developing 147kW and 441Nm.
Prices begin at $42,990 for the base-model Si V6, and go up to $58,990 for GT-Line AWD, as tested (excluding on-road costs).
2018 Kia Sorento GT-Line – THE SPECS
Engine: 2.2-litre turbo-diesel four-cylinder
Output: 147kW@3800rpm / 441Nm@1750-2750pm
Transmission: Eight-speed auto
Drive type: All-wheel drive
Wheels: F & R: 19×7.5, 235/55
ANCAP: Five stars (scored 36.62 out of 37)
Tare weight: 1985kg
Power-to-weight: 13.50:1 (kg:kW)
Official fuel economy: 7.2L/100km
Economy during test: 7.5L/100km
Fuel capacity/Type: 71L/Diesel
Power efficiency: 20.42kW:L/100km
0-60km/h: 4.50 seconds*
0-100km/h: 9.65 seconds*
60-110km/h: 6.67 seconds*
1/8 mile: 11.12 seconds at 109.9km/h*
1/4 mile: 16.96 seconds at 136.8km/h*
Max acceleration: 0.662g
100-0km/h braking: 3.14 seconds at 41.08 metres*
Max deceleration: -1.239g
Decibel at idle: 48*
Peak decibel at 60-100km/h: 78*
Priced from: $58,990
* Figures as tested by PerformanceDrive on the day. Factory claims may be different

2018 Kia Sorento GT-Line – THE PACKAGE
Kia now makes good-looking vehicles. It now knows how to make cars that look modern and strong, without being too futuristic or tacky. The design of the latest Sorento is no different. Externally, the design cues are clean and conservative, with the right amount of sportiness with the GT-Line pack. We love the three-prong headlamps that dart out of the surrounding dark shade, and the four-prong LED fog lights lower in the bumper. Flowing towards the rear are aerodynamic contours that give off a strong yet well-proportioned appeal.
The interior continues with a similar design theme, with a simplistic approach. Some elements don't look quite as superior as most Euro counterparts – like the harsh red backlit buttons and the plastic texture on the dashboard – but we admire the ease of use the design creates.
The GT-Line might set you back some dollars but the base model Si is $15k cheaper for the budget conscious. And feature-wise, you still receive a comprehensive list, like seven seats, forward collision mitigation, adaptive cruise control, daytime running lights, selectable driving modes, lane departure warning, digital DAB+ radio, and Android Auto and Apple CarPlay. There's also a full-sized spare and tyre pressure sensors.
On top of this, the GT-Line is equipped with a beautiful Harmon/Kardon 10-speaker stereo, 19-inch alloys, front and side view cameras, second row sun blinds, red painted brake callipers, proximity key, a partially digital instrument display, active levelling and cornering headlamps, powered tailgate, heated front and second row seats, heated steering wheel, cooled front seats, side steps, and rear cross traffic alert. The price is also a large step higher because of the extra two wheels being powered by the diesel engine.
The infotainment touch-screen is quick and intuitive to grasp when driving, helped by common hard-wired buttons being placed on either side of the screen. And as mentioned, the Harmon/Kardon 10-speaker stereo is up there with top of the line brands. It pumps out the loudest of bass, smoothly and crisply.
Comfort levels from the GT-Line embossed partially leather seats are also up there with that of a premium brand. Lighter passengers might find the seat cushioning a touch firm (although this test vehicle is quite new), but they are heavily bolstered and thick – probably to fit all the cooling and heating equipment inside. In the rear, the legroom is nearly boundless. You'll easily fit five adults with long legs in the second row. And if you have an even bigger family, the third row suffices for short distances for adults, or long distances for kids. You can also slide the second row to adjust where you need more room. There are loads of storage solutions throughout the cabin, adding to the overall practicality of the Sorento.
The Sorento may only measure a boot capacity of 142 litres with all three rows in use, but its 605 litres beats many in the competition when the third row is folded down. That gives more room than the Toyota Kluger and Mazda CX-9. And considering there is a full-sized spare under the floor, an additional compartment, and third row cupholders over the wheel arches, the space is very admirable. The cargo volume can also be increased to 1662 litres when you fold the second row down, and it all folds completely flat.

2018 Kia Sorento GT-Line – THE DRIVE
Continuing with the "Kia now makes good cars" idea, the diesel engine is an impressive one. It has the get-up to push this large 7-seater along no matter how heavy your load is. Our 0-100km/h testing revealed 9.65 seconds, which is more than respectable. 441Nm of torque is the right amount for everyday use, and ideal for hilly country cruises with the family. The 147kW peaks in quite high, at 3800rpm; and the engine like to spin up like a petrol engine. But don't worry, fuel figures are certainly not affected by this.
During our harsher testing we achieved an applaudable fuel consumption average of 7.5L/100km. It's official rating is not far off, at 7.2L/100km. Considering the size and weight (1985kg), the diesel engine makes a good case for itself over the petrol option, which burns 10L/100km. And a 71-litre tank means you should get close to 1000km out of it. That's handy.
Kia has now turned to its own in-house engineers to design a new eight-speed automatic gearbox for the latest model. And we are surprised to say it is a standout. With ultra-smooth shifts, you hardly feel each gear change at all. And the ratio spacing makes great use of that big torque from the engine, making it an effortless drive experience in all conditions.
If you plan on towing, the towing capacity from all Sorento variants is about average at this end of the market. 2000kg braked and 750kg un-braked is on par with the Toyota Kluger and Mazda CX-9, but less than the smaller Volkswagen Tiguan all-wheel-drive's 2500kg capability.
Turning to handling dynamics, the Sorento is made first and foremost to keep the family comfortable. It absorbs bumps and potholes with confidence. Remarkably, you feel like you could bounce over those shopping centre speed bumps as fast as you want. And that doesn't shroud its ability to handle corners. It can approach corners with minor body roll and great poise, and there's adequate feed back coming through the steering, for this class anyway. Even with its weight and size, the Sorento keeps well-centred at highway speeds, too.
Kia has this funny idea that some Sorentos will be hitting the dirt, as it has included different driving modes to select from. This is great for buyers who just want it there as a back-up. And it is sensible to have all wheels providing the propulsion in the wet and on dirt roads. If you do take it onto more serious dirt tracks, the Sorento has road-oriented tyres only, so, you might not get far. But again, compared with the key rivals, this is about the benchmark.
If all of the above has not convinced you of the Sorento, Kia offers the peace of mind of the most generous warranty on the market; a seven-year unlimited kilometre warranty. Hopefully it will improve resale values down the track too. Servicing is required every 15,000km or 12 months at a capped price.
2018 Kia Sorento GT-Line – THE VIDEO
2018 Kia Sorento GT-Line – THE VERDICT
The MY2019 Sorento is another example that shows Kia does make very appealing vehicles, well suited to the modern market. With a generous range to choose from, we think there is bound to be one that will suit your needs and budget. It also offers a frugal diesel engine, which is not the case for some silly rivals (wink, wink Mazda CX-9 and Toyota Kluger).
Some may have reservations with spending just under $60k for this GT-Line version. But the truth is, the diesel engine is a strong yet economical performer, the interior is practical for large families, it has more visual appeal than people-movers do, safety and tech is outstanding, and the warranty is the best out there. The only reason left to choose anything else might be just for the name. But that'll soon change, especially if Kia keeps up this great work.
PROS:
– Competent and torquey engine
– Easy to drive
– Practical interior layout and controls
– Packed with features and safety technology
– Good fuel average for this size of vehicle

CONS:
– Of all other features it has, no auto wipers
– Some inferior interior elements; red dash lights, basic plastic patterns
– Not a good track record for resale value
As always, if you're thinking about buying a new car don't forget to click here to speak with our car buying specialists.