Yes, we know. It's not exactly a 'PerformanceDrive' style of vehicle. But some of you may use a van for work, so we'd thought we test out the latest 2019 Hyundai iLoad for you to see how it goes.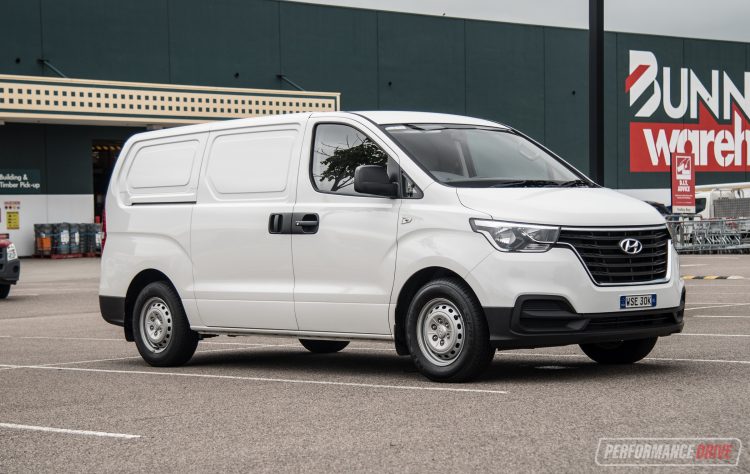 The iLoad was the second-best-selling van in the class during 2018, behind the Toyota HiAce. Customers purchased 4362 examples during the year, which was down 22.7 per cent on 2017 efforts. However, Hyundai Australia introduced a major facelift for the iLoad in May last year, bringing in some much-needed improvements to in-car comfort and convenience, safety, and a fresher look for the exterior.
Prices start at $38,790 for the base model six-speed manual, with another $3000 required for a five-speed auto. We don't understand why the auto is so much more expensive, especially as the auto itself isn't exactly a complex seven- or eight-speed unit.
Hyundai does offer a few different options of the 2019 model, including bodies with twin-swinging rear doors and crew cabs layouts with up to six seats inside. This example here is the basic version with three seats but with the auto option, which starts at $41,790 (excluding on-roads).
2019 Hyundai iLoad – THE SPECS
Engine: 2.5-litre turbo-diesel four-cylinder
Output: 125kW@3600rpm / 441Nm@2000-2250rpm
Transmission: Five-speed auto
Drive type: Rear-wheel drive
Wheels: F & R: 16×6.5 steel, 215/70
ANCAP: Four stars (scored 25.81 out of 37)
Kerb weight: 2062kg
Power-to-weight: 16.49:1 (kg:kW)
Official fuel economy: 8.8L/100km
Economy during test: 9.5L/100km
Fuel capacity/Type: 75L/Diesel
Power efficiency: 14.20kW:L/100km
0-60km/h: 4.64 seconds*
0-100km/h: 11.42 seconds*
60-110km/h: 8.98 seconds*
1/8 mile: 11.50 seconds at 100.4km/h*
1/4 mile: 17.96 seconds at 124.9km/h*
Max acceleration: 0.571g
100-0km/h braking: 3.45 seconds at 42.91 metres*
Max deceleration: -1.074g
Decibel at idle: 56*
Peak decibel at 60-100km/h: 81*
Priced from: $41,790
* Figures as tested by PerformanceDrive on the day. Factory claims may be different

2019 Hyundai iLoad – THE PACKAGE
For the new model Hyundai has introduced a tilt and reach adjustable steering column to improve ergonomics, as well as auto headlights, and a new instrument cluster that now includes a more comprehensive digital display for trip information. The new feature perhaps of most interest though is a 7.0-inch touch-screen media screen for the dash.
This replaces an old-school head unit, and allows for the inclusion of an integrated rear-view camera display. You can connect you phone via Apple CarPlay or Android Auto, improving on-the-road convenience and safety. It's a decent unit and very easy to use, with a collection of main menu buttons hung below the screen. Tunes are wired through a six-speaker audio system.
Jumping into the seat for the first time, as a passenger or driver, reminds us of when we were kids. All we wanted was a good view ahead. And here the position is high up, giving you an excellent wide open view. There's no real blind-spot around the direction of the A-pillars, and the windscreen extends right down so you can almost see the end of the bonnet. It's great.
Rearward visibility is obviously restricted, as with the case of any van like this with steel panelling in place of side windows, but the chunky side mirrors and large rear windscreen help a lot. There's also that rear-view camera to utilise.
Headroom and legroom isn't an issue, except for in the middle seat. The middle seat passenger has to curve their legs around the dash/centre console which protrudes outward to house the gear shifter. A passenger here also negates the cup holders that flip out from below the shifter.
Without a centre passenger you can fold down the large console which presents a big storage tray and two cup holders. There's no real lack of storage around the cabin but we suppose some dividing partitions could help to secure smaller items from floating about within the big centre tray.
In the back is a huge storage area, obviously. It measures 4426L, which doesn't compare well to the Toyota HiAce's 6000L. There are some handy tie-down hooks around the floor in all areas, and there's a sturdy metal cage (rated at 60kg) separating the cargo area from the passenger space.
Unlike the standard HiAce, the iLoad does come with twin sliding doors for easier access. However, this can be a downside as well as the door area, including the step, reduces the sheer volume. Speaking of the step, they are trimmed in hard plastic, as with the front steps, with a ribbed surface. Although they look grippy they are actually very slippery in wet conditions.
Payload is rated at just over a tonne, at 1098kg. If that's not enough, there's a towing capacity of 750kg unbraked, and 1500kg with a braked trailer.

2019 Hyundai iLoad – THE DRIVE
During our test drive we used the iLoad as holiday vehicle to haul a family-load of stuff from Sydney to Port Macquarie, including four bicycles, baby equipment such as a high-chair and pram, and enough luggage for five people for a week's accommodation. This is not what the iLoad is primarily designed for, but since we don't own a plumbing or painting business it was difficult to test it in its natural habitat.
However, if you are running a business during the week, it might be good to know the iLoad can double as a great adventure vehicle for carting bicycles or even a dirt bike or two. The cargo width measures 1620mm, or 1272mm between the rear wheel arches, and stretches 2375mm in length Height is measured at 1340mm.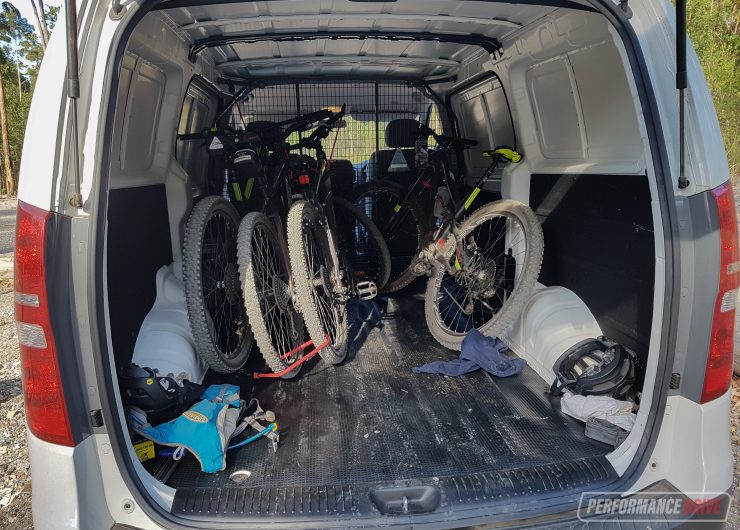 On the highway the iLoad feels stable and surefooted, and seems to cut through the air without too much disturbance. It also doesn't get battered around by the turbulence of other moving traffic. Cruise control comes as standard which adds a touch of relaxation to your journey, and the driving position feels comfortable and fairly natural.
We know you're probably not going to believe us when we say this, but the iLoad is actually pretty fun to drive. Its wide footprint and relatively shortish overall height (1935mm) means the centre of gravity feels low, resulting in flat cornering. Obviously the industrial-strength 215/70 tyres are the weakest link in sheer cornering grip. In saying that, it would be interesting to see how one of these things would go with some alloy wheels and wide tyres, and even lowered suspension.
Irrelevant driving aside, the iLoad offers a tight turning circle of just 11.22m, and can be parked in spaces no narrower than about 2.0 metres due to its 1980mm width. But as we mentioned, it is very easy to park thanks to the rear camera, and the clear forward vision.
Fuel economy is rated at 8.8L/100km on the official combined cycle. During our test which included a lot of highway driving but also our performance testing, the trip computer said 9.5L/100km. It's not too bad at all.

2019 Hyundai iLoad – THE VIDEO
2019 Hyundai iLoad – THE VERDICT
The iLoad is ageing a bit now and is missing some of the latest advanced safety technologies such as autonomous emergency braking. But, the 2019 facelift does help boost its appeal significantly. There's a crisper design and much-improved interior, and increased safety, albeit retaining a four-star ANCAP rating.
For us, the diesel engine is one of the strongest attractions. With a meaty 441Nm of torque on tap, it makes light work of load-hauling, higher speed highway cruising, and everything in between.
PROS:
– Powertrain suits its intended purpose
– Now with touch-screen media system
– Handles surprisingly well
– 5-year warranty

CONS:
– 4-star ANCAP safety rating
– Lacks some advanced safety tech
– Platform over 10 years old
As always, if you're thinking about buying a new car don't forget to click here to speak with our car buying specialists.