Could this be the future replacement for the Falcon? Ford's luxury brand, Lincoln, has been spotted test driving a Lincoln MKZ in Melbourne, Australia.
PerformanceDrive managed to spot this left-hand drive test model out on the highway near Geelong in Victoria, with "engineering evaluation vehicle" written on the back.
Lincoln may be testing the vehicle in Australia for a number of reasons. One possibility is the company is simply using Australian conditions to hone its overseas products, with this country home to some very unique terrain and hot weather.
The more exciting possibility is that Ford Australia might be thinking about introducing the Lincoln brand and its products in the future, especially with the death of the Falcon taking place by 2017 – Ford Australia won't have a large luxury sedan in its showroom.
As for the Lincoln MKZ, it's actually quite an old vehicle, first introduced in 2005. This example is the second-generation, introduced in 2013. It's considered a mid-size luxury car in its home market in the US, where it is Lincoln's best-selling vehicle. Hybrid and petrol powertrains are available, using a front-wheel drive layout.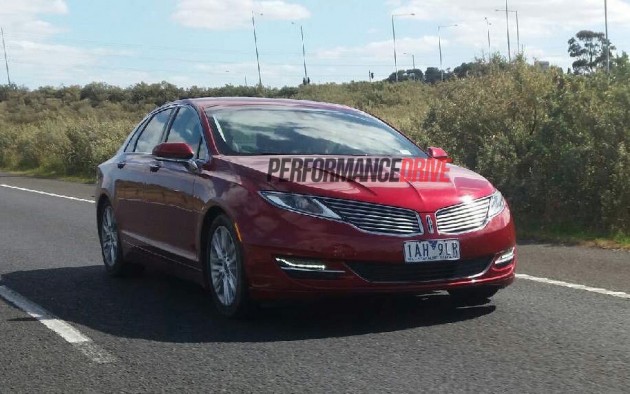 A facelifted version was revealed at the LA auto show just a couple of weeks ago, although this test vehicle appears to be the pre-facelifted model with the very chrome and futuristic front grille.
Ford Australia said today it will be introducing 20 new global products by 2020, however, it hasn't gone into any detail surrounding what models we can look forward to.
What do you think? Would you like to see Lincoln vehicles available in Australia?
Thanks to Matthew Meggs for the photos