Yes, even though the 2012 Nissan GT-R facelift has only recently been released, development on the MY2013 Nissan GT-R is said to be underway. Power from the engine will apparently be boosted up by another 40hp (30kW), resulting in around 570hp (425kW) – up from the current 390kW.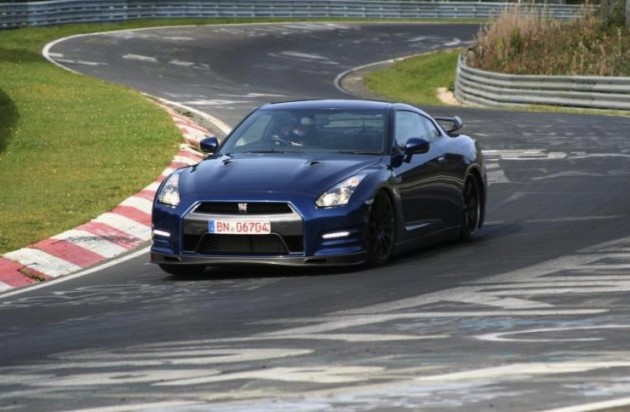 According to GT-R enthusiast forum nagtroc.org administrator, Nissan held a Europe press conference at the Nurburgring in Germany on the weekend, and released some details on the update. Updates to the new model are said to include a jump up in horsepower, similar to what we saw with the 2009 model year to the current 2011/2012 model year.
If this is the case, up to 425kW of power will be on offer. This will come from a number of engine revisions, including a spike in boost levels, as well as changes to the intake and exhaust. Changes to these components are also said to have lowered emission levels.
Other revisions will reportedly include suspension tweaks to keep the already-ridiculously quick Nissan GT-R firmly planted on the ground, as well as slight transmission improvements for smoother and/or quicker shifts.
From an external point of view, the 2013 Nissan GT-R isn't said to be altered from the current model. Only the underbody will be changed for increased airflow and cooling and for increased suction to the ground.
On top of this breaking news, a 'Track Edition' is also said to be in the pipeline for the 2013 model year Nissan GT-R. According to the forum, the special version will be made in right-hand drive only and come with a number of track-inspired features such as slick tyres, as well as carbon fibre panels for weight reduction. Details of the Track Edition are still a little hazy at this stage though, so we'll need to hear official confirmation before getting too excited.
The current generation R35 Nissan GT-R is expected to be on the market for only two more years. Could this be Nissan's way of going out with a bang? More details, including a Nurburgring lap time of the 2013 Nissang GT-R, are expected some time in October. We'll keep you updated.
The current Nissan GT-R is already capable of doing 0-100km/h in under 3.0 seconds. How quick can the times possibly get with the facelift?
UPDATE: 2013 Nissan GT-R unveiled with 404kW, on sale March 2012
(images thanks to nagtroc.org, Italian GTR club and Discoragno)