When someobody asks you which car has the most luxurious interior, what brands usually spring to mind? Most people would answer Bentley, Rolls-Royce, Mercedes-Maybach or BMW, and with good reason – they all offer penthouse apartment levels of luxury.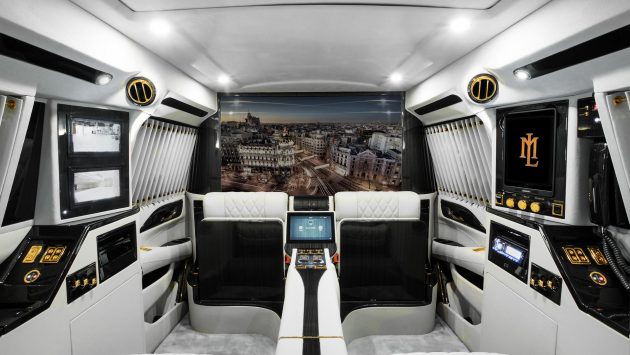 But if you want the space and feel of a private jet or yacht on the road, that's another ball game and that's where customisers like Lexani Motorcars come into the picture.
Starting with a range of larger cars, most notably the Mercedes Sprinter van, or the Cadillac Escalade, the exterior remains unassuming and untouched. Inside, however, you are greeted by what can only be described as paradise.
Massive cinema-size smart televisions, electrically-reclining seats, motorised partitions, lattice skylights, coffee machines and even a toilet if you desire.
Gold appointments adorn most surfaces, as does walnut or piano trim. A network of iPads and an Apple computer system, a security camera system and motorised blinds take care of the security side of things.
How the team manage to squeeze all this opulence into a finite space is a mystery, and we haven't even begun to scratch the surface.
It's hard to think of a more aristocratic way of getting around than this. Price is on a needs-to-know basis, but seven figures would be a fair estimate. Watch the video below for yourself and get a taste of how the other half live.