Ford has been spotted test driving a prototype version of the next-gen, 2019 Focus out on the Nurburgring. And interestingly, it looks to be a Focus ST wagon.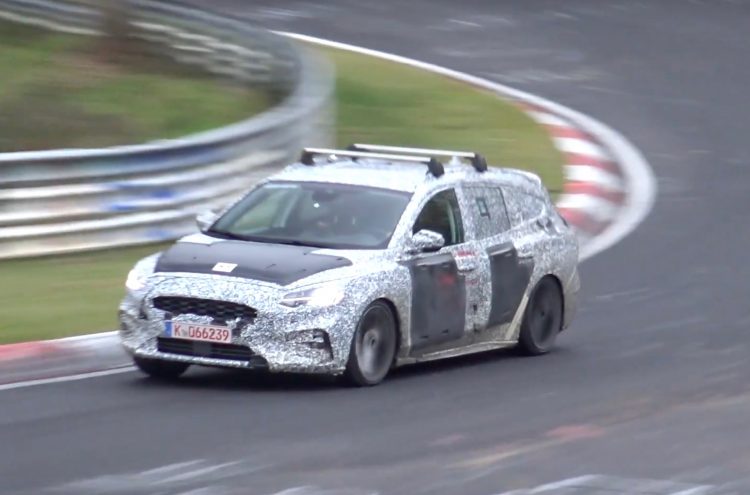 The Ford Focus ST has only been available in five-door hatch form (at least in Australia), but it looks like Ford could be looking to grab some of the crossover demand by giving the ST the wagon formula. This is one of the first times such a prototype has been spotted as far as we know.
Very little details have been confirmed at this stage but the prototype clearly shows some sporting intention, with large alloy wheels, low profile tyres, and if you look hard enough you'll see some decent-size brake calipers behind the front wheels.
What has us puzzled is the engine; it doesn't make a sound. Ford has some aggressive plans in place to produce more hybrid and electric models, and even confirmed there is a hybrid Transit and hybrid Mustang in the pipeline before 2021. Could this prototype be the first Focus ST hybrid?
Aside from the ST connotations, the 2019 Focus will receive a fairly major design overhaul. At the front are some modern LED headlights with twin LED daytime running sections on each, while the upper grille goes for a more pointed design with an hourglass shape leading down to a lip spoiler on this version.
As far as we know the 2019 Ford Focus will receive a new platform that is expected to help the cabin grow a little, with more front and rear seat space and potentially an increased cargo area. It's hard to tell from this prototype but the body width does appear to be wider which could help with shoulder space in the back.
In terms of powertrains Ford is likely to install its new 1.5-litre turbo EcoBoost unit in here, found in the latest Fiesta ST (not on sale in Australia). In that it produces 147kW and 290Nm. A 2.0-litre turbo-diesel is also set to carry over, and as mentioned there might be a hybrid in the works.
Take a look at the video below and tell us what you think. Is this a Focus ST wagon?