The M Performance sub-brand is rapidly expanding, spreading to more and more model lines within the BMW showroom. This is one of the latest, called the X2 M35i. It's a small soft-roader, which could either water the badge down or strengthen it if it's done right.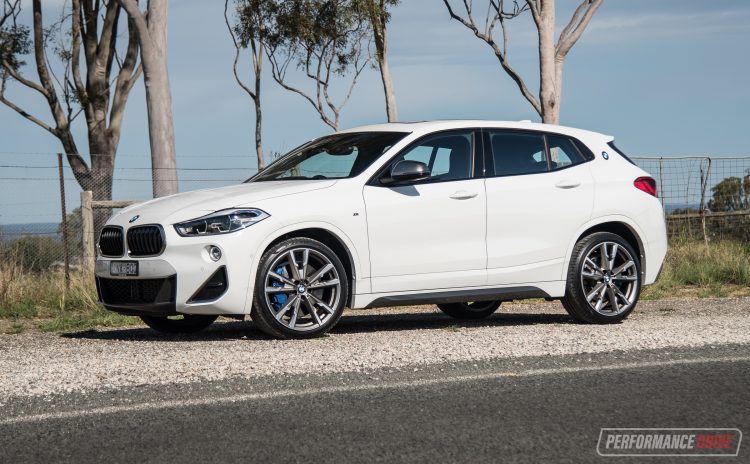 Sitting at the top of the X2 range, the M35i is fitted with an all-new 2.0-litre turbocharged four-pot petrol engine that produces a copious 225kW of power and 450Nm of torque. This engine is BMW's most powerful four-cylinder production unit it has ever made, and it will soon be seen in the upcoming M135i hot hatch.
Seen as though this is not a full M model, the competitors for the X2 M35i are few and far between. But the closest would have to be the upcoming Mercedes-AMG GLA 35, and Audi SQ3 if such a model is in the pipeline. Aside from that, you  have the more serious 294kW Audi RS Q3 and the outgoing 280kW Mercedes-AMG GLA 45.
Available in the one spec, the X2 M35i comes standard with an eight-speed auto transmission with xDrive all-wheel drive. Prices begin at $68,900 (plus on-road costs).
2019 BMW X2 M35i – THE SPECS
Engine: 2.0-litre turbo four-cylinder
Output: 225kW@6250rpm / 450Nm@1750-4500rpm
Transmission: Eight-speed auto
Drive type: All-wheel drive, limited-slip diff
Wheels: F & R: 20×8.0, 225/40
ANCAP: Five stars
Tare weight: 1571kg
Power-to-weight: 6.98:1 (kg:kW)
Official fuel economy: 7.4L/100km
Economy during test: 9.4L/100km
Fuel capacity/Type: 51L/98 RON
Power efficiency: 30.40kW:L/100km
0-60km/h: 2.47 seconds*
0-100km/h: 5.03 seconds*
60-110km/h: 3.59 seconds*
1/8 mile: 8.78 seconds at 135.8km/h*
1/4 mile: 13.47 seconds at 170.8km/h*
Max acceleration: 0.983g
100-0km/h braking: 2.85 seconds at 37.17 metres*
Max deceleration: -1.182g
Decibel at idle (Sport mode): 43 (58)*
Peak decibel at 60-100km/h: 92*
Priced from: $68,900
* Figures as tested by PerformanceDrive on the day. Factory claims may be different

2019 BMW X2 M35i – THE PACKAGE
If you're already familiar with the X2, you'll know that it is BMW's coupe-style SUV for the small premium SUV class, sharing underpinnings with the conventional wagon-like X1. It takes perfect aim at car enthusiasts that appreciate an athletic drive but might have more practical requirements such as a high riding position and some off-road ability. This strikes a good balance of both.
Upfront, the nose inherits BMW's more traditional dual kidney grilles (before they go weird), and at the rear, the taillights adopt the latest elongated shape that countersinks into the body. The M35i adds unique front and rear bumper bars, with M Performance grey highlighting the rear diffuser, side skirts, and front spoiler section. This grey is also used for the side mirrors, front grille surrounds, and matches the finish on the 20-inch alloy wheels.
Jumping in the cabin, it's quite the usual BMW affair. The mixed suede and leather sports seats offer exemplary support for those lively drives, and there is some attractive contrast blue stitching to add flair. BMW has chosen to withhold its latest multimedia system (OS 7.0) and keep the older OS 6.0 software for the X2. This results in a smallish 7.0-inch screen, and the tiled menu system. Unlike the nearest competitors the M35i still uses analogue-style gauges within the instrument cluster, although digital. They are very easy to read, especially compared with some more modern systems which can bombard you with information.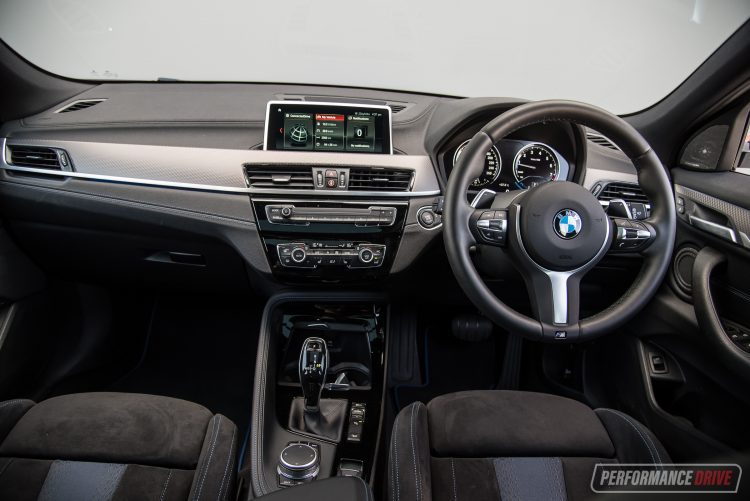 Thinking about interior space, the front feels airy and there's a range of nooks and storage spots around. If you're hoping for that famous race car snug feel that M lines have offered throughout history, you still get that with the hugging bucket seating in the front. The rear will feel cosy to taller people, but headroom is acceptable for this class.
To help with practicality, the X2 offers 470 litres of boot space, which is a good size for a small SUV, and even better for a performance car. There is a deeper compartment if you lift the boot floor, as there is no spare (runflat tyres), but the opening lip is quite high when lifting items in and out.
Being the top-spec model, the standard equipment list for the M35i is beefy. You get autonomous emergency braking with forward collision warning and pedestrian avoidance, lane departure warning, adaptive cruise control, electric front seats, head-up display, a powered tailgate, a brilliant Harmon/Kardon 12-speaker sound system with subwoofer, Apple CarPlay, digital radio and in-built harddrive.
You also get dual-zone climate control with separate climate vents in the back, front and rear USB and USB-C charge ports, a 12V socket in the boot area, and enough bottle holders and cup holders to keep everyone happy. Items not included as standard (or not available at all) include reverse collision mitigation, cooled seats, heated steering wheel, power adjustable steering column, and Android Auto.
The X2 comes with a three-year/unlimited kilometre warranty and three years road-side assistance. Servicing intervals are timed by how many hours the engine has been running for, and other recorded variables, in what BMW calls condition-based servicing.

2019 BMW X2 M35i – THE DRIVE
This section would be the most important to a potential BMW M Performance driver. The new engine might be a shock to M enthusiasts, as it's the first four-cylinder since the original E30 M3. But if you don't compare it to the M history and compare it to what's available in the small SUV market, it is nothing short of hair-raising.
It is a torquey engine for a 2.0L, and it eats up the tarmac with almost no effort at all. The 0-100km/h sprint is achieved in a mouth-watering 4.9 seconds according to BMW, although the best we could achieve with the Vbox was 5.03 seconds. That's still a very quick time, remembering this isn't a full-on M model.
There's a mighty crackling from the exhaust during hard gearshifts, and even more so if you whack it in sport mode. In this mode you'll also experience super sharp throttle response. So sharp that you really need to keep an eye on the speedo as it very quickly climbs. Part of this is because all 450Nm of torque is available from just 1750rpm and remains on charge until 4500rpm. We usually see this level of torque from six-cylinder engines.
We notice there is a somewhat irritating acceleration delay in the normal mode as the transmission tends to try and remain in higher gears to conserve fuel. But if you just lean on it a tiny bit more, the turbo winds up and dumps in a great big bulk of pressure to make combustion work easier. If you use the paddle shifters and change gear yourself, you can dial up whatever revs you like and insist the engine remains in its peak zones. Though, the power distribution between the front and rear axle does feel more biased towards to front, which is obviously un-M-like. It'll even chirp the tyres during upshifts.
The eight-speed auto is different to the ZF-based units featured in most rear-drive BMWs. We've always found them to be smooth and organised. But the unit in the X2 M35i seems to be a little scattered and delayed. It almost behaves like a dual-clutch unit at times. When in comfort mode it might be trying to be too economical, because when you slam the accelerator down, it seems to take a while to wake up to your demands. There are some noticeable jerks and hard-hitting upshifts under certain conditions as well.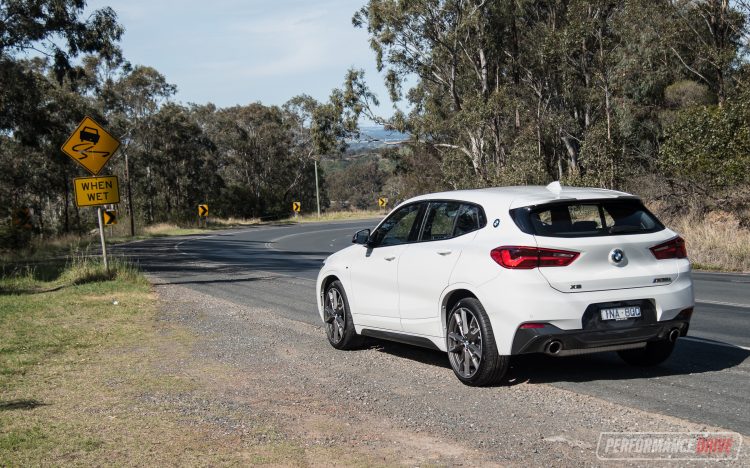 Handling all that torque is helped along by a limited-slip differential fitted to the front axle, so there is an abundance of grip around corners. The M-tuned suspension is extremely taught through the tightest of corners, and if you're lucky you get a hint of torque-steer during really heated uphill turns. The steering is stiffened when sport mode is selected, and it offers decent feedback. Even though you sit higher in the X2 than a hatchback, body roll is non-existent.
Our main problem with the X2's handling dynamics is when encountering bumps. Road imperfections can noticeably disturb the otherwise planted feel. And if there are a few bumps in a row while you're switching from left to right-hand bends, some precision is lost due to bump-steer and the steering feel can go a bit rogue.
We had lots of fun in the X2 M35i, meaning our fuel usage might be harsher than yours. We achieved 9.4L/100km on average in a week of testing, and the official rating is 7.4L/100km. Considering them spirited outputs, we think the official fuel consumption is reasonable. Though, it must run on a minimum of 98 RON petrol. The fuel tank is quite small (51 litres), so you will struggle to travel 600km between fuel stops, too.

2019 BMW X2 M35i – THE VIDEO
2019 BMW X2 M35i – THE VERDICT
Many enthusiasts will be quick to criticise the M brand changing its formula for the new M35i, but if you have the heart to look past that, it's an explosive SUV with true hot-hatch characteristics. It only makes sense that the German brand is matching market trends by offering an M Performance label in the ever popular SUV segment.
We're looking forward to seeing how this new turbo engine performs in the upcoming 1 Series hatch. We especially love the fiery and flamboyant exhaust note when revved, and the amount of torque readily and widely available.
We like the interior and the way it is decorated with sporty hints of M branding, but it's a shame the latest OS 7.0 is not used; and BMW still doesn't offer Android Auto. Overall though, if you're a car enthusiast with a need for punch and head-jerking acceleration, but also like to sit a little higher from the ground than your typical hatch, the BMW X2 M35i will not disappoint.
PROS:
– Lots of M Performance goodies
– Barking exhaust note
– Sporty interior touches; carbon fibre look trim, suede sports seats
– Price is comparatively low for the performance on hand
– New 2.0T pulls like a train, outstanding torque
CONS:
– Small 7.0-inch multimedia screen with out-of-date BMW OS 6.0
– Stiff suspension struggles over harsh bumps
– Some acceleration lag when not in sport mode
– Handling not as playful/committed as higher BMW models
As always, if you're thinking about buying a new car don't forget to click here to speak with our car buying specialists.