We've seen plenty of images and signs of what to expect from the new Honda Civic hatch, but now the Japanese company has unveiled the full production version in Euro-spec at the 2016 Paris Motor Show.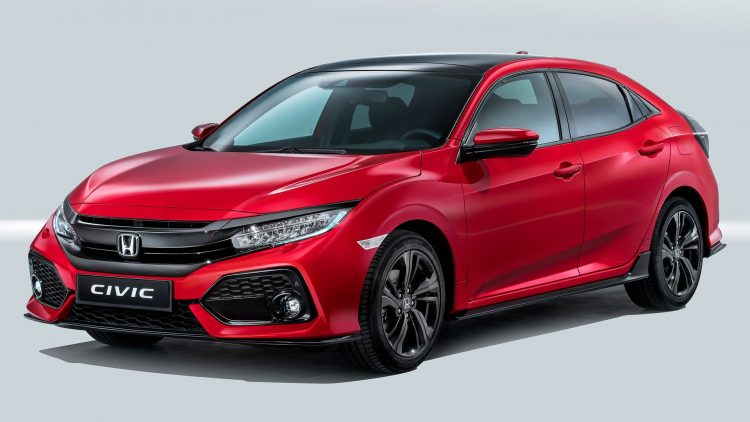 Perhaps the biggest news to come from the unveiling is the confirmation of an all-new turbocharged engine, joining the 1.5-litre turbo that debuted with the sedan version earlier this year.
Aside from the 1.5, the new hatch will be offered with a 1.0-litre turbo three-cylinder unit producing 95kW at 5500rpm and 200Nm available from 2250rpm when matched to the six-speed manual. A CVT auto version sees torque spread increased across to 1700-4500rpm, although the peak output is dropped to 180Nm.
This new engine, despite seeming small and lacking in output, is actually only 9kW less powerful than the current 1.8-litre naturally aspirated four-cylinder seen in the lower-spec versions of the new Civic sedan. The 1.8 also only produces 174Nm.
Upper variants of the hatch get the 1.5-litre turbo producing 134kW and 240Nm. In Europe this engine is available with a six-speed manual, which sees torque peak at 240Nm, while the CVT auto is capped at 220Nm. In Australia the 1.5 turbo only comes with the CVT, unfortunately.
As for the rest of the car, the 2017 hatch is 30mm wider and 130mm longer than the outgoing hatch. It's also 20mm lower, providing a lower and fatter stance on the road. Honda says these changes contribute to facilitating rewarding driving dynamics and increased cabin space.
Honda says weight has been cut by up to 16kg from the old hatch, and torsional stiffness is increased by 52 per cent. The rest of the hatch is very similar to the latest sedan, with a modern interior and a decent-size touch-screen for the passengers.
Honda Australia is expected to introduce the new hatch next year. It's unknown at this stage if we'll get the new 1.0 turbo. Let's hope the local arm brings across the manual option too.