Some more details of the highly anticipated 2018 Suzuki Swift Sport have surfaced, along with a video showing a prototype undergoing testing on a proving ground.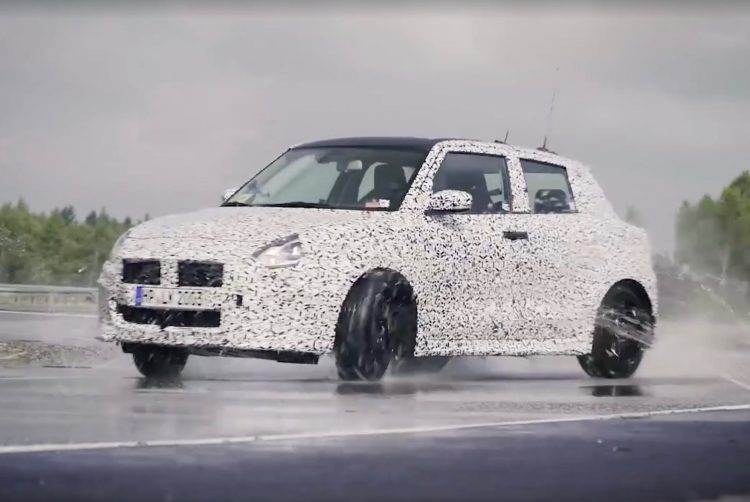 We saw some teaser images yesterday, confirming the new model will come with a manual transmission. A photo of the instrument also revealed the car's redline of 6300rpm, which, to us, suggested it might come with the company's latest 1.0-litre three cylinder that shares the exact same redline.
According to an Autocar report, the new model will indeed come with what everyone has been hoping for; a boosted version of the 1.4-litre turbo from the Vitara S-Turbo and S-Cross. It's understood this unit will be tweaked above its 103kW output.
Given the tacho on the aforementioned 1.4T models starts at 6000rpm, it could be a simple matter of a recalibrated engine computer along with an extended redline. As we all know, power is the result of the equation; torque multiplied by revs. Official details are yet to be confirmed, however.
In the video below you can see the micro machine showing off some impressive body control and handling on the skid pan, while also wearing a suitably sporty bodykit with front and rear spoilers, side skirts, and some larger alloy wheels over the regular Swift.
A lot of this performance will come thanks to a very low kerb weight. More specifically, a desirable power-to-weight ratio. Speaking with PerformanceDrive at the local launch of the regular Swift earlier this year, an engineer who preferred not to be named said the car would offer a better power-to-weight ratio than the VW Golf GTI.
Taking the outgoing VW Golf GTI Mk7 DSG hatch as an example, it produces 162kW and weighs 1323kg (tare). This results in a ratio of 8.17kW/kg. The new Swift GXL 1.0T weighs 925kg (tare) and produces 82kW, resulting in a ratio of 11.28. If the new Swift Sport weighed in at around 1000kg, with more weight due to the four-cylinder engine, it will need to produce around 120kW to better the Golf GTI.
We won't have to wait long until all is revealed. Check out the teaser video below in the meantime.