The 2018 MG ZS Essence is a very interesting vehicle on many fronts and appears to be a step forward for what we've come to expect from small Chinese cars.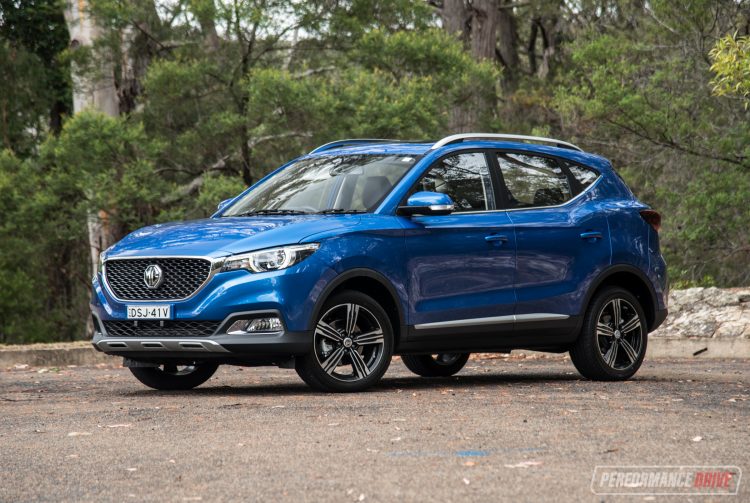 As MG has been on-and-off in the Australian market for a few years since the Chinese takeover, we've had time to acclimatise to the fact that it is now a mainstream car manufacturer than a sports or speciality one, with the recognisable name helping owner SAIC Motor establish a foothold more easily.
The fourth model in the lineup, the ZS small SUV, also ushers in a new design language and interior treatment for MG. Aimed at those who might otherwise consider a Holden Trax, Mitsubishi ASX or Mazda CX-3, the ZS uses a seven-year/unlimited km warranty, low entry price and generous standard equipment as its killer punch.
We took the top-line Essence from the two-tier range on a long road trip to see how it shapes up. So, if you're thinking about taking the plunge, read on to find out what we liked about the MG ZS and what we didn't like so much.
2018 MG ZS Essence – THE SPECS
Engine: 1.0-litre turbo three-cylinder
Output: 82kW@5200rpm / 160Nm@1800-4700rpm
Transmission: Six-speed automatic
Drive type: Front-wheel drive
Wheels: F & R: 17×7.0, 215/50
ANCAP: Four stars (scored 31.46 out of 37)
Tare weight: 1245kg
Power-to-weight: 15.18:1 (kg:kW)
Official fuel economy: 6.7L/100km
Economy during test: 7.3L/100km
Fuel capacity/Type: 48L/95 RON
Power efficiency: 12.23kW:L/100km
0-60km/h: 6.04 seconds*
0-100km/h: 13.27 seconds*
60-110km/h: 9.64 seconds*
1/8 mile: 12.79 seconds at 97.6km/h*
1/4 mile: 19.37 seconds at 121.3km/h*
Max acceleration: 0.738g
100-0km/h braking: 3.44 seconds at 43.56 metres*
Max deceleration: -1.238g
Decibel at idle: 44*
Peak decibel at 60-100km/h: 85*
Priced from: $23,990
* Figures as tested by PerformanceDrive on the day. Factory claims may be different

2018 MG ZS Essence – THE PACKAGE
The ZS features a modern and fresh exterior, with a mishmash of familiar styling cues, but overall we have to say it's pretty well executed. The upward kick of the side window reminds us of the last-gen Hyundai Tucson, while the front grille and adjoining light cluster is Mazda-esque. The creases and character lines are well balanced. Overall, it's not 'wow' but it works well enough for the segment we think.
The ZS is 4314mm long, 1809mm wide, 1644mm tall, on a wheelbase of 2585mm. The interior packaging is a highlight, with surprisingly commendable space inside, particularly for rear occupants. Back passengers enjoy plenty of leg and headroom, with only the headrests spoiling things on long journeys. Bootspace is 359 litres with the back seats up or 1166L when they are folded flat. Forget about armrests front and rear, though.
MG has gone to considerable effort with interior presentation, which, again, borrows some cues from other manufacturers. Notably Audi for the steering wheel, turbine-style outer vents and door handle/lock combination. It seems that not much local hot-weather testing has been done, with the driver's leather seat becoming scorching hot on a warm 30-degree day. It is neither perforated nor has a cooling function. Other curious oddities include a quartet of switch-blanks ahead of the gear selector – for a supposed flagship, this is curious indeed – and a seperate cruise control stalk. Positives include clear and easy-to-read speedometer, full-length panoramic roof, and the touch-screen infotainment system.
The 8.0-inch touch-screen sits neatly in a shroud of faux carbon-fibre, with colourful and easy-to-navigate menus. Apple CarPlay is available, but if you have an Android phone, bad luck. While there is no integrated sat-nav, the sound quality produced by the audio system is respectable, meaning you can turn up some bangers without any sign of distortion. It's no Mark Levinson, but better than expected. A reverse camera with dynamic guidelines is a plus.
An ANCAP rating of four stars is less than the brand had hoped, but hardly surprising considering the absence of features like autonomous emergency braking. For most, it's adequate and certainly a far cry from the first wave of Chinese deathtraps that came through. You can read the full ANCAP report here.

2018 MG ZS Essence – THE DRIVE
The ZS Essence is propelled by the more powerful of two petrol engines; a 1.0-litre turbo three-cylinder generating 82kW at 5200rpm and 160Nm between 1800 and 4700rpm. It is backed solely by a six-speed automatic, with no manual option. The entry-level Soul instead uses a 1.5-litre non-turbo four-cylinder with 84kW and 150Nm, tied to a four-speed auto, hence its higher 7.1L/100km thirst against the 6.7L/100km claim of this three-banger.
As you set off, there is a nasty vibration through the firewall to remind you that this is a three-cylinder. Other carmakers have got around this with fluid-filled engine mounts and offset cranks, but the more stop-start driving in your commute, the more this will grate. Once underway though things improve dramatically. The power delivery is smooth and relatively effortless, with just the right amount of grunt for most situations.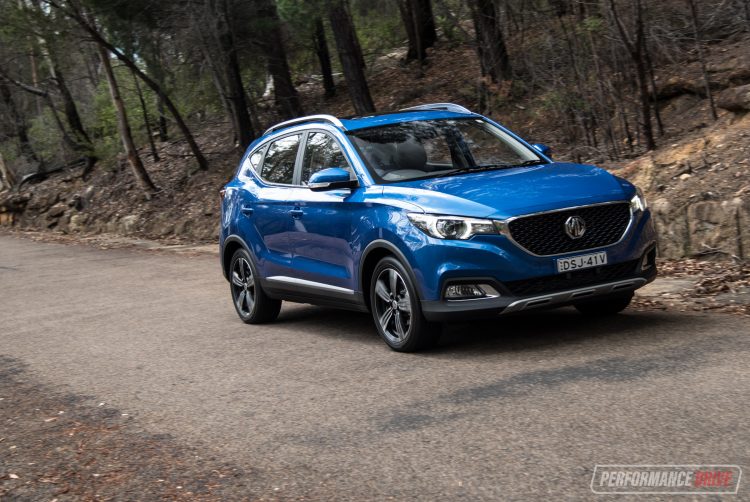 The six-speed automatic does have a strange delay on take-off, like a dual-clutch automatic, but once you're up and running the unit is a gem, never hunting around gears and doesn't try to upshift too early. A 0-100km/h time of 13.27 is not very encouraging but don't let this discourage you; for daily driving the ZS is zippy and responsive enough for this class. A braking distance of 43m is on the more dismal side of things, meaning it's probably best to minimise brake punishment. In this area the Japanese and South Korean rivals are obviously superior.
There are three steering modes, oddly selectable from the infotainment screen, while 'DSC off' is buried in the instrument panel and controlled by the steering wheel. The steering modes range from light and direct yet a bit inert, to light (Urban), to feeling like someone has used wet newspaper to add weight (Dynamic). Around nice bends the ZS can feel a bit sloppy and unsettled compared with some rivals, likely not helped by the basic rear suspension layout. But this is only when pushed with some enthusiasm. NVH is mostly contained, except our test car had wind hissing from the front passenger's door – possibly a production issue specific to this vehicle.
What does impress is real-world fuel economy. Over long stretches of road, we averaged 6.1L/100km, with 8.5L/100km in stop-start urban conditions. The trouble is, it requires an expensive diet of premium unleaded for some reason.

2018 MG ZS Essence – THE VIDEO
2018 MG ZS Essence – THE VERDICT
The MG ZS does much better than expected, with a decent design, decent long distance cruising, plenty of room, easy-to-read speedo, colourful infotainment screen, easy to park and drive, and great standard equipment list. When you add the current drive-away specials and the seven-year unlimited km warranty and roadside assistance, it really does have quite a bit going for it. It does have some stupid flaws but depending on what vehicle you're moving on from, these could be quite forgiveable.
But although it is interesting, it is a generation or two away from being able to match CX-3 and co. While the MG brand continues to do well in China and even the UK, it has yet to really fire here. What we'd love to see is something like the 2012 Icon concept, or an MX-5 rivalling roadster to bring glory back to the MG brand.
With only 15 shifted year-to-date by the end of February (VFACTS), something drastic needs to be done to penetrate the notion that the MG marque is just being used to flog Chinese metal – even one as competent and likeable as this.
PROS:
– Good infotainment system and stereo
– Modern styling
– Value and packaging
– Very spacious for its size
– Real world fuel economy
– Excellent warranty
CONS:
– PULP only fuel
– Vibration from engine
– Sloppy handling compared with more accomplished rivals
– Switch-blanks and odd design features
– Poor braking performance
– MG's most complete car yet but still not worthy of the name
As always, if you're thinking about buying a new car don't forget to click here to speak with our car buying specialists.