The 2018 Kia Stinger 330Si high-performance fastback comes at a critical nexus in the history of the Australian vehicle market. 2018 feels like a dystopian year to be a red-blooded petrolhead. No more Aussie V8s. Manual gearboxes fast disappearing off options lists . Front-drive BMWs. Autonomous this, SUV that. You get the picture.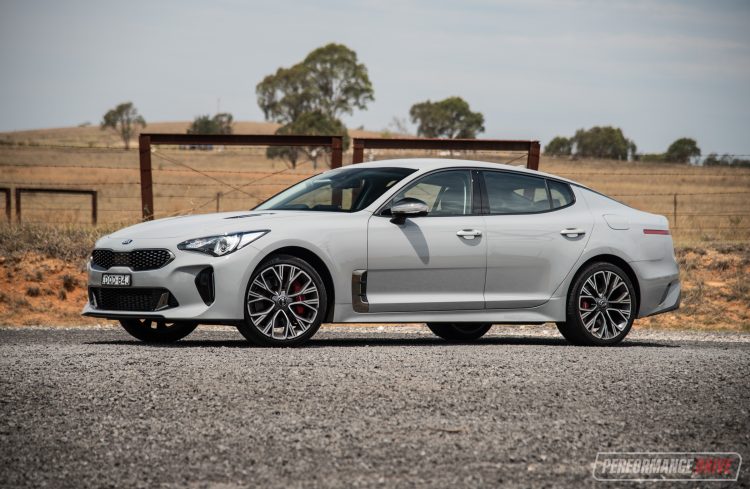 Among all this, along comes Kia with a full-fat, twin-turbo, affordable, rear-drive performance sedan – now in a league of its own, except for the Chrysler 300. As most of you are aware, the hype and buzz that has come along with Kia's first genuinely sporty effort has been something else. With the help of former BMW M boss Albert Biermann, the 272kW/510Nm missile seems to be made of all the right stuff.
We took the $55,990 Stinger 330Si, with the optional sports exhaust system fitted, to find out how that seemingly brilliant formula translates in the real world.
2018 Kia Stinger 330si – THE SPECS
Engine: 3.3-litre twin-turbo V6
Output: 272kW@6000rpm / 510Nm@1300-4500rpm
Transmission: Eight-speed auto
Drive type: Rear-wheel drive, LSD
Wheels: F: 19×8.0, 225/40  R: 19×8.5, 255/35
ANCAP: Five stars
Tare weight: 1780kg
Power-to-weight: 6.54:1 (kg:kW)
Official fuel economy: 10.2L/100km
Economy during test: 11L/100km
Fuel capacity/Type: 60L/91 RON
Power efficiency: 26.66kW:L/100km
0-60km/h: 2.95 seconds*
0-100km/h: 5.64 seconds*
60-110km/h: 3.46 seconds*
1/8 mile: 9.15 seconds at 136.9km/h*
1/4 mile: 13.84 seconds at 170.7km/h*
Max acceleration: 0.893g
100-0km/h braking: 2.90 seconds at 36.51 metres*
Max deceleration: -1.276g
Decibel at idle (Sport mode): 44*
Peak decibel at 60-100km/h (Sport mode): 89*
Priced from: $55,990
* Figures as tested by PerformanceDrive on the day. Factory claims may be different

2018 Kia Stinger 330si – THE PACKAGE
At 4830mm long, 1870mm wide, 1400mm tall and on a 2905mm wheelbase, the Stinger is smaller than the VF Commodore. In other markets, it is pitched primarily as an alternative to the BMW 4 Series, Mercedes-Benz C-Class and Audi A5 Sportback. It manages to be more striking and imposing than those cars, in our opinion, without looking obnoxious or brash.
The long, low bonnet is menacing with the same presence carried all the way to the rear of the vehicle. Exotic-looking 19-inch alloys with red Brembo's poking through (four piston 350mm front, twin piston 340mm rear) set it off beautifully. There are some questionable elements, such as the side reflector off the taillights and the relationship between the rear door shutline and the hatch. But, overall, it's a successful design by Peter Schreyer's team.
Kia cleverly priced the entry V6-engined Stinger at $48,990, putting it underneath the $50k psychological barrier and right in the heartland of disenfranchised SS/XR6 Turbo customers. A four-cylinder turbo with 182kW and 353Nm is also available from $45,990 for the 200S. Sitting underneath the flagship GT, the 330Si is the mid-tier V6 model, with staggered 225/30R19 front and 255/35 R19 rear Continentals, a nine-speaker stereo system, leather seats, cruise control and satellite navigation on an 8.0-inch touch-screen.
The interior itself is a high quality and sporty place to sit. The soft material across the dash surface is top notch, while the three-vent setup evokes sports cars including the Mercedes-AMG GT. The polished alloy switchgear is very neat, and the climate control switches and controls on the three-spoke steering wheel are very befitting of a car intended to compete with Germany's finest.
There's auto up/down power windows at every corner and no real evidence of cost-cutting. Minor niggles would be the lack of lumbar adjust on this model and the fussier among us might take exception to material choices in certain places, but nothing detracts from the ambience. The Stinger's interior feels special. Boot space is measured at 406L, offering good depth more than height, and rear passenger room is pretty good.

2018 Kia Stinger 330si – THE DRIVE
You sit low in the Stinger, which does make the car feel quite large, but handily narrower and nimbler than, say, a VF SS V, which helps when it comes to pointing it into corners. This imbues it with a sense of agility in traffic, which combines with the jet-like thrust of the engine and exceptional response of the eight-speed automatic to give you genuine point-and-shoot ability.
There is a small knob for driving modes, varying between Eco, Comfort and Sport. Our sports-exhaust-equipped model makes a fantastically fruity sound for a V6, with a hint of overrun to appease former V8 owners. While it doesn't quite have the aural drama of a LS3 or Ford's Coyote, it's as good as any V6 sound currently on the market.
The chassis is an absolute gem. Utilising rear suspension components from the Genesis G80 (nee Hyundai Genesis) and sharing lots of components with the upcoming Genesis G70, it is well-balanced, has sophisticated kinematics front and rear, and a limited-slip differential for excellent, full-power corner-exit traction.
The variable steering ratio is short at the right time and makes parking easy. It is direct, feelsome and light, but lacks the cleanness and purity of some of the higher-end stuff. It is nicely matched to the high grip and playful chassis though, and it can put the engine's monstrous grunt reserves to good work without breaking a sweat. It is heaps of fun.
Turn the stability control off, and while it is capable of power-oversteering, it is not as linear or eager as an old Aussie sports sedan. It's worth remembering that's not the point of this car – if you want a drift machine, buy a Toyota 86.
The giant stoppers pull up the Stinger every time and wash off speed without throwing in the towel, providing reassuring stability and good distribution management. It gives you an extra layer of confidence, especially needed when you have this much power to play with.
Across the 0-100km/h sprint we clocked a best time of 5.64 seconds. Interestingly, this is about 0.3 seconds slower than the GT we tested earlier (5.28), which didn't have the optional sports exhaust. We'd be guessing the sports exhaust option isn't fully calibrated with the powertrain, and was probably put together in little time. Even so, 5.64 seconds is still very quick considering the car weighs in at a porky 1780kg.
Aside from being quick, the Stinger manages the grand tourer role with tremendous ease. The eight-speed auto with its lock-up torque converter makes very light work of the engine at freeway speeds, where it is barely ticking over. Average fuel economy of 11.0L/100km during our week is commendably close to the official 10.2L/100km average, and a testament to the engine and gearbox tuning.
We wouldn't call the ride plush as it isn't really trying to be a luxury vehicle. It has a sporty and firm bias. But it is nicely damped and doesn't upset occupants, even over sharp potholes or along poor country bitumen. Well done to Kia's Australian chassis tuning team here.

2018 Kia Stinger 330si – THE VIDEO
2018 Kia Stinger 330si – THE VERDICT
If you'd have told someone 15 years ago that in the near future, the Falcon XR6 and Commodore SS will go the way of the dodo, and the only genuine substitute will be a Kia, you'd be laughed at and quickly become the town crackpot. But here we are.
While the comparison with Falcon and Commodore is inevitable, it stands on a higher plane than those cars, combining all the strengths they had with more attributes that make it feel more like a tailor-made sports car than either of them ever could.
Hats off to Kia for filling the void and creating a genuinely versatile sports tourer that can be used as a family car. It puts a huge smile on your face and it even comes with a seven-year warranty. It also gives aftermarket tuners something to play with. We can't wait to see what happens there, and although we'd love to see a manual V8-engined version, we are very grateful this car exists and implore you to take one for a spin if you're in this market space.
PROS:
– Outstanding value for money
– Velvet smooth automatic
– Great fuel economy considering power
– Comfortable cruiser
– Excellent handling
– 7-year warranty
– Unexpected from Kia

CONS:
– Black interior theme might be a bit austere for some
– Some interior switchgear feels cheap
– Needs optional sports exhaust or it sounds crap
– No V8 or manual
As always, if you're thinking about buying a new car don't forget to click here to speak with our car buying specialists.