It's no secret that car buyers have been flocking to the SUV market in hordes over the past few years. And car manufacturers who don't have a handful of SUVs in their range by now should be kicking themselves. Jaguar has been late to the party, but it's better late than never.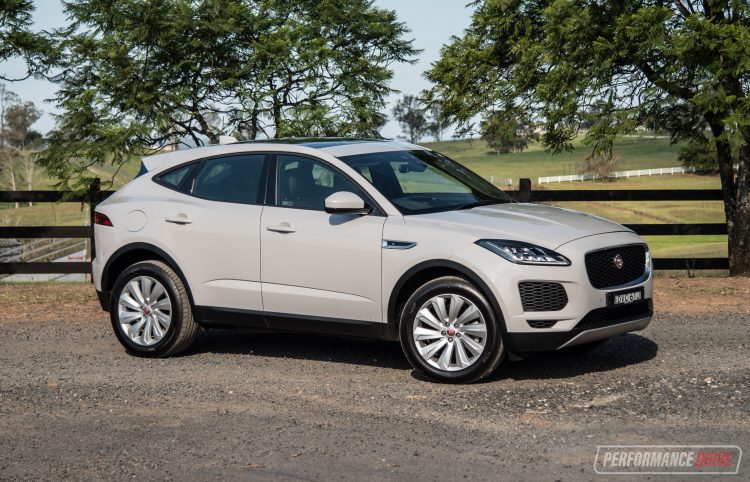 The new E-PACE is a baby brother of the very successful F-PACE. Jaguar has big plans for this cub to become one of its highest-selling models. It brings in a sexy, fresh design, and a huge array of variants and engines to help maximise its market reach. More motorists can now get a taste of premium luxury from the British matriarch, as prices for the E-PACE begin at just $47,750, excluding on-road costs. And don't forget, this is a Jaguar we're talking here.
There are four variants to choose from, ranging from the standard E-PACE, the S, SE, and HSE. Among those, you can choose from two petrol engines (183kW/365Nm or 221kW/400Nm), and three diesel engines (110kW/380Nm, 132kW/430Nm, or 177kW/500Nm); some of which are only available in certain variants. In addition, you can add the sporty R-Dynamic spec to any of these variants. And for the first build year, there is also an E-PACE 'First Edition' available. Add them all up and you've got over 30 different variants to choose from.
2018 Jaguar E-PACE P250 S – THE SPECS
Engine: 2.0-litre turbo four-cylinder
Output: 183kW@5500rpm / 365Nm@1200-400rpm
Transmission: Nine-speed auto
Drive type: All-wheel drive
Wheels: F & R: 18×8.0, 235/60
ANCAP: Five stars
Tare weight: 1757kg
Power-to-weight: 9.60:1 (kg:kW)
Official fuel economy: 7.7L/100km
Economy during test: 8.8L/100km
Fuel capacity/Type: 68L/95 RON
Power efficiency: 23.76kW:L/100km
0-60km/h: 3.47 seconds*
0-100km/h: 7.90 seconds*
60-110km/h: 5.90 seconds*
1/8 mile: 10.27 seconds at 115.3km/h*
1/4 mile: 16.28 seconds at 136.5km/h*
Max acceleration: 0.716g
100-0km/h braking: 3.05 seconds at 36.67 metres*
Max deceleration: -1.305g
Decibel at idle: 45*
Peak decibel at 60-100km/h: 80*
Priced from: $57,600
* Figures as tested by PerformanceDrive on the day. Factory claims may be different

2018 Jaguar E-PACE P250 S – THE PACKAGE
In order to tap into the lower end of the market, the base model E-PACE misses out on some features you might expect from a Jag. Which is a good idea for those seeking out a premium brand for a more affordable price. If you're feature greedy like us, you'll need to opt for variants higher in the range, which can send the price upwards quickly.
All E-PACEs are fitted with push-button start, dual-zone climate control, a rear camera, front and rear parking sensors, lane departure warning and lane keeping aid, auto wipers and headlights, tyre pressure monitoring, pedestrian airbag, autonomous emergency braking, a 10-inch Touch Pro infotainment touch-screen, and a 125W sound system with Bluetooth and voice control.
Our test vehicle here is the S, fitted with the lower output P250 petrol engine. In addition to the base model, the S comes with electric front seats, GPS, cool jaguar puddle lamps, 18-inch alloys, leather seats, auto parking assist with graphic display, rear cross-traffic warning and Wi-Fi hotspot capability.
To keep up with ambitious sales targets, the E-PACE is the first Jag built at the Magna Steyr plant in Graz, Austria. It borrows the underpinnings from the Range Rover Evoque, but with Jag's unmistakable signature design that we love. From the rear, you could almost confuse the E-PACE for the F-PACE, with the slick contouring, linear taillights and high waistline. But the front end steers away from the norm. The LED headlights on the S flair further up the bonnet, and possess a less aggressive shape than those on the F-PACE.
The interior copies many design cues from the current generation Land Rover cousins. Layouts are straight and symmetrical, except for the addition of a passenger grab handle on the centre console, inspired by the sporty F-TYPE. The dash also points out more towards the cabin, which replicates the shape of the rear tailgate. Materials and surfaces feel ultra-premium and are sure to be a real win-over for potential buyers.
Comfort levels from the seats is also up there with a premium brand; especially in the back. The rear bench is bolstered in such a way that it provides hours of comfort capacity. The rear also holds the right balance of side support when it comes to keen cornering – but in the front, not as much. There are rear climate vents and power sockets as well.
Even though the design elements are first class, you don't have to compromise on practicality. The centre console is huge. You can make it even bigger by pulling out the cup holders, and there are plenty of other hidden holes to place your belongings. We love the mobile phone slot between the cup holders, and we love the huge door pockets.
And that stylish design doesn't seem to impede on interior space. When we first laid eyes on the E-PACE, we thought it looked like it would have a squashed interior. Whether you're a passenger in the front or the rear, there is a commendable amount of room for four adults, even taller adults. Oddly, height adjustable seatbelts and roof handles have been left out.
Boot space is also surprisingly admirable. Measuring in at 484 litres, it's actually 24 litres larger than the new Volvo XC40 rival and 42 litres larger than the ever-popular Mazda CX-5. It's perfect for weekend getaways, as was the case during our test – we were able to jam heaps of stuff in it.
The 10-inch touch-screen works well to bring you all functions quickly and intuitively. The screen can be split to have two menus displayed at once, and it can be customised to suit. It's good to see that lower in the dash, physical buttons remain for the air-conditioning controls, which we find less distracting to use while driving as opposed to some that are embedded within the touch-screen. A big plus for practicality and savvy passengers is the amount of USB and 12-volt chargers peppered throughout the cabin. We lost count, but there is at least something for every passenger.
2018 Jaguar E-PACE P250 S – THE DRIVE
You must hand it to Jaguar for giving Australia access to such a wide variety of engines. This is not usually the case for a lower-population country on the other side of the world. This P250 petrol engine is a highly capable unit that starts performing low in the rev range, and it isn't afraid to rev right up to its limits, like its inner animal instincts denote. With 183kW and 365Nm, it never really finds itself short of breath, whether it be taking over a truck on a steep hill or keeping up with traffic flow in the city. Part of this is thanks to the broad torque band, with the peak output available between just 1200rpm and 4500rpm. And it's always tempting to gun it when you have an engine that sounds good like this one does.
Surprisingly, Jaguar has not taken steps to keep the weight of the E-PACE down. It's almost as heavy as its big brother, the F-PACE, which uses a more modern aluminium-intensive architecture. Instead, the E-PACE's steel form is taken from the Evoque and Discovery Sport cousins. It seems the lower pricing had the priority for this fat cat, with tare mass stamped at 1757kg.
This does impact the 0-100km/h test. Official figures claim the sprint is over in 7.0 seconds, but our testing reported a best of  7.90 seconds. In comparison, the new Volvo XC40 with the same capacity engine has a claimed sprint of 6.4 seconds, and the lower-powered BMW X1 at 6.5 seconds. Even so, it's not a major complaint in this department, as the P250 provides ample in-gear acceleration and real-world performance. And note, this is the lower-spec engine; there are more powerful engines available if you desire more speed.
The 2.0-litre unit is matched to the now commonly used nine-speed auto gearbox found in other Jaguar Land Rover products. We're not big fans of it. It suffers from delayed and confused automatic gear shifting, and it tends to let the engine revs drop right down almost to the point of labouring the engine. It does seem better calibrated to petrol motors though, as we recently tested it in the new Land Rover Discovery Sport SD4 (reviewing coming soon) and this unpleasant behaviour was even more pronounced. Unlike the Land Rover, the E-PACE gets the bump gear stick selector from the F-TYPE instead of the rotary selector that rises up out of the console.
During our harsher testing, the fuel consumption average was around 8.8L/100km. Its official rating of 7.7L/100km is on par with the new Volvo XC40 with similar engine outputs, and 1L worse than the BMW X1 which is less powerful. A diesel engine presents a viable case here. The P250 engine has a large fuel tank (68L) and requires premium fuel, yet it will only provide a 500-600km range.
Jaguar is well renowned for making vehicles with unmatched dynamics of late, and it is no different with the E-PACE. Handling performance is where this kitten shows its brightest colours. If you are a driver that appreciates the dynamics of a sports car too much to adopt an SUV, give the E-PACE a go. It drives like a sporty hatch. It can be driven hard around corners and returns very little body roll.
Underneath, the all-wheel-drive system, in combination with selectable driving modes, delivers agile and refined on-road dynamics. The fully independent suspension with a multi-link rear end characterises a high level of stability over bumps, with good front end grip and poise. This also means ride comfort is a tad firmer than some in the competition. But it's hardly a compromise. With a wide spread of gear ratios the E-PACE is a wonderfully effortless grand tourer as well. This is not something you might expect of a small SUV.
If you plan on off-roading, the E-PACE can take on your average dirt road and the odd shallow creek with ease. Because it is designed with the dynamics of a car on the bitumen, potholes and rough dirt roads are exaggerated. There are other SUVs on the market, such as the Range Rover Evoque and Land Rover Discovery Sport, that are more suited to serious off-road adventures. But this is, after all, a Jaguar and thus spawn from a sporty heritage.
Like with all vehicles from the Jaguar Land Rover 'Ingenium' engine family, servicing intervals are scheduled much less than the norm. For petrol engines, it is every 26,000km or 12 months. And warranty is offered for three years or 100,000km, whichever comes first.
2018 Jaguar E-PACE P250 S – THE VIDEO
2018 Jaguar E-PACE P250 S – THE VERDICT
Although late to the small SUV pack, we cannot rave about the new Jaguar E-PACE enough. It's an outstanding crack at a new segment for Jaguar. If you're a true driving enthusiast who appreciates on-road sportiness but now has changing needs for an off-road adventure on the odd weekend, give the E-PACE a go. It tickles most of the senses, most of the time, and keeps you stimulated. You also have that unmistakably sleek design to appreciate, it sounds brilliant for a four-cylinder, and it comes well packaged even in standard form. A slight adjustment of the gearbox – or 1-2 fewer gears – would transform this SUV into an irresistible product.
It's great to see more car buyers can now get a taste of class with a lower price point. With so many variants and engines on offer, you're bound to find something that suits your budget and needs. And for those who like personalising their vehicles, the options are almost endless here.
PROS:
– Interior design looks clean and modern, and simple to navigate
– Vast range of variants and high performing engines to choose from
– Jaguar car-like handling
– Trademark Jaguar styling (looks great in the metal)
– Nice and big easy-to-use infotainment screen
– Engine sound
CONS:
– A bit thirsty, with poor fuel range; stretches to travel 550km on one tank
– Nine-speed auto; delayed acceleration and gear selection
As always, if you're thinking about buying a new car don't forget to click here to speak with our car buying specialists.