Hyundai has confirmed a fastback version of the i30 will be set for release sometime in 2018, soon after the highly anticipated N performance hot hatch model.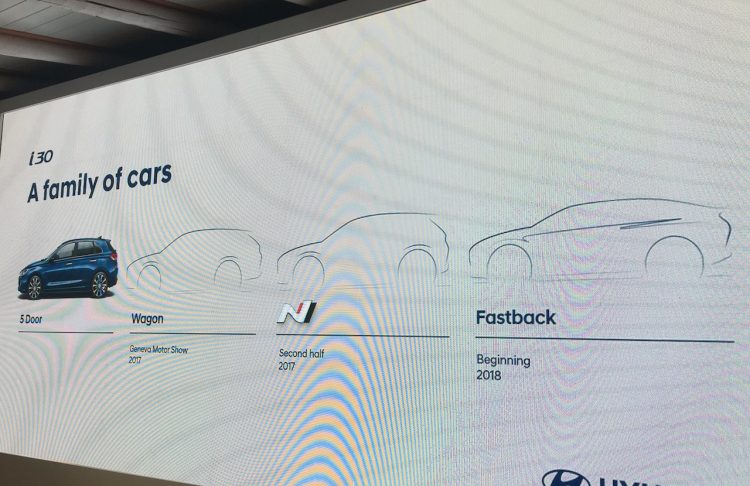 The Korean manufacturer subtly confirmed the arrival of a fastback i30 via Twitter, with a photo that has since been taken down showing the i30's future lineup. We managed to grab a screenshot before the tweet was removed.
The tweet shows Hyundai's plans to introduce a wagon variant of the i30 at the Geneva Motor Show in March, with the hardcore N variant arriving in the "second half" of 2017, and finally the fastback variant coming at the beginning of 2018.
This is, according to reports, the second confirmation of a fastback variant of the i30, after Hyundai announced in a September presentation that the i30 family would grow in the near future.
There are no specific details surrounding the i30 fastback, in fact, technically we're not supposed to know about it yet. However, rumours are circulating suggesting the i30 fastback will become a more luxurious variant of the five-door i30 hatchback and wagon, separating itself from the rest of the family with a few elegant touches, and more technology.
Hyundai is also expected to launch a new version of the Elantra GT, purely for the U.S. market. Mike O'Brien, Hyundai USA's vice president of corporate product planning, has said the brand "will be launching a new vehicle" at the Chicago show in February, which is set to be a tweaked version of the European-spec i30 hatch, throwing out the 1.8-litre unit for an efficient 1.6-litre turbocharged four cylinder, producing 99kW.