A prototype BMW M2 has been spotted at the Nurburgring undergoing testing, potentially previewing a new CS 'Club Sport' variation that's been spinning on the rumour mill lately.
Spotted by PerformanceDrive out on the Nurburgring last week, the prototype was seen being pushed pretty hard by the test driver, even into a bit of oversteer on some corners. You can also hear the engine screaming to near-redline on some occasions.
What we don't know for sure is whether this is just a facelift for the M2 or the rumoured CS version. Judging by the brakes and the brakes alone, our guess is this is the CS. Compared with the factory M2 four-piston front calipers, this prototype is clearly wearing larger, six-piston units on the front (we've zoomed into our high-res raw image files to see this). On the back it appears to be using four-piston units compared with the standard single-piston setup.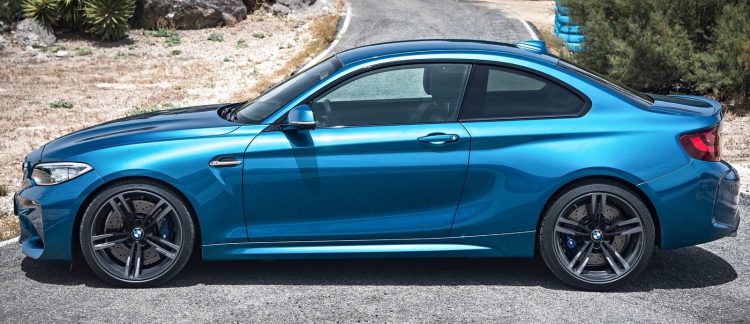 According to some reports, the CS will adopt the 3.0-litre S55 engine from the M3/M4, albeit detuned from 317kW to around 300kW. If this is the case it would replace the current N55 3.0-litre unit found in the M2. What's the difference? Well, primarily the 272kW N55 is a BMW engine while the S55 is a re-engineered version developed by BMW M.
On the other hand, if this is just a facelift we should expect it to carry over the current N55 3.0L turbo inline six. The unit produces 272kW and 500Nm, enabling 0-100km/h acceleration in just 4.3 seconds for the seven-speed dual-clutch auto.
As for the exterior design, the CS version is expected to adopt a new front bumper bar with a deeper front chin and larger air intakes to cool the big brakes, while bespoke alloy wheels are also likely. Judging by the camouflage applied around the headlights and taillights, these too are likely to be updated regardless of if this is a CS or just a facelift.
Given the lack of disguise on the car an official debut is probably not far away. Stay tuned. In the meantime check out our quick spy video below for a preview.