The all-new BMW 6 Series Gran Turismo sits in an unusual part of the market. It's not a coupe and nor is it a wagon, but it's somewhere in between. And it's filled with flagship levels of luxury and pampering comfort. We thought we'd put the 630i GT to the test to see what it's all about.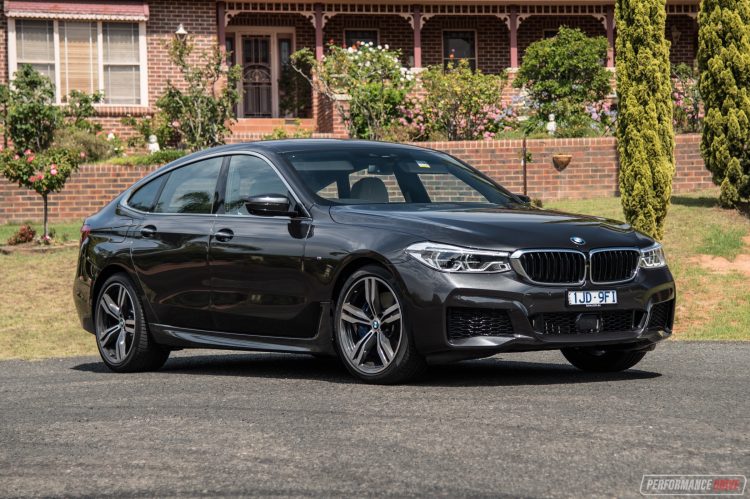 BMW fans will probably remember the old 5 Series GT. Well, it's basically jumped up a rank and now falls under the 6 Series tier. This means there is a boost in luxury focus. In Australia the lineup has also been streamlined to just two variants. There's this rear-wheel drive 630i, available in M Sport and Luxury Line trim, and the all-wheel drive 640i xDrive.
Prices start at $123,500 for the 630i and from $148,900 for the 640i. Both come with either the M Sport pack or the Luxury Line trim, with no price difference either way. (Prices exclude on-road costs.)
2018 BMW 630i Gran Turismo M Sport – THE SPECS
Engine: 2.0-litre turbo four-cylinder
Output: 190kW@6500rpm / 400Nm@1550-4400rpm
Transmission: Eight-speed auto
Drive type: Rear-wheel drive, xx LSD
Wheels: F: 19×8.5, 245/45  R: 19×9.5, 275/40
ANCAP: Not tested (5 Series scored five stars)
Tare weight: 1676kg
Power-to-weight: 8.82:1 (kg:kW)
Official fuel economy: 7.0L/100km
Economy during test: 9.5L/100km
Fuel capacity/Type: 68L/95 RON
Power efficiency: 27.14kW:L/100km
0-60km/h: 3.12 seconds*
0-100km/h: 6.75 seconds*
60-110km/h: 4.81 seconds*
1/8 mile: 9.73 seconds at 124.3km/h*
1/4 mile: 14.98 seconds at 151.1km/h*
Max acceleration: 0.851g
100-0km/h braking: 2.96 seconds at 38.82 metres*
Max deceleration: -1.228g
Decibel at idle: 40*
Peak decibel at 60-100km/h: 83*
Priced from: $123,500
* Figures as tested by PerformanceDrive on the day. Factory claims may be different

2018 BMW 630i Gran Turismo M Sport – THE PACKAGE
As mentioned, the 6 Series GT sits in an unusual part of the market. A market segment that doesn't really exist in Australia, leaving the GT with no direct competition. However, the local arm sees the GT as an important model for the local range, despite being niche, with customers of this style of vehicle being very loyal. Does it matter that it receives a name switch from 5 Series to 6 Series? Not at all, really. In fact, being part of the 6 Series club is probably going to be more of a turn on for those with a GT fetish.
Aside from the somewhat awkward-looking rear end, the 6 Series GT appeals on a number of levels. Firstly, it is very practical and multi-talented. That strange rear end houses a full tailgate which opens up 610 litres of cargo space (expandable to 1800L). This is way more than what you get in the 5 Series sedan (530L) and Touring wagon (570L/1700L), and more than what's offered in the 7 Series (515L). It's easily accessible too, with a wide opening and a multi-height power tailgate making it easy to load in large items. There's also some under-floor storage for smaller items.
Underneath it all, the GT is based on BMW's latest CLAR platform. The switch sees external dimensions grow compared with the old 5 Series GT, leaving the new model 87mm longer overall, stretching a whopping 5091mm, but with the same 3070mm wheelbase and 1902mm width. Needless to say, it is a massive vehicle. Although, it doesn't really feel it on the road as we'll go over in the drive section below. Occupying this much of the atmosphere means the interior is also huge.
In the front it is typical modern BMW. The controls take on a horizontally-skewed layout, with the company's latest iDrive6 media interface displayed on a 10.25-inch touch-screen, with a rotary controller down on the console. It's all easy to operate, taking but a few moments to understand.
The front seats are wide and soft, and adjustable in a multitude of ways. A cool feature BMW has added for the GT is a display for the seat adjust controls. Instead of trying to glance down at the buttons on the side of the seat, you just roll your fingers across the top of the buttons and the main screen will show you what section you're about to adjust. It's really clever and one of those technologies that should have been brought in years ago.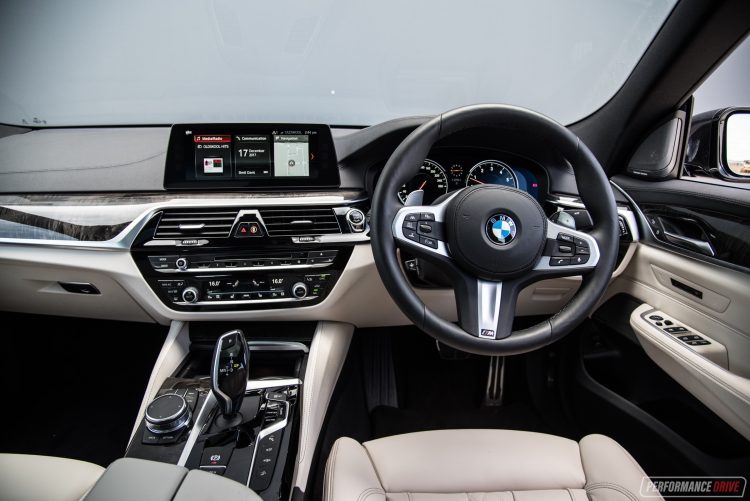 Throw an extra $1600 into the buying contract and you'll get some cool gadgets that you won't see in mainstream BMW models. Specifically, it gets you a highly recommended Innovations Package, which adds gesture control for the media interface, so you can literally point your finger around at the dash to force commands. It also adds remote control parking – yes, it's exactly what it sounds like it is. Adding the Comfort Package for another three grand brings heating for the rear seats (standard for the front), along with four-zone climate control, power sunblinds in the back, and a power-adjustable reclining rear bench.
Sitting in the back is a real delight. There's more than enough space, with seemingly endless legroom, and wide-opening doors for getting in and out. There's even super-soft pillows for the rear headrests, and high quality leather on almost every surface. We'd go as far as saying the GT is actually more comfortable than the 7 Series. Some of this is due to a slightly higher ride height, which, in fact, is adjustable thanks to standard air suspension. With the pristine white leather option as tested here, the GT has a really supreme quality about it. It feels expensive, and the level of comfort is truly outstanding.

2018 BMW 630i Gran Turismo M Sport – THE DRIVE
Much like the in-car experience, the 630i GT is all about presenting the occupants with pampering levels of comfort and relaxation. BMW has managed to create a cabin that brings a level of cosiness and security, but one that also offers excellent visibility. Paired with BMW's variable ratio steering system, it is one of the easiest BMWs to manoeuvre in tight car parks. This is definitely a good thing because you might remember the car is over five metres long. Even so, navigating through tight city streets and judging the external proportions is easy. It's not an intimidating vehicle to drive at all. Rear, side, and front cameras with multiple views also help.
Okay, so it's surprisingly nimble and very practical, what about that traditional BMW driving dynamic? Along our usual mountain road test route, the 630i GT, with the M Sport pack, responds to your every command like a well-trained Labrador. It's almost humbling that it handles so well for such a large car. Part of this is down to the CLAR platform, which is not only extremely rigid and thus responsive, but also very light. We had to double check the specs when we first read the 1676kg tare weight. It's seriously light for a car of this stature and of this high-end luxury calibre.
Around corners the M Sport suspension does well to remain taut and toned without tarnishing the ride comfort. It's only when pushed really hard does the handling show its comfort-oriented roots with a little understeer. The body doesn't slop around too much switching quickly from left to right, even in comfort mode, but it is on the softer side as opposed to being a sporty point-and-shot vehicle. This is a minor compromise that's well worth it anyway, as the ride in all other conditions is supple and supportive of that first-class interior.
Going for the base 630i doesn't mean it's automatically one of the slowest BMWs around. Under the bonnet is a 2.0-litre turbo-petrol four-cylinder that produces a healthy 190kW and 400Nm. Considering the lightness of the car, the power-to-weight ratio is actually pretty encouraging. Across the 0-100km/h sprint, in pretty hot conditions, our clock stopped in a very respectable 6.75 seconds, or just shy of BMW's 6.3-second claim.
Getting off the line is impressive, but it's the mid-range grunt that provides the biggest smile. Peak torque is spread from just 1550rpm to 4400rpm, with peak power achieved at 6500rpm. The engine willingly and freely revs up high, although you don't need to in order to achieve strong acceleration. Applying only half throttle sees the 630i shift with svelte overtaking speed. If you're worried the 630i isn't powerful enough, you needn't be, it's effortlessly fast.
2018 BMW 630i Gran Turismo M Sport – THE VIDEO
2018 BMW 630i Gran Turismo M Sport – THE VERDICT
We must admit, we were a bit skeptical about the Gran Turismo. We thought of it as a vehicle that doesn't really have a purpose. But after a week-long run, it has seriously reset our perception. The sheer level of practicality thanks to the big boot, huge cabin, and the standard height adjustable suspension for added versatility is enough of a drawcard to earn it a place in the Aussie market.
However, it's the high-end luxury that surprised us most. It is so comfortable inside, especially in the back, and BMW has done a fantastic job on the ride quality, even in M Sport guise. The material quality, fit and finish, and the innovation presented gets full marks from us. This is the retirement vehicle for driving fans. It would also go down well as a superb chauffeur vehicle if you have your own driver
PROS:
– Unbelievably comfortable (more relaxing than 7 Series)
– Surprisingly lightweight and nimble for its size (1676kg)
– Practical hatch opens up larger boot area than 5 Series sedan and wagon
– Traditional BMW driving dynamics
– Flagship gadgets; air suspension, gesture control, reclining rear seats
– Switch to 6 Series badge seems fitting for the GT style
CONS:
– Looks a bit funny from the back
– Niche position in the market, may sit too close to other showroom models?
As always, if you're thinking about buying a new car don't forget to click here to speak with our car buying specialists.