Subaru has introduced the all-new 2017 Impreza at the New York Auto Show, debuting a fresh platform and a rather soft new design.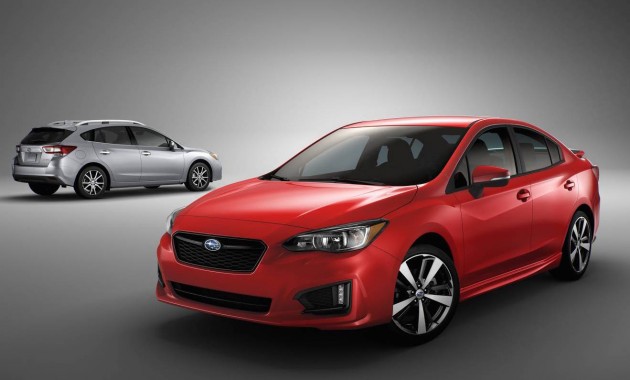 Most importantly, the new Impreza really is all new. Underneath is the company's latest global platform which will take the showroom towards 2020. It's lighter, more responsive, and stronger than ever before.
Underpinning the Impreza with the new layout will give Subaru its best chance yet at cracking the extremely unyielding small car segment which is dominated by the Toyota Corolla and Mazda3.
The new Impreza is wider and lower than before, with smoother panel contours and fewer character lines providing a less cluttered design. Of course, design is a subjective thing, but we think it looks rather soft and blends in some of the previous-gen Liberty design cues.
Regardless of how it looks, the body and chassis rigidity has increased 70 to 100 per cent over the current model. This means it should offer more direct handling. There has also been significant changes to the suspension, achieving a lower centre of gravity, and a more responsive steering setup has been developed.
In the engine compartment is an almost completely redesigned FB 2.0-litre naturally aspirated boxer four-cylinder engine. Around 80 per cent of its parts have been replaced or revamped, all in the name of improving economy and performance.
The new unit produces 112kW of power (up from 110kW) and is connected to a CVT automatic transmission with all-wheel drive. Noise and vibration levels are "greatly reduced" with the engine and transmission for a more pleasant sound and feel.
Subaru says the new Impreza will boast "world-class" safety too, with impact energy absorption improved by 40 per cent over the current five-star ANCAP-rated model. EyeSight technology will be available, offering adaptive cruise control, lane keep assist, and pre-collision braking functionality. High-beam assist will also be on offer, and a clever new automatic braking function for reversing in the event of an imminent collision.
Subaru Australia says local specifications and market entry dates are yet to be confirmed, however, the new model is expected to arrive on the market towards the end of the year. Details on the next WRX are yet to be announced.