It's not everyday that you hear about test drivers losing control and crashing, but this example proves it does happen. The incident involved a top secret BMW i8 prototype, a stripe of autobahn in Germany, and an unforgiving median barrier.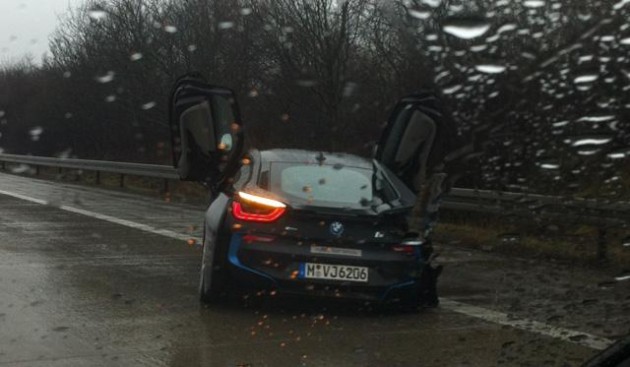 As you can see, the i8 suffered a big hit on the rear corner, smashing apart the complex bodywork. It also looks like there is some suspension and underbody component damage, which means the car will probably be recycled.
The 30-year-old test driver on the other hand was seen speaking on the phone just after the incident, and is believed to have escaped with no major injuries.
It's understood the driver was doing some high speed testing at the time, before losing control, crashing into a barrier, and sliding down the road for a few hundred metres.
According to the local police chief commissioner, the cause of the accident was put down as speed combined with a slippery road.
We guess it's good to see test drivers are putting the cars under serious demands, so then engineers can hone the car further to make it handle even better.
The BMW i8 will join the showroom with the i3 city car later this year. As part of BMW's 'i' sub brand, the i8 will showcase a sophisticated hybrid powertrain with range-extending technology. It will be the company's sportiest eco-focused vehicle.