Some images of the highly anticipated Alfa Romeo Giulia sedan have hit the web just hours before its official reveal, with a badge confirming the Giulia name.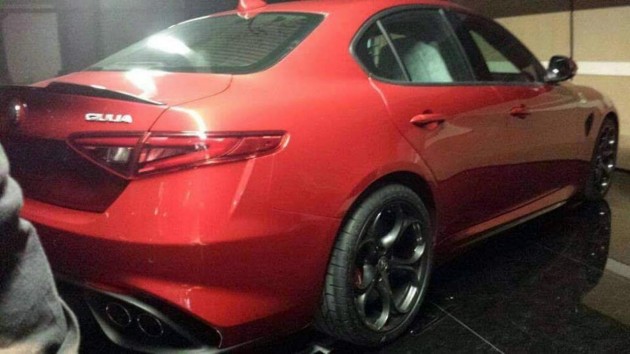 The images show what appears to be a pre-production example being transported, and although the image quality isn't the best you can make out most of the body design.
It looks like the new mid-size sedan in performance trim will showcase slim taillights, neat little vents in the front guards, the all-important four-leaf clover badge on the guards, and a set of staggered wheel sizes.
This is turning out to be a very interesting model from Alfa Romeo, a company which hasn't made a rear-wheel drive sedan in decades. Power is set to come from a range of turbocharged petrol and diesel engines, including a range-topping twin-turbo V6 built by Ferrari.
The top variant will reportedly produce up to 380kW, making it a clear rival for serious models such as the BMW M3 and Mercedes-Benz C 63 AMG. Sources have revealed this 'Quadrifoglio' model will be offered with a proper manual transmission too.
Underneath it all is an all-new 'Giogio' platform. Fiat-Chrysler is investing US$6 billion into big production expansions in an effort to increase global sales from 70,000 last year to around 400,000 by 2018. Part of the plan includes the new mid-size sedan.
Alfa will officially unveil the Giulia today, European time. We'll be sure to keep you updated with all the news later tonight.