In the realm of hot-hatchery, Renault Sport is a true legend, with Nurburgring front-wheel drive lap record after lap record and a reputation for some of the most hardcore, ferocious and fun-to-drive small cars ever to come from Europe. We called the outgoing Megane in R.S. 275 guise in our recent review 'pure brilliance'. You get the picture.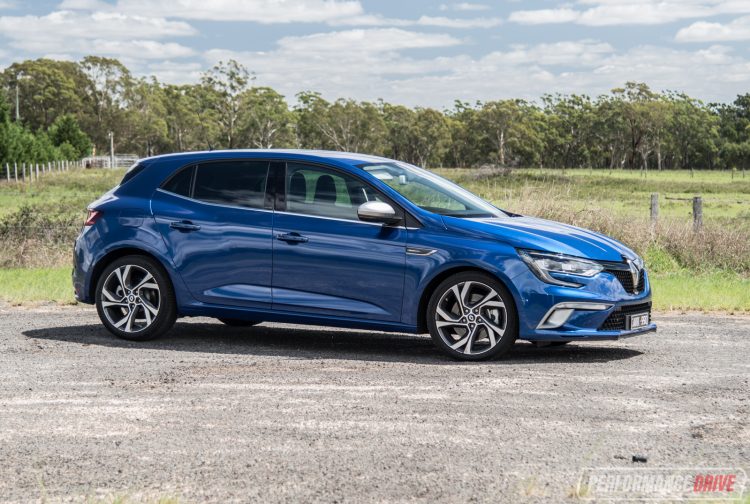 The Renault Sport version of the current Megane is some time off and, like the latest R.S. Clio, will make do with a five-door body style only. Before that car comes, the hottest Megane in Australia is the 2017 Renault Megane GT, with a 151kW, 280Nm 1.6-litre turbocharged engine mated solely to a seven-speed dual-clutch automatic with front-wheel drive.
Priced from $38,490, the Megane GT is priced dangerously close to the 162kW Volkswagen Golf GTI ($41,340), the 184kW Ford Focus ST ($38,990), and the 197kW Subaru WRX ($39,240) – all excluding on-road costs. Can Renault Sport's heritage and chassis brilliance make up for an on-paper deficiency?
2017 Renault Megane GT – THE SPECS
Engine: 1.6-litre turbo four-cylinder
Output: 151kW@6000rpm / 280Nm@2400rpm
Transmission: Seven-speed dual-clutch auto
Drive type: Front-wheel drive
Wheels: F & R: 18×7.5, 225/40
ANCAP: Five stars
Tare weight: 1379kg
Power-to-weight: 9.13:1 (kg:kW)
Official fuel economy: 6.0L/100km
Economy during test: 8.3L/100km
Fuel capacity/Type: 50L/95 RON
Power efficiency: 25.16kW:L/100km
0-60km/h: 3.62 seconds*
0-100km/h: 7.17 seconds*
1/8 mile: 10.14 seconds at 123.0km/h*
1/4 mile: 15.33 seconds at 152.5km/h*
100-0km/h braking: 3.05 seconds at 39.92 metres*
Decibel at idle: 46*
Peak decibel at 60-100km/h: 79*
Priced from: $38,490
* Figures as tested by PerformanceDrive on the day. Factory claims may be different

2017 Renault Megane GT – THE PACKAGE
The GT is the next step up from the tepid GT-Line we reviewed recently, with commonalities including heavily bolstered Alcantara seats, R-LINK2.0 9.0-inch portrait touch-screen, RSENSE with several different colours to change the interior lighting theme, easy-to-read digital instrument cluster, plus sporty alloys and bodykit. It also gets that cars nifty self-parking system, which is very good at finding spots to parallel park itself into. It does, however, miss out on that car's electric sunroof.
What it gets over the GT-Line is four-wheel steering, an extra 54kW and 75Nm, and paddle shifters for the seven-speed dual-clutcher – addressing a criticism we had of the GT-Line – as well as a different suspension tune.
The same pleasantries and gripes are still there and accounted for, with the changeable lighting, simple and unadulterated instrument cluster and decent space for a small car among the former; and cruise control switch on the console, distracting menu operation of the R-LINK system and invisible audio pod on the steering column proving the bane of our existence. Like the GT-Line, we failed to get Bluetooth streaming working and there is no Apple CarPlay or Android Auto.
Fine-tuning the climate control to your liking is a distracting affair too, with the menu taking over the entire screen and many functions easy to miss with your finger if you're concentrating on the road (as you should be).
The heavily-bolstered seats can present issues for entry/egress but once you're in they are cossetting and feature a nice material. They can get hotter than leather on hot days though, and more lower back support would be appreciated for long trips.
As with the GT-Line, the safety story is very good thanks to a rigid structure, five-star ANCAP and forward collision warning.
Space is good thanks to 4359mm length, 1814mm width and 1438mm height combined with a 2670mm wheelbase. Headroom is great for the four outboard occupants with (still very good) legroom eaten away slightly by the thickly bolstered Alcanatara seats. Boot space is 434 litres.

2017 Renault Megane GT – THE DRIVE
Although Renault would have you believe its car can mix it with WRX/ST/GTI, we think a comparison with the $28,990 Elantra SR Turbo is more fitting, since both cars have almost identical power outputs, sporting intent and seven-speed dual-clutch gearboxes.
We timed 0-100km/h in 7.17 seconds, which is respectable and similar to the Elantra SR, let alone those aforementioned price-point rivals. It must be told that the GT feels much quicker than that, however. In fact, it feels like there is an overboost function, with strong mid-range pull.
There are four driving modes – Normal, Comfort, Perso and Sport – that can be quickly toggled with an 'RS' button on the dash. It's here the car's engine sound is 'enhanced' through the speakers, steering is at its firmest and transmission shift points are at their sharpest.
Left to its own devices, the car is a point-to-point bullet that feels deceptively quicker than the numbers suggest, gathering speed at enough pace to be genuinely fun. The sharpness of the gearbox in this mode can be jarring sometimes, with our test car experiencing some worrying hesitation on more than one occasion, including not shifting out of 1st gear in RS mode despite being in auto selection. Upshifts can be quite aggressive too, with random bouts of indecisiveness afflicting the unit. It is okay most of the time, but never truly as settled as DCT 'boxes from rivals.
The paddles feel cool to the touch and like supercar items. They are very pleasant to engage, but seem superfluous with this powertrain. The engine seems to spool through its rev-range and shifts itself before your reflexes kick in, but the multi-gear downshifts are handy for wiping off speed before corners. Thankfully, the brakes are excellent too, which is a pleasant surprise. Nevertheless, a manual gearbox would be welcome for more control over upshifts with this engine – a factor that relegates it from outstanding to still very good.
Steering is always heavy and a bit lumpy, but it does offer good levels of feedback and turn-in. This is a very eager chassis and that is one area the Renault starts to justify its pricetag. Renault's '4CONTROL' four-wheel steering system is a proper active system that grants the car a great turning circle as well as excellent agility through the bends. You can really feel it working its magic, but the car feels too wide to punt through very technical and tight corners with confidence. A bit more delicacy in the steering and communication from the tyres might alleviate this.
Ride for such a sportily-suspended European is commendable, gliding over most imperfections with more aplomb that you'd expect, until one of Australia's myriad potholes exposes the short travel of the springs with a loud thud.
For cruising, this thing comes into its own, thanks to good noise suppression (albeit with some wind noise around the mirrors) and large car levels of roadholding, grip and refinement. High-speed stability is brilliant with the little engine always full of urge.
Economy is rated at 6.0L/100km, which we came close to matching with careful driving and the drive mode set to 'Eco', at 6.6L/100km. Drive it how it wants to be driven though and it will start returning around the 11s, where you can watch the gauge for the 50L tank plummet before your very eyes.
In Europe, the Megane GT can be had with a 1.6-litre diesel that makes 121kW and 380Nm and drinks as little as 4.6L/100km. To us, that sounds like a more attractive proposition that would complement the car's brilliant touring abilities and improve its wide-open throttle economy. The notion of a diesel hot-hatch was tried with the Mk6 Golf GTD but wasn't successful enough to continue. To us, the GT would have more of a niche if available with this engine and a silky manual gearbox. As a petrol, it competes with some highly established competition and a nearly $10,000 cheaper yet similarly as good Hyundai.
The five-year/unlimited km warranty is a happy bonus, as is capped-price servicing that is surprisingly competitive at $299 every 30,000km or 12 months. Formidablé.
2017 Renault Megane GT – THE VIDEO
2017 Renault Megane GT – THE VERDICT
Overall we find the Renault Megane GT to feel faster and more exciting than the numbers suggest, and it boasts a solid, refined and entertaining chassis with a handy four-wheel steering system. It can change its interior colours to suit your mood, and has an excellent warranty, low service costs, and very up-to-the minute styling.
Changes we'd like to see include revised infotainment system with fewer 'button' pushes and a real volume knob, climate control buttons like the base Life, lighter and more fluid steering with more low-speed communication, and a diesel/ six-speed manual would make a fun car into an absolute, all-week gem.
You could get a Hyundai Elantra SR Turbo with its more user-friendly interior, excellent chassis, nice steering and a more behaved driveline with easier-to-control gearshift around bends. What you'd miss out on is a superior rear-end thanks to the four-wheel steering, self-parking, premium interior ambience, styling flair and outright touring ability, but not much else.
Whether that's enough depends on the individual, but the car's French charm might just be enough to win you over. As has been the case for the last two generations, we will have to wait for the Megane R.S for the real magic to arrive. In the meantime, the GT is a great intermediate step.
PROS:
– Contemporary European styling
– Heavily bolstered seats
– Good ride for a sporty car yet solid chassis
– Excellent active and passive safety
– Four wheel steering
– Feels faster than numbers suggest
– Excellent corning and high-speed stability
– Clear digital instrument cluster
– Can be very frugal
– Five-year warranty/low servicing costs

CONS:
– Character suits a sporty diesel more
– Jerky and aggressive gearbox is worrisome
– Dubious value next to Golf GTI, Focus ST and WRX
– Bewildering touch-screen system; too many menus, distracting to operate
– Steering can be heavy at low speeds
– No manual option
– Thirsty when pumped
As always, if you're thinking about buying a new car don't forget to click here to speak with our car buying specialists.