A new hybrid crossover from Kia will arrive next year, called the Niro. Some early sketches have been released to preview the new model.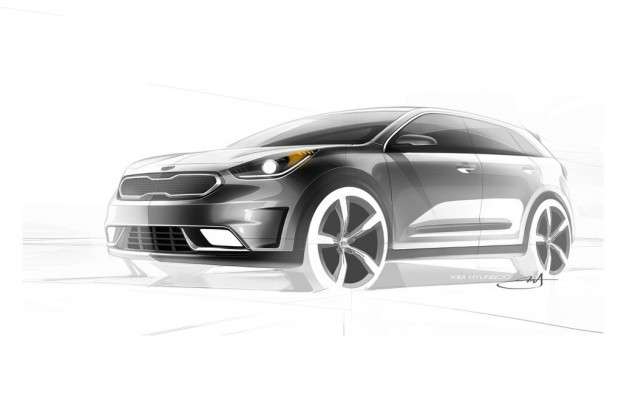 The Niro will be a small crossover/SUV available as a hybrid vehicle only, making it Kia's first hybrid-only model. A plug-in hybrid version will arrive later down the track as well, Kia says.
Power will come from a 1.6-litre four-cylinder engine paired to a 1.56kWh battery system. The petrol engine produces 77kW while the electric motor adds 32kW. An official combined output hasn't been mentioned, but the power will be directed through a six-speed dual-clutch automatic transmission.
As for the design, well, it showcases Kia's latest styling language with a "tiger nose" front grille, neatly bolstered wheel arches and rugged plastic cladding, and a conventional and practical five-door hatch layout.
Although it won't be designed for proper off-road driving it is expected to offer a reasonably high ground clearance and some underbody protection. It's unknown if it will be four-wheel drive. Kia CEO Hyoung-Keun Lee spoke about the new model in a statement, saying:
"Our new model is designed to offer buyers everything they could want from a compact SUV in terms of practicality and styling, while providing the typically low running costs associated with a dedicated hybrid powertrain."
The Kia Niro will go into production during the second half of 2016. Destined market regions are yet to be confirmed.