When Lexus first introduced the RC F back in 2015, we were a bit disappointed by the level of complicated and almost intrusive technology it presented, and subsequent distance it seemed to leave between man and machine. But since then many rivals have been infusing more and more technology into their packages. How does the RC F shape up in these more modern times?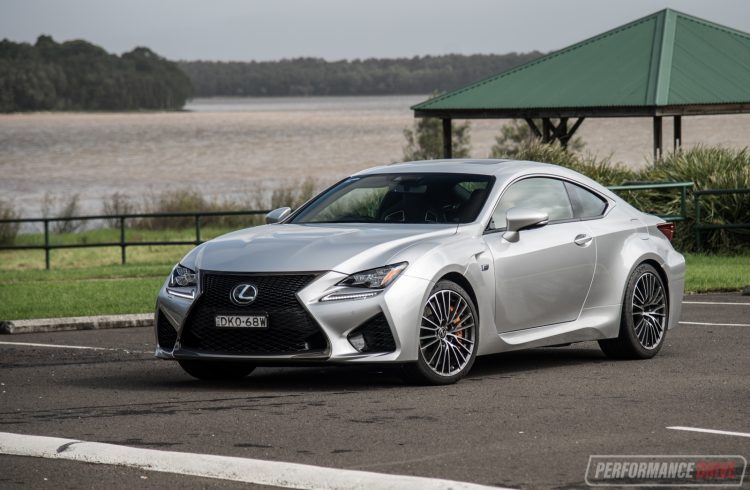 It looks pretty similar to the initial RC F but Lexus has made a minor visual tweak for 2017 in the form of new twin seven-spoke alloy wheels. Underneath the skin there's some mechanical changes. Of prime interest, the installation of its latest adaptive variable suspension system (not previously featured).
Prices remain fair (for the Australian market), kicking off at $138,240. Stacked up against the $149,900 BMW M4 and the $163,900 Mercedes-AMG C 63 S coupe, the RC F is fighting with astute value. (All excluding on-roads.)
2017 Lexus RC F review – THE SPECS
Engine: 5.0-litre V8
Output: 351kW@7100rpm / 530Nm@4800-5600rpm
Transmission: Eight-speed auto
Drive type: Rear-wheel drive, torque vectoring
Wheels: F: 19×9.0, 255/35  R: 19×10, 275/35
ANCAP: Not tested
Tare weight: 1820kg
Power-to-weight: 5.18:1 (kg:kW)
Official fuel economy: 10.9L/100km
Economy during test: 12.2L/100km
Fuel capacity/Type: 66L/95 RON
Power efficiency: 32.20kW:L/100km
0-60km/h: 2.65 seconds*
0-100km/h: 5.04 seconds*
1/8 mile: 8.98 seconds at 140.4km/h*
1/4 mile: 13.20 seconds at 179.6km/h*
100-0km/h braking: 2.85 seconds at 36.80 metres*
Decibel at idle: 60*
Peak decibel at 60-100km/h: 90*
Priced from: $138,240
* Figures as tested by PerformanceDrive on the day. Factory claims may be different

2017 Lexus RC F review – THE PACKAGE
Lexus always does a great job with packaging. And going for the top RC F automatically gets you a comprehensive range of creature comforts and a smorgasbord of advanced technology, as standard. In fact, there are just three optional extras available for the RC F; two different kinds of 19-inch forged alloy wheels ($2500), and some premium paint colours ($1500). That's it. Everything you see inside is standard.
Power adjustable seats and steering column, heated and cooling functions for the front seats, supple leather with breathable perforated sections, radar cruise control, digital dash, electric sunroof, and parking assistance with a rear-view camera are included in the package. A range of driving modes are available for the driver too, including Eco, Normal, Sport, and Sport Plus.
You also get a complex LCD infotainment system which is controlled via Lexus's somewhat fidgety track-pad system. The menus are easy to understand upon initial interaction, with a home button taking you to a common screen that displays the main apps on offer.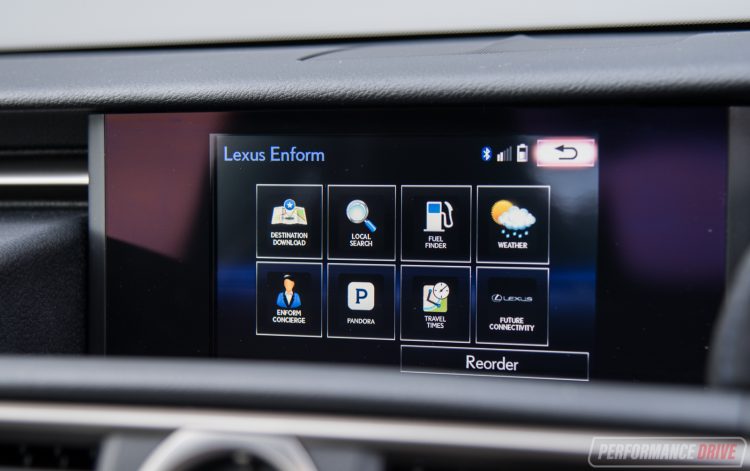 Once you begin to dive deeper into the inner-menus the cursor system can become tiresome and it tends to require a bit too much of your attention, in our view, reducing your concentration on the road. Like any other system though you do get used to it and you'll soon be able to make blind selections without needing to focus on the screen as much.
Seating comfort is sublime. The cosy, sporty, patterned bucket seats hug you in all the right places, and they are electronically adjustable in many different ways. Large individuals might find them a little confined, especially with that low-slung swooping roofline intruding on potential headroom. But for the most part, it's as comfortable and relaxing as any other Lexus.
Rear passengers are possible, and it's probably a good thing Lexus has designed the rear bench with a centre console embedded in rather than trying to squeeze in three seats. So long as the front seats are not slid all the way back, the rear seats can be used to transport adults, we can confirm.

2017 Lexus RC F review – THE DRIVE
Starting the RC F is an event. There's a certain theatre to firing up that almighty 5.0-litre naturally aspirated V8, codenamed 2UR-GSE. Yep, no turbochargers or superchargers here. Unlike many of the rivals out there at the moment the RC F is sticking to an older-fashion yet perhaps more desirable and characterful natural-breathing unit. This doesn't mean it's not high-tech, though.
Yamaha helped develop the heads, studded with titanium valves, while the pistons are slung around on forged conrods, with a high compression ratio of 12.3:1 (very high for a production V8). Fed with optimum fuel and air and spun to 7100rpm generates 351kW. Peak torque is achieved from 4800rpm and held until 5600rpm. This gives you some idea of its high-revving nature and seductively meaty upper mid-range.
Aside from producing one of the best naturally aspirated V8 soundtracks we've ever heard from a standard sports car, the engine feels strong and powerful. It burbles and grumbles around town, like a lion wandering around an enclosure. Throttle response is snappy as you'd want, in Sport Plus mode, yet calm and docile in the Eco mode to help conserve fuel.
In terms of performance, it screams like a metallic thunder cracking across the sky, however, matched to the Toyota/Aisin-developed eight-speed auto, the legs seem too long for the engine. We think this would suit a snappier, livelier set of ratios, or even a manual. First gear winds out far too long in our opinion, capable of hitting around 70km/h. This damages its immediate take-off potential and 0-100km/h time. The best we could manage was 5.04 seconds. The quarter mile, stopping the clock in 13.20 seconds (at 180km/h), is more impressive and it shows its long-legged ability.
Speaking of long legs, the RC F is an exceptional long-distance tourer. Whether it's belting down the freeway or eating up miles along windy country and mountain roads, this is where the RC F is in its happy place. You can enjoy the enormous pulling power in the upper gears, and just sit back and listen to the V8 sing its glorious song.
Around corners, the RC F demonstrates a solid, sure-footed personality. It's professional, turning in with utter composure, supported by a weighty steering feel. Power delivery is just as stern, with the clever torque vectoring differential automatically sorting out left and right torque distribution for you. It's not a nimble drift machine that dances on its toes, instead, remaining controlled, committed and consistent in the corners.
We tried playing around with the differential settings, of which you have Normal, Slalom, and Track modes, and we found Track mode to be the most playful. Although, we didn't get a chance to really test them out on a track where their differences might be more pronounced.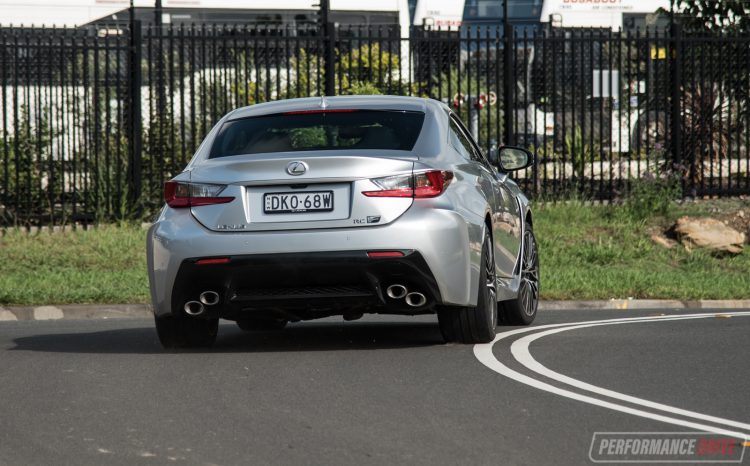 Part of the confident and reassuring handling comes thanks to the new adaptive variable suspension. It isn't just about providing a 'sport' mode for the driver, either. It's actually adaptive in the literal meaning of the word, capable of adjusting automatically to the conditions, while on the go. Around corners, taking in information from the steering and yaw, the dampers tense to help keep the body stable and to reduce body roll. Along poorer-condition roads the dampers relax a little to help supply a smooth and comfortable ride.
Of course, the driver can also select some presets for the suspension, which are tied in with the suave Drive Mode Select dial on the centre console. Twisting clockwise spins up Sport and Sport Plus, while flicking anti-clockwise grants an Eco mode. Pressing down on the dial returns it to the Normal state.
Does it all work? You bet. The RC F is definitely the most comfortable sports coupe in the class in our opinion. It merely quivers over the shoddiest of roads, sending no major disturbance through to the cabin. You can't hear much either, unlike in some stiff sports cars. There's no crashing noises as the suspension takes the impact of bumps. This is going to be very important to traditional Lexus buyers, so points have to be awarded to Lexus here for sticking to its tradition and supplying for its demand.
2017 Lexus RC F review – THE VIDEO
2017 Lexus RC F review – THE VERDICT
If you're in the market for something like the BMW M4 or Mercedes C 63, we don't think this is the right car for you. It's not as prepared for the track as those two; it's not as agile or as 'sporty', and it's probably too intelligent – in terms of driving character – for the buyers of those cars in any case (you can take that as a good thing or a bad thing). No, instead, the RC F is for those who like luxury. Those who like power. And those who like driving quality. The V8 itself is enough of a reason to want to buy an RC F. It's a high-quality unit. We love that it's not cheating with turbos or a supercharger. It's the genuine article. It does it the hard way, like a 10-year-old oak-aged whisky. Being a Lexus, it'll be bullet-proof for years to come, too. Just like the rest of the car.
So, to answer the original question. Yes, we think when the RC F was originally launched it might have been a little ahead of its time. But maybe these days drivers want something that's advanced and infused with technologies, even down to the differential. With the notion of a classic manual, naturally aspirated sports car diminishing, the RC F reminds us it will soon be time to move on to the next generation.
PROS:
– Thunderous V8 soundtrack
– Smooth and sure-footed handling
– Smart, advanced interior
– Intelligent drive, with torque vectoring
– One of the only naturally aspirated V8s left
– Adaptive variable suspension adds new dynamic

CONS:
– Feels (and is) heavy
– Lacks agility compared with rivals
– Could do with shorter-ratio gearing
As always, if you're thinking about buying a new car don't forget to click here to speak with our car buying specialists.