Luxurious, monstrous, rhinoceros. These are the words that popped into our head when we first greeted the 2015 Infiniti QX80 in person. After spending some time with it, we find out it's actually friendlier and more fun than a giant teddy bear.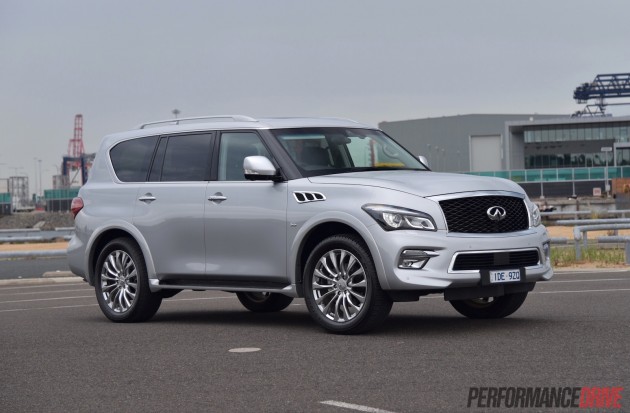 The QX80 is Infiniti's (Nissan's luxury brand) largest and most expensive vehicle it sells in Australia. It was only introduced locally earlier this year, however, it has been on sale overseas for almost six years in essentially the same form.
Underneath it all is the current-gen Nissan Pathfinder platform, including the 5.6-litre naturally aspirated V8 powerhouse beneath that big swelling bonnet. The V8 generates a majestic 298kW and 560Nm, connected up to a swift-shifting seven-speed automatic with full-time four-wheel drive.
There are no diesel or hybrid options here, and in fact there is only one variant on sale in Australia. It starts from $110,900 (excluding on-road costs).
2015 Infiniti QX80 – THE SPECS
Engine: 5.6-litre V8
Output: 298kW@5800rpm / 560Nm@4000rpm
Transmission: Seven-speed automatic
Drive type: Four-wheel drive
Wheels: F: 22×8.0, 275/50  R: 22×8.0, 275/50
ANCAP: Not tested
Kerb weight: 2837kg
Power-to-weight: 9.5:1 (kg:kW)
Official fuel economy: 14.8L/100km
Economy during test: 21L/100km
Fuel capacity/Type: 100L/95 RON
Power efficiency: 20.1kW:L/100km
0-100km/h as tested: 6.7 seconds
Priced from: $110,900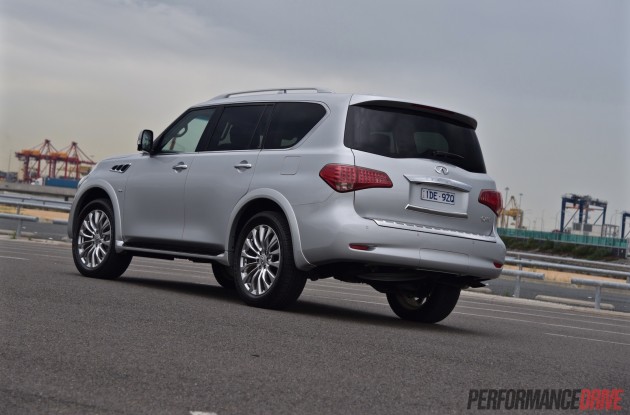 2015 Infiniti QX80 – THE PACKAGE
There are only a handful of SUVs on the Aussie market at the moment that offer a cabin that's as large as the QX80's eight-seat interior. It is huge, with ample front seat space, even more rear seat room, and a third row that's easily capable of comforting a pair of kids and one slightly squashed one in the middle.
Thanks to the tall cabin, legroom and leg support is superior to what is offered in its main competitor; the Toyota LandCruiser-based Lexus LX. The floor in the QX80 drops down quite a bit, with the seats propped up high, whereas the Lexus offers a more sedan-like layout with seats that are relatively close to the floor. In terms of cargo space, you get 470 litres with all seats up, which is more than what you get in most small hatches (Corolla, Mazda3), 1405L with the third row down, and a maximum of 2694L with all rear seats down.
As you can probably imagine, comfort is high on the agenda; it makes sure you feel very pampered indeed. This is the kind of vehicle you would really enjoy to take on regular long-distance work excursions or family road trips. Infiniti, as usual, only uses the finest quality leathers and ergonomically-designed furniture, making such trips all the more enjoyable.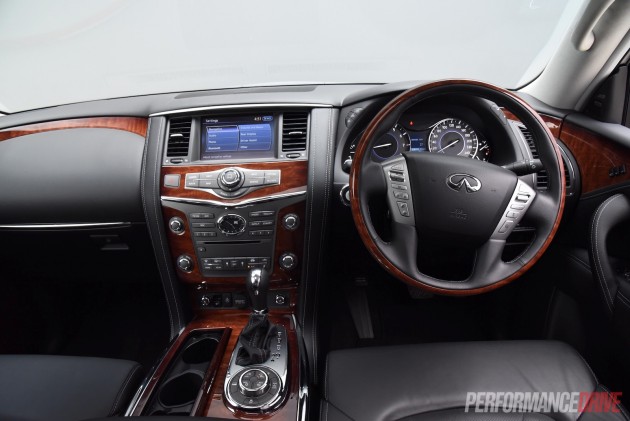 We mentioned in the intro that this vehicle is nearing its 6th birthday. And when you first see the dash, you become very aware of its age. The dash is covered in lacquered woodgrain inserts that, while looking and feeling upper premium in quality, seem like they are taken from a 1990s boardroom. If you love modern design and contemporary construction solutions, you probably won't appreciate the QX80's cabin. If you're the kind of person that likes the odd cigar and enjoys a spot of hunting every now and then, you'll probably feel right at home in here. The dash design itself is also a touch dated, with more buttons than a keyboard filling most of the fascia.
At the top of it all is one of Infiniti's older touch-screen multimedia systems. Some functions are accessible via both the touch-screen and through separate buttons on the dash, and other options are only selectable within the screen. This, in our opinion, makes things a little confusing, especially when compared with some of the more advanced systems on the market that combine everything into one unit. On the dash you also get a comprehensive 15-speaker Bose stereo embedded in. We didn't find the stereo to be all that impressive. We tried various settings and playing different formats but the sound quality, in our opinion, isn't as good as the stats suggest.
You do get a lot for your money overall, including whopping 22-inch alloy wheels, two DVD screens in the backs of the front seats with two sets of headphones and RCA inputs, electric-folding third-row seats, three-zone climate control with heated front and second rear seats and climate vents along the ceiling, radar cruise control, active cornering bi-xenon headlights, and three external cameras so you can keep an eye on those wheels and other objects while parking and off-roading. Infiniti is a bit like Lexus when it comes to optional extras too, in that, there aren't many. Instead, the QX80 is packaged to the maximum as standard.
2015 Infiniti QX80 – THE DRIVE
Despite its gargantuan proportions the QX80 is surprisingly easy to drive and place on the road. The steering is as sharp as you would want in a vehicle of this nature, and it's communicative and responsive enough to incite confidence in your driving.
Being so large definitely boosts your confidence too. You can peer down on almost all other road users like they are your servants, often bowing out of your way and letting you in even though they have right of way. The unusual exterior design also invokes plenty of curiosity from onlookers.
Through dense traffic conditions there's no mistaking the QX80's size. It is easy to place in the lane, as mentioned, but small lanes and inner-city conditions can be very tight. It's here where you'll appreciate the smooth, willful V8 engine as it purrs its way through, providing a calming baritone voice, like having Barry White gently voicing you some guidance. Once you get out onto the freeway, you can sit back and relax and reel in the horizon.
We really like the V8 engine in this. It's responsive, progressive in delivery, and it sounds superb. Power and torque are at substantial levels for an SUV, and even though it has to propel 2837kg (tare) of tarmac-crushing mass, it performs like a sportscar. We timed 0-100km/h in a very respectable 6.7 seconds. Adding to the V8's credit is the seven-speed auto. It works in unison with the engine, always providing the right ratio for the job at hand, and kicking down on demand when needed.
Infiniti offers a number of driving modes for the QX80, capitalising on the Nissan Patrol's renowned foundations. We didn't get a chance to take it for a proper off road test, but with snow, sand and rock-climbing driving modes, we're sure it would offer similar trekking performance as the Nissan Patrol. The somewhat low profile 275/50 tyres wrapped onto the 22-inch wheels are likely to be the first inhibiting factor in tough conditions.
On the road, it is truly surprising how well it handles and goes. The seven-speed gearbox, with its tiptronic-like forward-back manual shifting mode, allows you to drive this beast like something that's much smaller and much more nimble. Each downchange is accompanied by a goose-bump-inducing throttle blip, while the throttle and drive response is immediate – if only this combination were available in the Q50 sedan or something more road-oriented.
Four-wheel drive is hugely beneficial in slippery off-road conditions, and it's also great for cornering capability and traction. The system in the QX80 seems flawless, directing all of that power and torque to the wheels with no slip or hesitation, even around tight corners. It's no sportscar but it can be lots of fun to thread down your favourite mountain road. It certainly surprised us.
2015 Infiniti QX80 – THE VIDEO
2015 Infiniti QX80 – THE VERDICT
On the negatives, the QX80 is quite old despite being 'new' in Australia. Its age shows in the design, especially inside. Also, the fuel economy is appalling by today's standards, averaging 14.8L/100km on the official combined cycle test (we averaged over 20L/100km). However, if you can sweep these under the rug the QX80 definitely presents a likeable charm and some attractive qualities, such as the cabin size, highway cruising comfort, handling and performance, renowned underpinnings, and a splendid V8 and transmission combo. It's also quite an exclusive package sitting in a relatively exclusive market segment.
PROS:
– Superb V8 & seven-speed powertrain
– Cabin space and comfort
– On-road composure and agility (for a massive SUV)
– Nissan Patrol off-road credentials
– 22-inch wheels!

CONS:
– Thirsty
– Ageing interior
– Controversial design?